ハヤテのごとく!/Hayate no Gotoku Chapter 419 REVIEW
SPOILER Summary/Synopsis: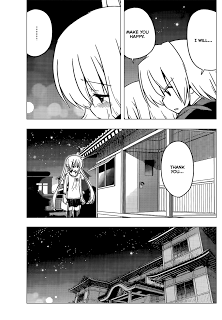 With Ruka choosing the path of remaining an idol, the video announcing her Las Vegas concert is played. Though Ruka rid herself of her tears and had a cheerful face, after the concert, she ignores Atsumari's expression of appreciation.
That night at Yukari-chan House, Hayate tells Ruka that the concert was moving and that she must really like singing since she didn't quit. Ruka tells him that the only reason she didn't quit was because of her massive ¥150 million debt. She gets upset as she tells him that if it hadn't been for the debt left her by her parents, she would have quit. Her tears on stage was her realizing that the reality of her situation meant she couldn't quit being an idol.
Hayate then recalls meeting the traveling doctor, Kurosu, back stage. She says she's been looking for someone like Hayate who could make Ruka happy. She explains things (not revealed to us readers) as to why she thinks this, so in the present, Hayate embraces Ruka and says he'll make Ruka happy. Tis is where Nagi walked in on them.
The following day, Hayate asks Nagi for a leave of absence in order to do something for Ruka.
Thoughts/Review:
Heh! Hata-sensei, you are brilliant at never revealing your cards, aren't you?
The thing I liked most about this chapter is the reality of the situation. Yes, we hardcore fans already knew that somehow, someway, Ruka would remain an idol and would go to Las Vegas. We saw this happen in the CTMEOY anime series that Hata-sensei drafted.  However, the key thing was to make this happen without it looking forced or faked, and Hata-sensei pulled that off brilliantly.
For those readers of this blog who are still in school at some level, you have your whole life in front of you.  No doubt, you have dreams of what you'd like to do when you become an adult, or when you finish college. Dreams are good, but sometimes, reality and responsibility mean making very hard choices.
I recall my own dreams from high school. I wanted to be the one to create a HAL 9000 computer, complete with visual, audio, and keyboard interfaces, capable of natural language speech, and capable of learning and adapting its Artificial Intelligence to become better and better. Unfortunately, a large amount of money I had been awarded to attend school was not there when I arrived as the fund had been drained by others who'd been similarly awarded monies for that year.
Since I had a mobile home to pay for, the lot rent to pay for, a car to pay for, and other living expenses, the loss of that money not only meant I couldn't go to school, it also meant that I couldn't afford to live on my $4.05/hour job as a frozen food/dairy manager at supermarket in the city. I had hard choices to make — go through some VERY tough times for a year with lots of debt and try again the following year; get another job doing work I didn't want to do, but which would pay for me to be able to live and hope that somehow, I'd be able to get back into school while still working these awful jobs; join the military and at least get into the IT field, hoping that one day, I could swing back into the AI research and development. I chose the latter, but the decision had me in tears too as I knew I was giving up on my dream in the face of reality.
Thus it is with Ruka. Oddly enough, she has a job now that many girls dream of having — being a popular idol with a decent paycheck to boot. Yet her dream is to be a manga-ka, which isn't going to get her the money that being a very successful idol will. She also dreams of a normal life, being married to Hayate.  That too is something she sees disappearing. It is no wonder that she couldn't help but cry onstage for a moment because the figurative floor beneath her feet crumbled into dust.  Being the ultimate professional, she turned things around on stage, but alone with Hayate, she allows herself to cry again.
It is a hard thing to accept reality and the responsibilities that come with it. As a character, I respect Ruka for making the hard choice to pay off her debt.  While it is not fair that her parents left it to her, it is also not fair for those who lent out the money in the first place not to get paid back. Ruka is being responsible and mature, so I hope that somehow Hayate can make her happy.   I think that will happen, based on CTMEOY.
The big mystery of this chapter is what Kurosu told Hayate.  What is her relationship with Ruka?  What did she tell Hayate?
Another thing that struck me is how the whole video competition element still hasn't been woven into the plot of this arc yet. I still wonder if Miki, Risa, and Izumi were nearby filming all of this. I bet they were.
The other thing that struck me is the absence of the other housemates of Yukari-chan House, including Maria.  When Nagi got up, she was apparently the only one there other than Ruka and Hayate in the yard. So, where were the others?
Finally, what happened between the time that Nagi saw Hayate embrace Ruka and the following morning when Hayate asks for time off to do something for Ruka?
In the end, I found this to be a really good chapter, proving that Hayate the Combat Butler doesn't have to have jokes/gags in every chapter to be enjoyable.