Fate/kaleid liner PRISMA☆ILLYA Episode 08 REVIEW
Fate/kaleid liner プリズマ☆イリヤ
SPOILER Summary/Synopsis: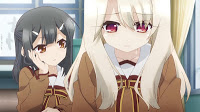 A depressed Ilya gets up to go to school, putting on a brave face for Sella, who thinks she might should stay home an extra day. At school, Ilya puts on a brave face for her friends, but they see something is wrong despite her assurances. When Miyu comes in coldly, Ilya's friends suspect the two may have had a falling out. Unbeknownst to them, Ilya's problems come from feeling bad at abandoning Miyu while feeling relieved at never having to return to that scary world of magic ever again. The class is assigned at art project for class, leading Ilya's friends to have a debate on what to do, which Ilya mostly stays out of.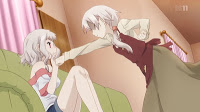 Outside the school, Ruby and Sapphire discuss the situation and how it is normal for a young girl like Ilya to be scared. Ruby doesn't understand Miyu's going overboard like that, causing Sapphire to recall when she chose Miyu and how Miyu pleaded with Luvia for a home, food, and clothing in exchange for collecting the Class Cards. That afternoon, Ilya comes home to a worried Sella, who talks about this with Leysritt. This chat degenerates into a discussion of breast sizes, which Shirou walks into, thinking they are talking about Ilya and what has her depressed, a misunderstanding that has Sella fuming.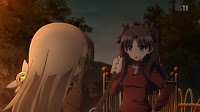 The depressed Ilya lies on her bed, so Ruby says she needs to talk to Rin. Ilya is surprised that Ruby agrees with her about not wanting to return to such a scary place, then Ilya realizes that Ruby means for her to tell Rin the truth. Ilya and Ruby meet Rin at the park, where Rin accepts Ilya's resignation. Rin says it was unfair to have an inexperienced school girl do this and she demands Ruby return to her. Ruby refuses, still insisting that Ilya is her Master. Miyu drops by, saying she'll handle the final card, then leaves. After Rin leaves, Ilya stays at the park and wonders why Ruby stays. Ruby says she's never leaving Ilya, even if Ilya doesn't fight again. Further, Ruby thinks that a time may come when Ilya will need mahou shoujo powers again, something Ilya doesn't think is possible.  Meanwhile, Rin, Luvia, and Miyu get ready for their final card battle.
Thoughts/Review:
I've not read the original manga, but some folks have and have been gracious enough to not only let me know very interesting facts about the Fate universe(s), but also differences between the original manga and the anime. One mentioned difference is Miyu going off on Ilya, which didn't happen in the manga.
That leads me to this episode. I don't know what changes there are (and I'm sure you guys will let me know), but I get the strong impression that this was mostly a filler chapter.  The entire stuff at school was such a "spin on" moment for me. The whole art thing with Ilya's friends wasn't funny and just bored me to death in how it brought everything to a near standstill.
I didn't have a problem with Ilya's conflicting emotions over wanting to leave a scary world of magic where she could be killed fighting powerful beings and her not wanting to abandon her comrades.  That felt like a real emotion to me. But even here, things just seemed to drag on a bit more than maybe they should.
I did like Ruby's decision not to abandon Ilya no matter what. I don't know if Ruby feels that Ilya will change her mind (and no doubt something will happen to get Ilya back into things since I know there are sequel manga series to the one this anime series is adapting) or what, but there was something about how she was going to be there for Ilya come hell or high water that I appreciated.
Apparently, Sapphire is holding out on Ruby because during Sapphire's flashback to when she first chose Miyu, Sapphire wouldn't say anything to Ruby about it even though Ruby was questioning why Miyu was acting the way she is.
Otherwise, not a lot to say. Just a lot of wasted time here with some interesting elements that get bogged down in the weight of the filler stuff.