Oh My Goddess! Manga/ああっ女神さまっ
Ah! My Goddess chapter 302
SPOILER Summary/Synopsis: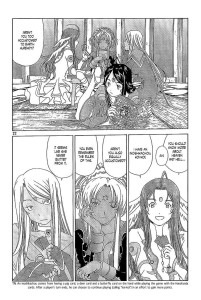 Keiichi thanks his bike, then thanks Belldandy for trusting him in the race. Belldandy thanks him for working so hard. Their moment is interrupted when the Lake Goddess congratulates him. Keiichi thanks her for her role in his success. She tells him that not giving up is the true miracle, and as such, she thanks them for their part in her life.
Tyr (Gate) awards Keiichi a medal for winning. Tyr tells him that he can use the power of the miracle to become a god. Belldandy finds this hard to believe, but since they are in a spiritual realm, Tyr says it is possible. Belldandy briefly considers this possibility, but Keiichi takes her hand and declines the offer. Tyr asks if Keiichi is fine with this since he wanted to be with Belldandy always. Keiichi says that despite not being a looker, Belldandy fell for him and that he likes her. After experiencing life through the eyes of the Lake Goddess and the Bard, Keiichi wants to experience a life like that with Belldandy.
The Lake Goddess is touched by this and Tyr says Keiichi passed yet another test. With that, Tyr asks Keiichi to take care of his daughter, then summons the door to return the pair to Earth, Keiichi's medal being required to open it.  Before doing so, Keiichi asks why Tyr felt the need to hack into Gate rather than just coming himself. The Lake Goddess is also curious about that. Tyr didn't want "them" to meet.
On Earth, Skuld reads a manga magazine while Hild, Urd, and Ansuz play a card game. Ansuz is winning and teases Urd about being too accustomed to Earth. Hild says that the fact that Ansuz remembers the rules of this card game means she's just as bad. Ansuz says that Urd is a lot like Tyr, leading Urd to ask her mother how she was able to conceive a child with Tyr since the two failed the Judgement Gate's test and broke up. Hild says that she broke the rules by casing a spell on herself that caused heaven and hell to break.
Thoughts/Review:
The wrap up of Tyr's test of Keiichi went pretty much by the numbers. What I mean is that once again, Belldandy and Keiichi have potential kiss interrupted. Tyr throws out one final, but small, test in offering godship to Keiichi, thus allowing him to possibly be with Belldandy for eternity. I wouldn't have predicted that specific thing, but it is like Tyr to do one more thing to derail Keiichi.
The setup used to bridge this part of the story with the "meanwhile on Earth" element was humorous as Tyr had a very good reason for wanting to hack into Gate rather than be there in person.
It was amusing having Tyr's ex and the current Mrs. playing a game together with Urd, the child of the ex. I couldn't help but think of Mickey Smith's joke to the Doctor in the Doctor Who episode School Reunion, where the Doctor's present female companion meets one of the past female companions.
Oh, mate, the missus and the ex. Welcome to every man's worst nightmare!
Ansuz and Hild get along well, as evidenced by their friendly card game. Ansuz's getting winning hands repeatedly was humorously symbolic of her ultimately winning Tyr over Hild.
That said, I am curious to know what Tyr did in order to be with Hild so that Urd could be conceived and born. I'm guessing that will be explored next chapter.
Update: Bad translation I read. In fact, it was Hild who cast the spell.
As an aside, what the smeg happened to Peorth and Lind? Seriously, after going off with Chibi-Hild before Keiichi and the others went to save Hild's butt, the two just bloody disappear. I would have thought they'd be hanging out at the Morisato residence with the others to await news of what happens with Keiichi and Belldandy.  I'm kinda disappointed.