ハヤテのごとく!/Hayate no Gotoku Manga
Hayate the Combat Butler Chapter 441 Review
SPOILER Summary/Synopsis: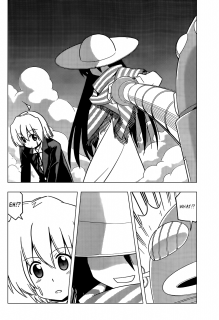 The robot, Eight, demands Hayate hand over the octopus he grabbed, stating that he can't marry Shiori (MAKIMURA) without it. Eight refuses to say why the octopus is needed, but Hayate hands it over to the robot just the same. As a result, Eight is grateful and leaves, but the mysterious girl says Hayate has committed a sin, thus the ocean won't give him anything.
Back with the group, Hayate tells Nagi what happened as they and the others eat kabobs. Ah-tan says the sin lay in that the octopus wasn't Hayate's to give, yet he gave it to someone else without knowing what would happen to the octopus. Nagi is not impressed by this notion, but Ah-tan likes the idea of caring about a single octopus.
Hayate leaves to find Eight to return the octopus to the ocean. Eight is examining another octopus, but says it isn't what he needs so he gives it to someone with a boat full of octopi. Hayate announces himself, causing the octopus acquirer to be alarmed. Eight says it is just an old enemy and doesn't want to discuss things with Hayate. Eight attacks with increased power behind his punch, saying there is an octopus he had to get no matter what.
With that, he attacks again, but the punch is intercepted by the mystery girl, who reveals himself to be Ikusa, Hayate's older brother.
Thoughts/Review:
I mentioned last week that the octopi reminded me of Shuutaro from Urusei Yatsura.  As such, it is funny that Hata-sensei's title for this chapter how talk of octopi reminds one of Mendou-kun (Shuutaro).
As I'm currently just starting to reread Viz's releases (as ULTRA slow as they are) of Hayate the Combat Butler, I'm glad to see Eight back with a role in the manga. He's been gone for a while. I've no clue why he'd need a specific octopus, but I do seem to recall an episode of Urusei Yatsura (or two or three) centering around the octopi or a special one.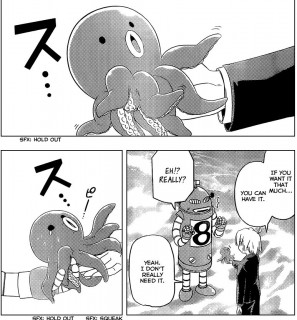 I found it a bit ironic that as Ah-tan ate a piece of octopus, she stated why Hayate's taking an octopus from the ocean and giving to someone else (without knowing what would happen to it) is a sin.
Finally, Hayate meets his niichan, Ikusa. Ikusa has a memory loss so who knows where that will go. That being said, just to show how much more superior Ikusa is to Hayate, I figure there will be a battle of some sort between Eight and Ikusa.
That Ikusa would be the girl, I did think about that, but then though, "Well, maybe not." I should have stayed with my first thought, especially since Hayate has often been seen in female attire.
Otherwise, not much to comment on.  Just time to wait for the new chapter.