Here is the first SPOILER image from the upcoming UQ Holder chapter 21, courtesy of the VERY gracious Southrop. (My review of UQ Holder chapter 21 can be found HERE for those interested.)
UQ HOLDER CHAPTER 21 SPOILERS
The UQ Holder chapter 21 goodness begins.^_^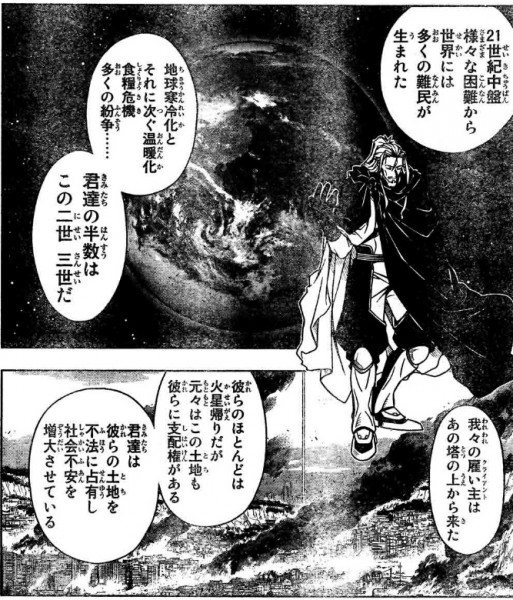 As I understand it, Nagumo is giving some information about events that happened between Negima! and UQ Holder.  I really would like Akamatsu-sensei to continue to fill that gap as well as eventually go into Eva's past.

Multiple languages spoken, eh? Interesting.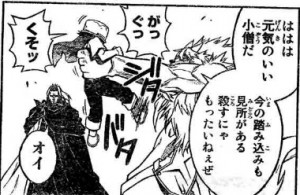 Ah, Ruki. Well, at least the villains here haven't killed him since Ruki is kicking Kaito. Since this is a shounen manga, I doubt they will.
And now for the shounen moments I've been dreading.
*sigh* We all knew Touta would revive and start singing, "Here I come to save the day!"  After all, smeg for brains is the lead character for UQ Holder. With him having what appears to be Magia Erebea abilities, that just makes it worse for me. Touta has no real obstacles to overcome. Everything just magically falls into his lap.  With the addition of Magia Erebea to Touta's repertoire, I'm more convinced than ever that Touta is substituting for Negi (only in a not very likable way) to explore Negi's kind of immortality, the only difference being that Touta has a so-called vampire element as well.
Oh well. I would have loved for Karin to have come in and saved the day, but I did know that somehow, someway, Touta would have a massive "S" appear on his chest. Please, someone get the kryptonite! ^_~
Well, enough of my ranting. Thanks again to Southrop, who as always has spoiler translator notes up for those who wish to read them. ^_^