ユーキューホルダー! Manga Review
UQ Holder Chapter 23
SPOILER Summary/Synopsis: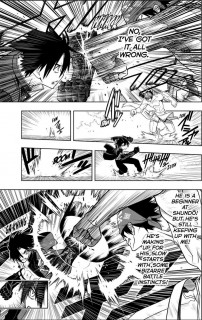 Kaito and Touta exchange blows, leading Kaito to be surprised that Touta's able to keep up with what Kaito considers to be bizarre battle instincts. Even when Kaito does a midair shundo move to get behind Touta, Touta still manages to to punch Kaito in the face. Kaito laughs as the two exchange furious blows, causing Kuroumaru to marvel at Touta's abilities. Touta isn't happy about the laughing, whereupon Kaito knocks Touta some distance, between Ruki-kun and Kuroumaru, where he slams into the ground hard, digging up some of the street as a result.
Nagumo wonders about Touta's battle instinct, but says the power is Magia Erebea. Karin sends Kuroumaru to take care of the town with Ruki as Karin stops Nagumo from pursuing them, addressing him now only as a member of Powerful Hand, but as Shion Nagumo of Fushi-Gari.
Ruki tells Kuroumaru the problem with getting a message out to help with the fires, so Kuroumaru uses the Noboriginryu, Senringiku, Kuro move to send up a lot of fireworks to draw attention. Nagumo and Kaito see this, meaning their time here is over, though they have accomplished half of their mission.
Kaito is so impressed with Touta, he offers him a job with Powerful Hand, where Kaito could train him further. Touta refuses, so Kaito decides it is time to school a punk and uses his own special shundo technique he calls Rocket Drill. Kaito moves faster than Touta can see, piercing Touta's chest and grabbing his beating heart. He's about to use his highest level spell to seal Touta forever, but Nagumo cries out a warning to Kaito as Touta's Magia Erebea grows in strength.
Thoughts/Review:
The fight between Touta and Kaito is pretty much typical shounen fare. With Touta able to instantly learn and adapt, to say nothing of having Magia Erebea, the fact that he keeps up with Kaito, even countering a midair shundo, is not surprising at all.
Even the end, when Touta gets his heart ripped out, Touta having Magia Erebea rage up is not surprising because at this point, the template is, "No matter how bad it looks, Touta can easily overcome any challenge, with or without a heart." As such, I expect Touta's Magia Erebea to go out of control, but then he's able to get control of it.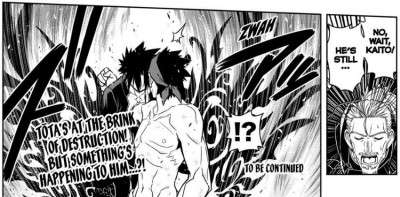 Now, the question is, will Akamatsu-sensei finally give us more information about Touta? Nagumo's words, expressing interest in Touta's past, would seem to be an indicator that Akamatsu-sensei is ready to go down that path, at least a little. After all, he has to know that more of Touta's history being revealed can only make him a better character.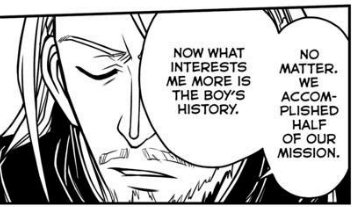 So, why would Powerful Hand bug out just because Kuroumaru sent up a distress signal? Assuming they know Chao is down and out for the count, do Nagumo and Kaito think that other members of UQ Holder will arrive? I keep thinking Eva will show up, not in time to fight, but in time to have her presence known.
The one item of interest was that Karin knew Nagumo. I wonder what the Fushi-Gari are.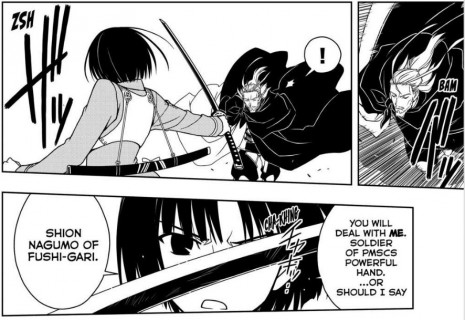 Well, we'll see if Touta does the expected next week, and if Akamatsu-sensei gives him some additional background fleshing out. Until then.