ハヤテのごとく!/Hayate no Gotoku Manga
Hayate the Combat Butler Chapter 440 Review
SPOILER Summary/Synopsis: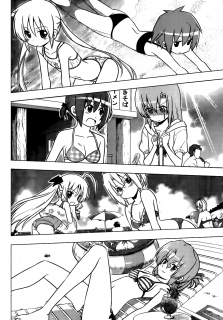 Chiharu, Kayura, Hina, and Ayumu encounter a strange woman who tells them that the Life Restaurant disappeared, thanks to always being in the red. When they ask about someone with a scar that used to work there, she points them to an employment agency. The woman disappears, leaving the girls annoyed by it all.
Returning to the hotel, the girls inform Hayate, Nagi, and Maria about what happened. Ayumu decides that they should go to the beach and have some fun, so thought Nagi is skeptical, she goes along with this plan.  In the water, Nagi steps on a small octopus, which scurries off as Ayumu mentions how cute and rare they are.
At a seaside café, Kayura and Chiharu marvel at how much of the menu has octopus on it. Chiharu takes the opportunity to ask Hina how she's going to seduce Hayate, causing Hina to panic and deny being interested in Hayate. Hina tries to turn the tables on Chiharu since Hina thinks that Chiharu also loves Hayate. Chiharu says there's nothing between herself and Hayate, but then thinks on how her involvement could spur Hina into action. So, Chiharu takes off her over shirt, telling Hina she'll give seducing Hayate a try, and heads out to find him in her bikini, leaving Hina in a state.
On a rocky part of the shore, Hayate wonders if Ikusa was actually at this beach when he sees a small octopus in the water and picks it up. Someone comes up behind Hayate, telling him to hand over the octopus if he doesn't want to die.
Thoughts/Review:
Heh!heh! Hata-sensei does his usual color manga page to have Nagi say different things. I laughed at her saying, "Even if you confess to that girl before graduating, no miracle is going to occur!!" *lol*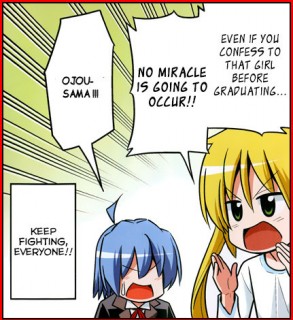 I was amused in the previous chapter that the girls of Yukari-chan House go to the beach and aren't in swimwear. After all, I think fans of Hayate the Combat Butler were expecting that chapter to be full of fanservice. So after a one chapter delay, plus a week delay due to the manga not being published last week, fans get the service, though none in the color pages.
I loved how Chiharu decided to troll Hina by indicating that she was going to go after Hayate. Somehow, I expect Chiharu, who's always been friendly with Hayate but thus far has not fallen for him, may actually decide to give Hayate a go.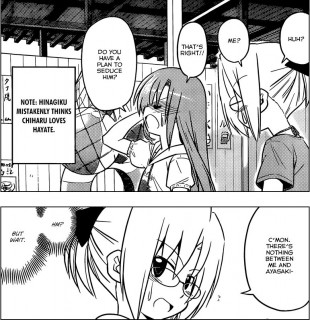 Speaking of trolling, Hata-sensei trolled us a bit with this mysterious girl that showed up. Whether she plays a further role or not remains to be seen.
So, who's the new person who shows up at the end of this chapter? It could be Ikusa, but it could be another troll maneuver as Hata-sensei enjoys doing that.
The octopi in this chapter reminded me of Urusei Yatsura, enough so that the mystery person in my mind became Shuutaro, a character from UY who's family mascot is the octopus and who raises and cares for octopi quite a lot.  The seaside cafe kinda reminded me of the cafe that Ryuunosuke and her idiot father always talked about opening.  I don't know that Urusei Yatsura was being given a nod here or not, but that's what I thought about.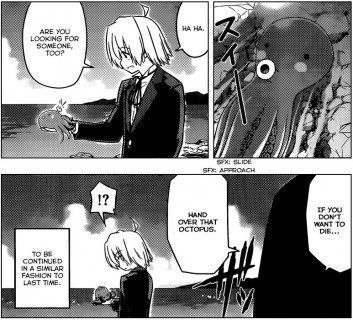 Finally, Hata-sensei mentions the popularity of Hayate no Gotoku in Japan.  That depressed me as this really enjoyable manga series is obviously not that popular in the West (or at least, in America where Viz has the license). It really is a shame too since Viz mostly does the manga right (a few art issues have come up, but otherwise, no real complaints). I don't know how to convince a new generation of fans to start buying the manga from Viz to encourage Viz to start speeding up production of the manga.  *sigh*
So, not much here to push the story forward, but some fun was had, some fanservice, and some table setting. I'm looking forward to the next chapter.