Here is the first SPOILER image from the upcoming UQ Holder chapter 24, courtesy of the VERY gracious Southrop. (My review of UQ Holder chapter 24 should come out Wednesday.)
UQ HOLDER CHAPTER 24 SPOILERS
The UQ Holder chapter 24 goodness begins.^_^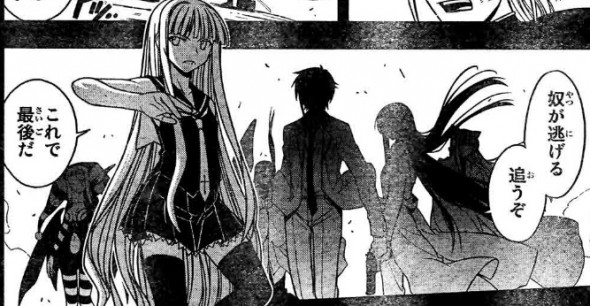 Well now, well now. We are getting a flashback to Negima!, specifically stuff that happened during that massive time skip in the final volume to get us to the end of the story.  Is that Al in the background? Man, I hope we learn what happened to Al.
I like seeing that Eva had a more active role in Ala Alba (or at least, I'm presuming that Negi's gang was still going by that nom de plume).  Zazie and Mana both being in there is pretty awesome too. I wouldn't mind seeing Zazie show up in UQH (assuming mazoku are immortal). Mana was half-mazoku, so who knows if she could show up or not. I'm betting this won't happen since Akamatsu-sensei already has his crossover immortal from Negima! (Eva).
I wonder whom the other person is in the group.  I'm surprise Setsuna, Konoka, and Kaede aren't here, but maybe I'm forgetting some tidbit from Negima! that would explain their absence.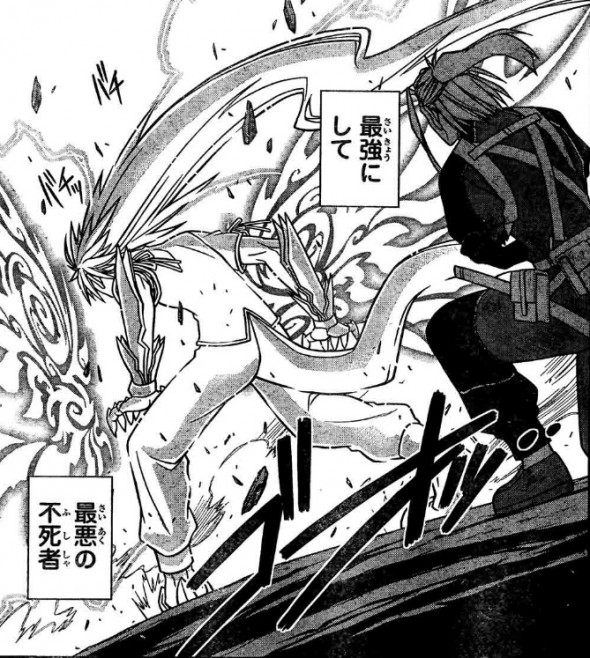 I think this is more flashback, showing Negi battling Nagumo.  If so, sweet (unless it is Touta turning into Negi, which would make me laugh out loud).  Assuming that whacked scenario isn't at play, I wonder if this means we'll get more info on Touta now.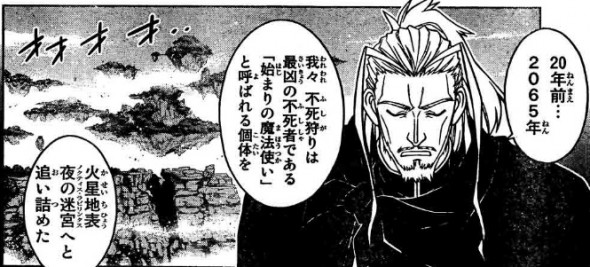 The Mage of the Beginning, Magister Magi, and The Gospel of Darkness (Dark Evangel) all being talked about in this chapter?  Oh yes! This may well be the chapter that puts UQ Holder back up in my charts. ^_^
Well, naught to do but wait for the chapter to come out. I have to say, I haven't been this excited about a chapter in a long time. In the meantime, I'd like to express my continued thanks to Southrop for sharing these awesome images. As usual, he has some notes for those interested. ^_^