ハヤテのごとく!/Hayate no Gotoku Manga
Hayate the Combat Butler Chapter 433 Review
SPOILER Summary/Synopsis:
Hayate and entourage arrive to see a shirtless Ikusa on the beach. As Ayumu and Kayura wonder why there isn't a touching reunion scene going on, the other girls ponder whether Ikusa even owns a shirt or not. Ayumu decides to ask him about whether he owns a shirt, or if he's had something for ten years, like the King's Jewel. Ikusa says all he's had is a pouch, which Hayate recognizes as the one he gave Ikusa as a child.
Ikusa refuses to give Hayate the pouch, saying it is his only link to his younger brother. When Hayate tries to explain that he is that brother, Ikusa punches him, saying that his vague memories of his younger brother are of a cute kid.
With a stalemate at hand, Souya-kun, who's a classmate of Ayumu's and a former classmate of Hayate's, tells Ikusa, his old comrade, that Ikusa and Hayate should have a competition. Ikusa isn't convinced, but Souya insists that Hayate is even better than him. After accurately assessing Hayate's unluckiness and unconscious ability to attract women, Ikusa agrees to a competition.
Nagi is concerned that Hayate is outclassed physically, based on Ikusa's effortless trashing of Eight, but Ikusa wants a seaside restaurant challenge. Pointing to the remains of Life Restaurant, Ikusa says that if Hayate can rebuild the restaurant, he'll give Hayate the pouch. If Hayate doesn't meet the challenge, the entire debt (of the restaurant?) is passed onto Hayate, some ¥8,920,000. Nagi offers to loan Hayate the money since he's helping her regain her old mansion, but Hayate refuses, saying this is between him and Ikusa. After tossing Hayate the IOU and a seal, Hayate stamps it and the game is on.
Thoughts/Review:
Har! So, we get a little light chapter that could be setting the stage for something more. Certainly, Ikusa having Hayate's old pouch is tied to the central plot, but somehow, I figure the King's Jewel may not be in there.  Either that or someone takes it after Hayate wins the contest.
Speaking of someone, there's Ah-tan. I wonder if she had something to do with Ikusa's memory loss. Further, I wonder if she actually remembers everything from her life as Athena, since her power meter (key fob) is at full. I may be reading things into the chapter, but I couldn't help but think that Ah-tan's remarks were in fact spoken not just in agreement with Chiharu, but also from her experience with Ikusa in the past.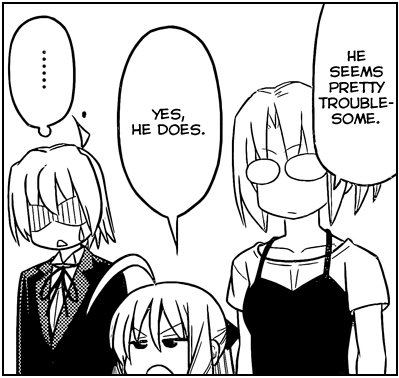 Souya showing up isn't unexpected since he was the main character from Umi no Yuusha Lifesavers. Since Ayumu is here, I'd kinda like her to be the one to get Souya to speak a bit more about the Lifesavers manga. It doesn't have to be deep or anything, but I'd like to know. And since we all know Viz wouldn't touch that manga with a ten foot pole, that's pretty much the only way I'll get to read it (unless there's a scanlation out there I'm unaware of).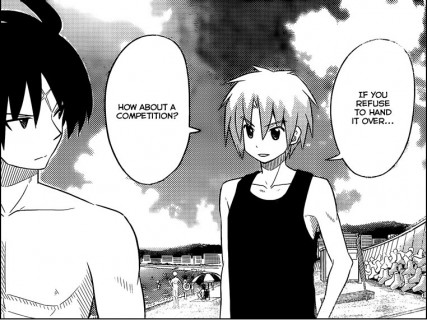 I absolutely loved Nagi's little moment here, where she offered to loan Hayate the money from the restaurant debt (I'm presuming it is the restaurant debt, though that's never made clear to me in the chapter). Initially, I wondered where she'd get that much money, but then I remembered something from early in the manga where she mentioned how she'd survive if needed. I'm guessing that, along with being a landlord, is how Nagi is paying for this trip.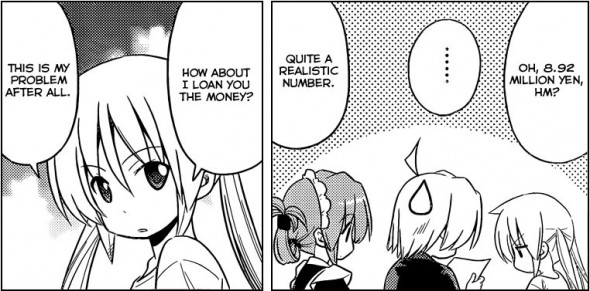 Now that Hayate has this challenge in front of him, I don't think it is too difficult to predict that once the cafe is rebuilt, having Hina, Ayumu, Maria, Chiharu, Kayura, Ah-tan, and Nagi in swimsuits will cause business to boom like never before, paying off the debt and then some.
We'll see what's in store next week. ^_^