げんしけん: 二代目Chapter 96 Manga Review
Genshiken Nidaime chapter 96 Manga Review
SPOILER Summary/Synopsis: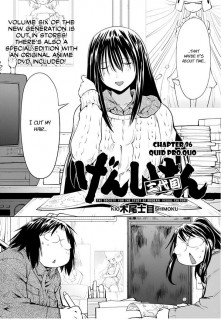 Rika, Yajima, and Ohno are in the Genshiken clubroom and discussing the new anime of the season when Ohno states that she's considering cutting her hair, causing Rika to go off on this idea. Ohno says she's limited in what she can cosplay due to her hair. However, she never has the courage to actually cut her hair. As the discussion moves to the place Ohno gets her hair cut, she asks Rika if Rika would like to come with Ohno on her next trip to the beauty parlor. Rika agrees, then invites Yajima to come with them.  Yajima has never been and has no desire to go. This causes Yajima to argue on why her cheap place is OK.
Ohno understands how intimidating this can be, but Rika thinks they need to jump in and change Yajima's appearance, starting with her hair, clothing, and then slimming Yajima down. Since Hato is changing and moving forward, Ohno and Rika run through hair styles on Yajima.
All of this talk causes Yajima to panic, which fuels Rika's desire to escalate things and head to the beauty salon in Aoyama, where Saki can take them. Ohno reminds Rika of their lack of cash after Comifes, which both Rika and Yajima understand. As such, Ohno decides that they'll save up money for a couple of months, then go.  At that time, Saki will cut her hair short. Yajima agrees to this.
That night, Yajima starts looking further into the whole beauty salon thing when Rika sends her a text about turning on the TV. An anime about water polo is airing called Suikyuu, which Yajima finds entertaining.
The following day, Rika and Ohno excitedly discuss this new anime, which they both loved. Yajima says she did enjoy it as well. This leads Rika to a confession — both she and Ohno preordered the Blu-ray set of discs (with the bonus materials), meaning they are out of money. However, Rika says that Yajima could go the the beauty salon on her own, but Yajima declines.
Meanwhile, Hato picks out his new apartment.
Thoughts/Review: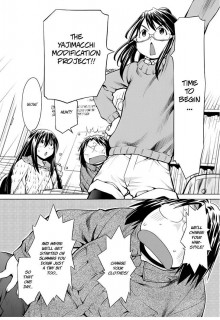 Heh! You know, I rather enjoyed this chapter, primarily due to Ohno's having an expanded role. I like the idea of her getting her hair cut, though I knew from the start that this would never happen. It would have been fun if it would have happened, but oh well.
Same thing with Yajima. It would have been fun had the girls gone on their trip to a beauty parlor, but alas, that was not to be. Kio-sensei does allow us to see possible looks for Yajima, but it is still disappointing that we didn't get a new look for her.
I was amused by the parallels between Madarame and Yajima when it comes to spending. Madarame never spent much on clothing until his chat with Saki, whereupon he spent the big bucks on a new outfit.  Yajima does much the same, only the focus this time was on getting a hair cut rather than clothing.
I liked that this chapter shifted focus more to anime otakuism rather than the normal fujoshi stuff. I do miss the normal otaku stuff that the original Genshiken used to be on about.  Even if the girls put in the fujoshi angle, it would still be nice for the club to have a fictional anime series to discuss again.
Finally, Hato gets a new place. We'll see where that goes.
So while a fun chapter, there's not much else to discuss here. I think the next chapter is also out, so I should look into that as well.