ユーキューホルダー! Manga Review
UQ Holder Chapter 33
SPOILER Summary/Synopsis: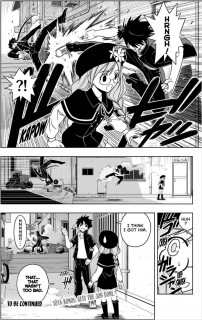 Touta races to the knocked down and dying Kirie, who manages to grab Touta and ask to hold his hand. Touta agrees, but as Kirie dies, Touta finds himself back UQ Holder HQ with Kirie in a praying fashion in front of her save point. Touta is stunned by this, but decides this must be a waking dream. Kirie informs him he's wrong as this is her power of Reset and Restart.  Touta is exited that they went back in time, but he's wrong in thinking it is a time machine or magic that can be learned. Touta thinks Kirie is awesome as she lays out the rules of her immortality.  Kirie becomes annoyed at Touta's attitude, letting him know that dying hurts. Further, she's angry with his incompetence for allowing her die over six times.
On the boat, Touta reflects on this, then remembers Kirie's instructions for him to act and say the things he said before. However, he can't remember his responses to the previous conversation, irritating Kirie further.
After parting company with Ikkuu and Kuroumaru, Touta asks Kirie if they can't call the other two for backup. Kirie rejects this since she wants things to play out as much as possible to how they were to try to accomplish her goal. Now that she's finally taken him back, she hopes this time will be better. Touta asks why she didn't take him back before. She gets angry, saying he always raced off to go after the assassin. She managed to stay conscious enough the last time to grab his arm and change things.
Touta asks what they are doing, so Kirie briefs him on their true enemy, Fate Averruncus. He's coming to Earth alone for the first time in thirty years, and used to be a rival and friend of Touta's grandfather, Negi Springfield. Touta is shocked by this, conceding he knows almost nothing about his grandfather and wants to know. Kirie says their first priority is to get to Fate in one piece, meaning they have to get past the assassin. Just as CHAO Xinzi goes to attack Kirie, Touta kicks him some distance into the trash, causing Kirie to concede his efforts weren't bad.
Thoughts/Review:
OK, so now we have this whole save point thing down. The system works pretty much as I expected with Kirie basically doing a Groundhog Day maneuver and reliving her life from the save point forward with all her memories intact. The unexpected element is her ability to take someone back in time with her. That part of her immortality makes no sense to me. How does this avoid massive paradoxes?  If she's dying, how does someone else come along for the ride?
For the paradox thing, I guess she forces someone else to time leap so that they suddenly find themselves back where they were, only with memories of where they'd been and what they'd done. So assuming that her save point starting moment had Touta in the boat already rather than stop to see her, then he'd find himself back in the boat and wondering what the heck is going on.  By leaping back into his body from an earlier time, he then avoids encountering himself, avoiding one paradox.
OK, so Kirie can take at least one person back in time with her. (I predict this number will expand, or Touta will be able do save points with expanded numbers.)  In this one instance, I can understand Kirie not wanting to change things too much in order to reach her objective.  (And I think she's already traveled ahead and seen that Fate was coming down, then wants to make sure things go that same way so that Fate doesn't change his plans.)  But from a story perspective, rather than taking the time to put her foot in Touta's face and angrily complain about his incompetence, why didn't she simply say, "if something happens to me, take my hand and don't let go." It is simple, but should be effective enough for an idiot like Touta.
Still, Kirie has a good point to her in that she's insulting Touta and trying to stomp his face.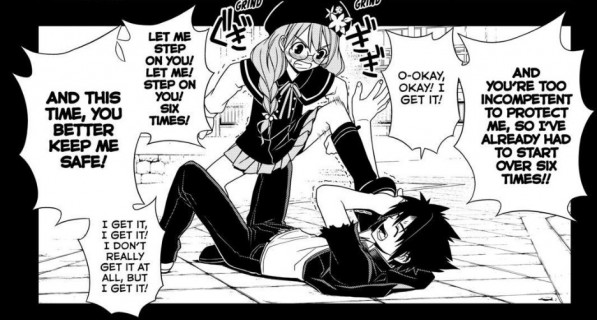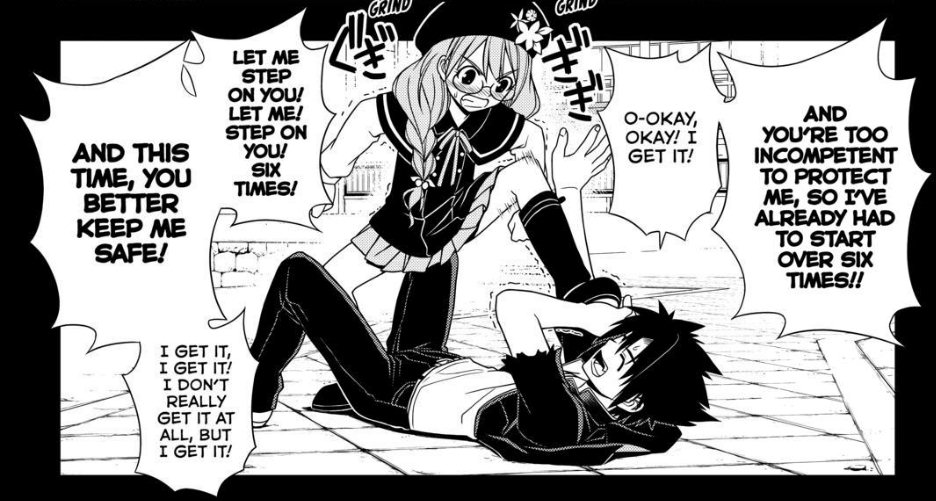 Having Xinzi (I'm going to use the official name spelling for Chao's given name to avoid the confusion with Chao in Negima) return to be the assassin was unexpected, but it did fit with my theory that he wasn't dead. I had thought that he'd return to attack Karin again back during the fight with Powerful Hand, but now he's here.
Naturally, Touta effortlessly defeats Xinzi whereas Karin had a difficult time of things. Even if Xinzi gets back up, Touta will put him back down.
Speaking of Touta, while this chapter doesn't actually confirm that Touta is Negi's grandson, it is clear that Akamatsu-sensei wants that to be established as fact. The way UQ Holder is playing out, I'm finding that I'm not trusting "facts" that Akamatsu-sensei is laying out. That's mostly because of Touta's convenient memory loss and the fact that the "official" story was one thing, but the real story was something else. So I find that because Akamatsu-sensei has put this lie into the story, now everything stated as fact could be retconned as a lie and the truth is something else.  As such, Touta's family name and even his supposedly being the grandson of Negi is something I'm loathe to swallow based on the scant information given to date.  It may all be true, but the earlier lie causes me to doubt almost everything.
I don't doubt that Fate is the enemy of UQ Holder. Negi's "I've got to be friends with Fate" goal was achieved in Negima, but Fate made it conditional.  With Negi apparently dead, I can see Fate saying, "You know, I gave Negi a chance, but he got himself killed, thus I'm going to do things my way."  Eva and the others didn't agree with Fate's way and thus the battle between UQ Holder and Fate.
Now, as to Fate being the current greatest wizard in the solar system, I can believe that. We don't know why Eva apparently got weakened, but I can see Fate, as an artificial being, coming up with a way to continue to power up, even at the cost of powers to other mages.
As weak as Kirie is, I do wonder what she hopes to accomplish in meeting Fate, especially since Fate wants Touta.  I guess we'll find out eventually.
I realize my remarks may come off as negative, but this wasn't a bad chapter.  There were a lot of good things here.  I'm hoping that Mr. Leap-before-you-look learns something, especially after discovering that his stupidity caused Kirie so many problems. I figure that he'll continue his stupid ways and do a Godzilla stomp on all in his path, even if he takes some damage in the process.