ユーキューホルダー! Manga Review
UQ Holder Chapter 34
SPOILER Summary/Synopsis: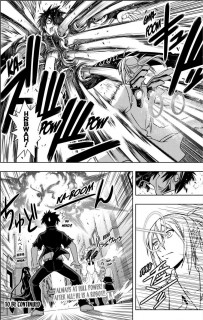 Kirie is somewhat impressed with Touta's taking out Xinzi in one kick, but Xinzi is suddenly behind her, forcing Touta to act to drive him back. Xinzi is surprised by this, but continues to go after Kirie as Touta increases the weight of Gravity Blade to drive off Xinzi. Xinzi hurls several knives at Kirie, but Touta manages to get there in time to deflect or take the blade hits himself. He increases Gravity Blade by 1000 and narrowly misses Xinzi, slicing through the steps Xinzi was on. This impresses Xinzi, who stops going after Kirie to go full on with Touta, taking his eye in the process.
Touta manages to get a non-blade hit on Xinzi, knocking him to the ground. Touta springs on top of him, holding Gravity Blade at Xinzi's head. After demanding information, Xinzi introduces himself as a member of Powerful Hand who battled Karin the other day. When Xinzi learns that Touta considers Karin to be his senpai, Xinzi thinks himself lucky.
Kirie, who apparently had no clue about the fight that just happened, approaches to tell Touta she still considers him incompetent. Touta warns her off while holding Gravity Blade to Xinzi's neck. Touta demands to know why Xinzi would want to kill a kid. Xinzi says he was there to greet Karin, but when he spotted the Numbers, he felt compelled to see if she was immortal as well.  Touta says he's turning the psychopath to the police, then asks how everyone in Powerful Hand got away in their last encounter. Xinzi shows him by shadow gating to under Kirie's mantle.
Holding Kirie hostage, Xinzi decides to set Touta straight — he's not killing a little girl, but rather he's killing an immortal monster and enemy to humanity.
Xinzi gets tapped on the shoulder, then finds himself launched into the air as Ikkuu gut punches him. Ikkuu then rapidly pummels Xinzi as he falls, driving him back into the air, where Ikkuu then uses his laser eye to cause an explosion around Xinzi, to the amazement of Kirie, Touta, and Kuroumaru.
Thoughts/Review:
I'm calling hogwash (to put it VERY politely) on Akamatsu-sensei's after the fact addressing of what happened with Powerful Hand.  To quote myself from chapter 30,
As to the story, what happened to Nagumo and Kaito? Seriously, they were completely forgotten here, save for a flashback image when Ikkuu praises Touta. I would have liked some information on what happened to them.
I'm actually MORE offended at learning what happened to Nagumo, Kaito, and Xinzi as well as the others from Powerful Hand.  Seriously, the actions of EVERYONE after the fight wasn't one of, "our quarry just vanished, so we need to be on our guard." Nope, it is "let's party, and there are no worries. WOO!HOO! Touta is the awesomeness 'cause he don't care about no Magia Erebea!"  Instead, you've got someone who mass shadow gated an entire military force AND apparently their equipment.  That's pretty scary, considering that if Xinzi can mass teleport people and things like this, he could easily snag members of UQ Holder or anyone else whenever he feels like it.
Now that I know what I know, it makes the whole "good times" element afterward, and even Kuroumaru's and Touta's walk back where they DIDN'T discuss it, more infuriating.  I'm not sure what the heck has happened to Akamatsu-sensei as a writer, but for me, he's really failing lately in a key element of writing. I think he's trying too hard to be different and put in surprises, so he's purposefully not revealing things to get a surprise. However, in doing so, he has to have people ACT like these surprises didn't happen, which comes off as unnatural.
Now that I've ranted, the fight between Touta and Xinzi was interesting, but mainly from a standpoint of Touta's being a more sensible fighter, at least when Xinzi revealed that he wasn't done yet. I guess Kirie telling him he'd failed to save her life six previous times must have registered somewhere, 'cause his fighting style shifted to protecting Kirie at whatever costs. Even when he moved away from Kirie, it didn't come off as a hot headed move, but rather a move to drive Xinzi away from Kirie. Further, Touta tried to get information from Xinzi after pinning him, which I approved of as well.
Still, Xinzi did get himself an eye from Touta. I'm still keep hoping that the smegger will finally learn his lesson and stop being a mindless pap.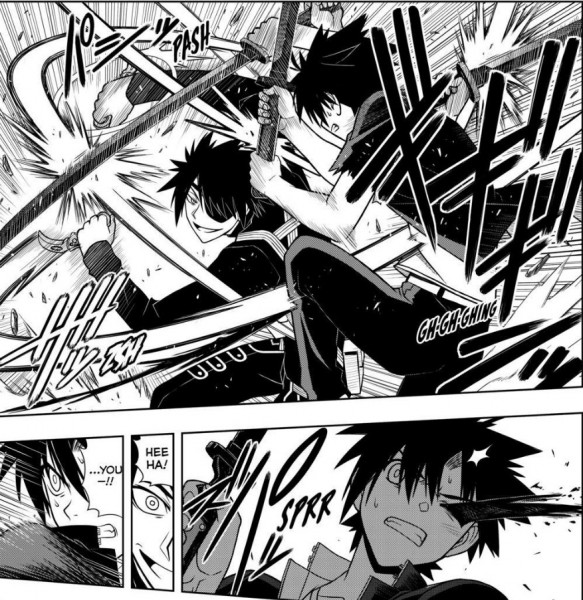 As for Kirie, this chapter shows that she's not a fighting member of UQ Holder. Other than her wealth, I'm not sure what she brings to the table. It makes her mission to encounter Fate even more of a mystery since there's no way she could defeat him in battle unless she has some trick up her sleeve to accomplish this.
This leads me to a theory of mine. As I see it now, the only way Kirie could have known that Fate was going to be at the base of the space elevator by himself was that she'd already born witness to it. If this is the case, then it is reasonable to assume that she died as a result of whatever happened during that encounter (I don't see her taking her own life, but she might have). Now armed with the information that Fate will appear solo at a certain time, it makes sense to me that she doesn't want to change things too much because Fate might get wind of a battle and bail on making his journey down (or worse).
Of course, this still doesn't excuse Kirie's actions with Touta before Xinzi assassinated her for the sixth (plus?) time.  That's still bad writing on Akamatsu-sensei's part. She could have been angry with Touta, but told him, "Stick close to me" or something. Instead, she wastes time so we can get the surprise "I've been killed six or more times before, Mr. Incompetent!"
But I digress again…
I'm going to predict that Kirie will probably die again before this arc is out, and that she'll again bring Touta back. Armed with additional knowledge, Touta could then easily defeat Xinzi because he'd have battle experience with him, then he'd have his eye back and he and Kirie could proceed from there.
Here's a question though — why did Ikkuu and Kuroumaru return when they did?  What do you want to bet that they (or at least Ikkuu) were informed about things ahead of time, explaining why they weren't gone long, certainly not long enough to get Karin?  It would fit with Akamatsu-sensei's current, "Oh, let's go for another surprise" style of writing.
Anyway, I was again very harsh with the chapter, mainly because Akamatsu-sensei's style of writing appears to have degraded. However, there were interesting elements and a good fight. Plus, I loved the Ikkuu save at the end.