ハヤテのごとく!/Hayate no Gotoku Manga
Hayate the Combat Butler Chapter 453 Review
SPOILER Summary/Synopsis: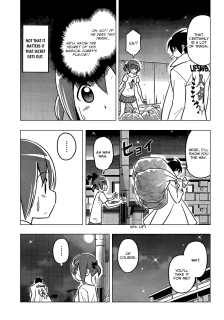 Nagi notices the name of their hotel, Asuki Hotel Resort, and decides to pay a visit to the front desk for more information. A none too pleased Hina shows up, letting the others know that Hayate is preparing curry at the Seaside Restaurant.
Kayura and Chiharu accompany Hina to the restaurant, who upon seeing the instant curry packages, express doubt that this will help. Hayate says they still have a chance, saying they dump the curry into pots, heat it, then serve curry that costs them nothing, meaning 100% profit. However, Chiharu and Kayura are sure this won't net them the ¥8.9 million they need.
Hina, Chiharu, Kayura, and Ah-tan head to bed as Ayumu offers to help Hayate. She ends up getting tasked with taking out trash bags filled with empty curry boxes. Ayumu has no idea where to dump the trash, but finds a neighborhood trash gathering point where leaving her trash would be illegal. She's planing to dump her trash anyway, but she's caught by Ikusa, who lets her know that Seaside Restaurant has hits own trash spot.
Ikusa takes the trash for her, so Ayumu follows, noting that he's a nice person. She asks why his job is to save people, so he answers that since he was blessed with a strength that others don't have, he decided to help others. When Ikusa asks if Hayate is kind, Ayumu confirms it, citing the troubles he's had and he's a butler for Nagi, protecting her with his life. As such, that's why he needs the stone Ikusa has so he can continue to protect Nagi.
Hayate shows up, worried about Ayumu, so Ikusa notes that he shouldn't have sent her out to take out the trash. Hayate gets angry with Ikusa because the competition is the cause of all this. Ikusa won't give up the stone because this whole thing was a joke. Hayate goes off on Ikusa, comparing him to their parents with his love of money.
Nagi shows up, revealing that Ikusa is not poor and that he is actually the owner of the Asuki Hotel Resort. Ikusa reminds Hayate that this whole situation was a joke. Hayate is stunned by this, then demands the King's Jewel. Ikusa refuses, saying that this is no longer a joke.
Thoughts/Review:
Har! Hata-sensei certainly pulled a twist with this chapter. I never would have thought that Ikusa was rich. Then I remember that Doctor Kurosu and her involvement with Ikusa. She was obviously very rich, and she considers herself a traveling doctor to help people. She apparently spent a great deal of time with Ikusa over his amnesia. It seemed odd to me that she'd be in such an expensive car, but now I'm thinking that Ikusa is the reason she has that car. I think it would be kinda neat if she were his wife.
I liked that Nagi was the one who figured out Ikusa's secret. Considering that she came from wealth, it doesn't surprise me that she'd spot things that smell of wealth.
Regarding Ikusa, I'm starting to question how real his amnesia is. Some fans have questioned this, especially in light of Athena's conversation with him. After this chapter, I'm starting to think that his "joke" with Hayate may have been to test him, and that he knew who Hayate was all along.  I could be reading too much into this though.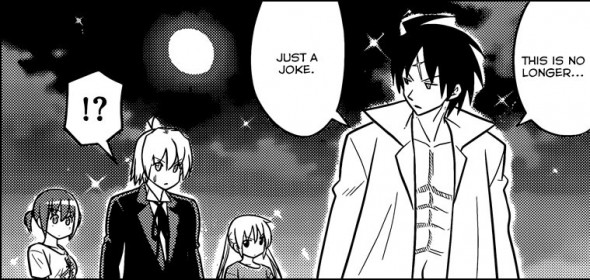 Beyond that, I'm not finding a lot to comment on with this chapter. Hayate making the ¥8.9 million is being set up as hopeless now, and Ikusa is saying that this situation they are in is no longer a joke. So I have no idea where Hata-sensei is trying to take us.
Regardless, I did enjoy this chapter.