ユーキューホルダー! Manga Review
UQ Holder Chapter 37
SPOILER Summary/Synopsis: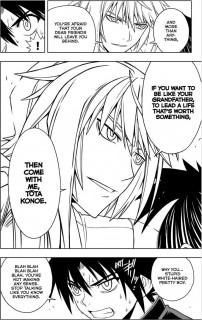 Kuroumaru stands with Kirie and thinks about how Fate had saved Kuroumaru's hometown sixty years ago, never realizing that Touta's grandfather had been a part of that mission. As such, Kuroumaru decides to save Touta no matter what.
With Fate's sudden arrival, Touta sees his two friends Nikumaru and Mihashi. Touta reports the situation to Ikkuu, requesting he not shoot. Kirie decides to call of the operation, but since Fate's seen Touta, it is too late. Ikku says they should continue with the operation since they will be resetting, thus nothing that happens will have happened. Kirie objects to this since UQ Holder's policy is to not harm civilians. Kuroumaru advises that they proceed as well.
As Nikumaru and Mihashi see Touta, they exchange greetings. Kuroumaru signals Ikkuu to fire the Al Iskandaria satellite weapon of Yukihime's, but as he goes to fire, a waitress shows up and cuts off his hand with a sword.
As Touta and his friends do some catching up, Fate comes up behind them, then flashes a smile, introducing himself and revealing that he knows their names. He praises them as disciples of Yukihime, and accuses Touta of being jealous. Touta questions this, so Fate explains that he knows about Touta's lack of a past and his fears of being a nobody. As such, Fate offers him a chance to lead a worthwhile life like Touta's grandfather (Negi) if he comes with Fate.
Kirie is in a panic over this turn in the situation, but decides to let things play out. Fate tells Touta that not only are his two friends at his disposal, but he has the power to destroy all the people at the gate terminal. With that, Fate orders Touta to uses his old fashioned cell phone and tell the other members of UQ Holder to put down their weapons. Touta calls Kirie, who confirms that Fate can do what he says, but she doesn't want to give up. Touta says they've lost, so if he goes with Fate, everything is solved. Plus, he'll get to learn about his grandfather.
Fate is pleased with Touta's choice, but he insults Yukihime as a result. Touta isn't happy about that, and asks what Fate thinks of Yukihime now. When Fate accuses Yukihime of being a liar and greedy who caused Negi's death, Touta changes his mind and despite being afraid, puts on a brave front. Fate asks what he's going to do as Touta gets Gravity Blade tossed to him. With that, Touta says he's going to go all out.
Thoughts/Review:
Lots of exposition, but some interesting stuff to set up an apparent fight.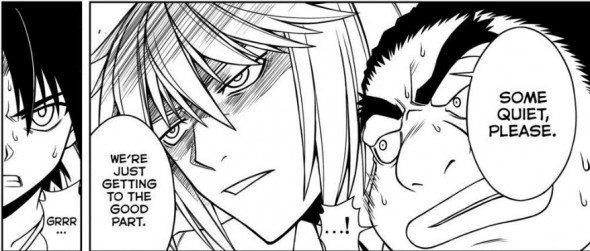 First, there's the waitress who cut off Ikkuu's arm. Speculation runs rampant about whether or not this is Tsukuyomi or not. Initially, I was thinking I wouldn't like that, but then I thought, "Well, seeing her in a somewhat older form who's now an immortal could be quite interesting." Since Tsukuyomi held the Hina Blade in Negima, I can see a means by which she could become immortal.  Whether this is Tsukuyomi or not, I'm looking forward to getting a reveal of whom this mysterious swordswoman is.
I found Kirie's reflection on the situation to be interesting. The implication in her thoughts is that they've encountered Fate multiple times, but this is the first time that it hasn't gone into a battle.
This brings me to Touta's friends. There are two things here. First, Fate seemed to appear out of nowhere. Akamatsu-sensei has double emphasized this point by also mentioning it in the previous chapter. Second is the unexpected arrival of Touta's two buddies, whom Fate knows. While it could be a coincidence, in the words of Garek from Star Trek: Deep Space Nine — "I believe in coincidences. Coincidences happen every day. But I don't trust coincidences."
If they've done they've encountered Fate on multiple occasions, I can't believe that Touta wouldn't have noticed his friends on other encounters. So as a bit of speculation, could Fate have helped get those boys here at this time to try to get Touta?
Considering that Fate was aware of the UQ Holder members there waiting for him, and considering that he had an ally to take care of Ikkuu, I think that Fate did get sent back in time when Kirie killed herself in their first encounter. As such, I think that Fate put 2 and 2 together and came up with a plan to deal with UQ Holder.
That leaves Touta's friends. Considering that Fate is well aware of time travel, it is not out of the realm of possibility that he might have done a bit of time travel himself to arrange for Touta's friends to be there. That might explain why he suddenly seems to appear. If you recall how folks reacted when they saw Negi (and whomever he was with) appear during a time jump in Negima, it seems like Fate has just time jumped in.  We'll see if that's right or not.
Regarding Al Iskandaria, there have been questions regarding how Chachamaru's pactio artifact can be used here. The thing is, even in Negima, I never thought that this satellite weapon was her pactio artifact. I've always thought her artifact was the trigger device, by which she accessed Al Iskandaria, which was supposed to be from Chao's time in the future. I never could understand how the satellite traveled back in time to be used by Chachamaru, but since time travel plays a large role in both Negima and UQ Holder, I suppose the satellite was always Eva's, thus the reason Chachamaru could access it in the past.
I need to wrap this since I'm out of time, but I can't help but think of Fate and his disdain for Eva. I know a lot of fans question whether Negi is dead or not. Whether he ends up being dead or not, I believe that Fate believes Negi to be dead, and he blames Eva for Negi's death. I'm not sure how the fight will go (I've predicted that we will see another jump back in time), but at the end of everything, Akamatsu-sensei has to give us an exposition chat between Touta and Eva. I really, REALLY want this conversation to end up exploring Eva's past as well, but I admit, that's a long shot since Akamatsu-sensei only teased her past in Negima.
Regardless, this was an interesting chapter, setting up an apparent fight. I'm thinking we'll get something unexpected, but we'll see how things go in a week. ^_^