No spoiler images have arrived yet. In lieu of that, here are the first SPOILER rumors from the upcoming UQ Holder chapter 37 courtesy of Hata. (My review of UQ Holder chapter 37 should come out Wednesday.)
UQ HOLDER CHAPTER 37 SPOILERS
The UQ Holder chapter 37 goodness begins.^_^
From Hata:
C37

as expected.
— it is Al-Iskandariya.
— Kuroumaru is from Mars.
not expected.
— Fate has a swordswoman.
— Fate telling Tota Negi dies because of Eva's lies.
— which cause a give up Tota to fight again because Fate saying bad things about Eva.

my first impression is Fate does not lie, and Tota is really a mother con, more later if 2ch is faster than Southrop.
Now, for those wondering if "Mars" means Mundus Magicus or the actual terraformed Mars, Hata says,
text spoilers are just that, text, and I pretty much translate it word by word, so your guess is just as good as mine, (I have my guess for the ID of Fate's swordswoman, too.) my guess consider current date is 2086 and Ayaka says she lives on Mars by 2090, good chance your guess of Magic World is correct.
I think some people assumed that Kuroumaru was from Venus, as there is this assumption that mazoku (Mana, Zazie) come from there. I never saw an indication in Negima were this was indicated (I may have just forgotten, so if you know where it was specified, let me know). The youkai encountered (Setsuna, the critters that Tsukuyomi summoned, others) did not have an origin specified either.
I never ventured a guess on where Kuroumaru came from, though I should have figured the Magic World or Mars since Kuroumaru mentioned coming from the top of the tower (space elevator).
Well, that's it for now. I'm keeping my eye's open for spoiler images from UQ Holder chapter 37. Hopefully, some show up. ^_^;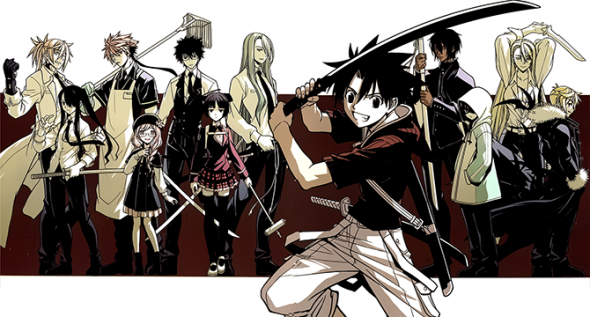 Update: Southrop just pinged this out, confirming the swordwoman rumor. ^_^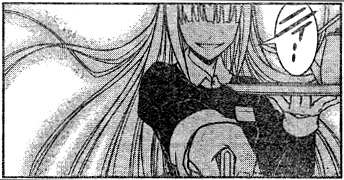 I'll post more if they show up. ^_^