げんしけん: 二代目Chapter 100 Manga Review
Genshiken Nidaime chapter 100 Manga Review
SPOILER Summary/Synopsis: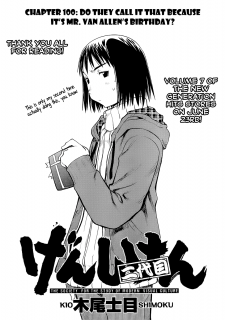 With Valentine's day approaching, Rika schemes on how to get Yajima to buy chocolates for Hato by accompanying her, Hato, and Sue to buy chocolates. Yajima catches Rika's obvious scheme, so she announces she'll buy chocolate from another place. With that, she leaves, annoyed by things, but understanding what Rika was trying to accomplish. Hato asks Sue if she's buying chocolate for Madarame. Sue blushes, but instead of answering, she grabs chocolate and says it belongs to Ogiue.
On Valentine's day, the club members exchange chocolates. Sue gives chocolate to Ogiue, quoting Lupin III from Castle of Cagliostro. Rika notices Yajima sitting there, so she prompts her to produce chocolate. She brings out a chocolate for the group, annoying Rika.
As they start eating chocolates and drinking coffee, Ogiue mentions that she likes this casual atmosphere over the normal Valentine's requirements. She gets reminded that she can just give chocolate to her boyfriend, Sasahara, leading Sue to mutter a curse on him. Ohno says she's bought a chocolate for Tanaka, leading Sue to mutter a curse on him as well.
Kuchiki walks in, making a big deal of the chocolates and the day. When offered chocolates, he acts offended at being offered leftovers. Yajima slips a chocolate package to Hato for him to give to Kuchiki. Hato does, appeasing Kuchiki, who then leaves. Some of the others praise Yajima, who then gives Hato a chocolate for Madarame. Rika wonders what Yajima would have done if Kuchiki hadn't interfered while Ogiue says she respects Kuchiki for attempting to work on his graduation thesis, a swipe at Ohno who'd given up on hers.
Sue and Hato come to Madarame's with chocolates from the others. Hato gives him a special chocolate, causing Madarame to have a reaction.
Thoughts/Review:
Ah, yes. The old Valentine's day trope manga chapter with the Genshiken twist.
I'm a little puzzled at Ohno's supposed expectations for Valentine's day in Japan with the club members. Although she lived in America for a long time, she is Japanese. Further, she's been back in Japan long enough to know how things in Japan are not really like how things are depicted in anime or manga. Yet she's acting like an outsider who's expecting the anime scenario to happen, then acts disappointed when it doesn't. Even Ogiue wasn't buying this, so why was Ohno going on like she did?
Speaking of Ohno, it looks like the table has been set for her to be around another year. I guess if Kio-sensei lets her graduate, he loses an anchor and doesn't want to do that yet.
While Rika can be quite irritating at times, I was amused by her ploy to arrange things so that Yajima could give Hato a chocolate without the added romantic pressures associated with such an act. I liked Yajima's response, which was to buy chocolate on her own while quietly accepting the setting that Rika had set up for her. In the end, Kuchiki ruined everything, but Yajima handing Hato chocolate to give to Madarame is a big step for her character.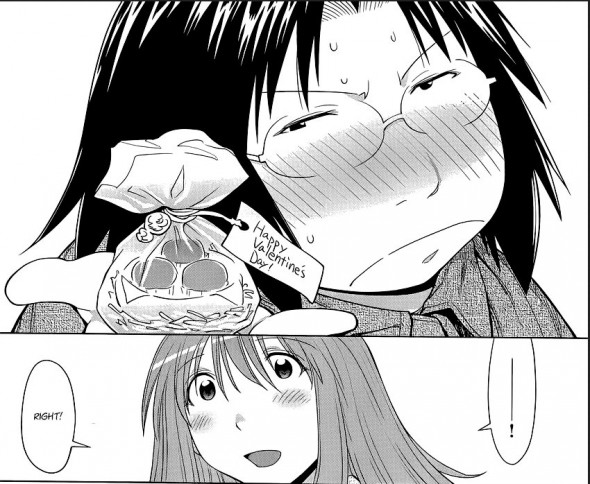 As for Sue, I'm always amused at how Kio-sensei mostly keeps her on a tight rein because she can be quite the scene stealer. That said, from her screen time, it was obvious that she was going to get Madarame chocolates. Her hiding behind Ogiue was cute, mainly because of her quoting from Castle of Cagliostro again.  (And lets face it, a movie that awesome deserves being quoted from.)  I laughed out loud when Sue wanted both Sasahara and Tanaka to die since they were getting chocolates from their girlfriends. Man, I really want Sue to be the winner here.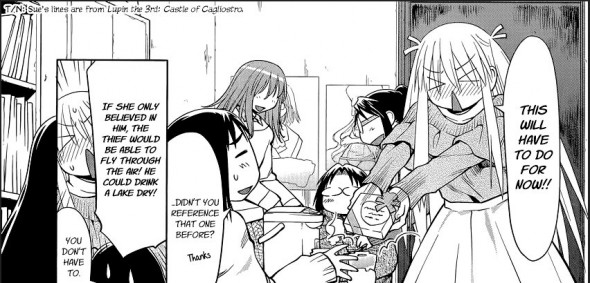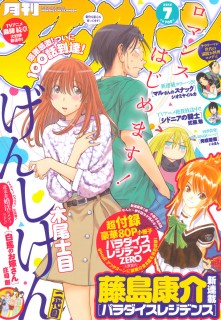 Finally, there's Sue and Hato going to Madarame's place with chocolates. I guess Sue was playing some kind of game, but when Madarame became touched at getting chocolates, she and Hato reacted as well. I've no idea where that's going, though I want Sue to win.
As an aside, Genshiken got the cover of Monthly Afternoon magazine to celebrate it reaching 100 chapters.  Kio-sensei put Hato, Madarame, and Sue up.  (I also note that Fujishima-sensei's Paradise Residence gets a cover character as well.)
As chapters go, I can't say I'm all that enthused about it even though it isn't a bad chapter. I liked that Yajima is getting more focus with her feelings for Hato, and I certainly enjoyed Sue's screen time. I suppose I wish that I could see Ogiue and Sasahara, or Tanaka and Ohno being a bit romantic, but that looks like it will never happen.