Fate/kaleid liner PRISMA☆ILLYA 2wei! Episode 05 REVIEW
Fate/kaleid liner プリズマ☆イリヤ
Fate/kaleid liner Prisma Illya 2wei! – 05

SPOILER Summary/Synopsis: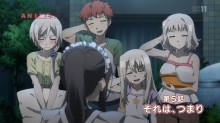 Ilya is training outside and accidentally blows a hole in the wall of the house where the bathroom is. As such, Ilya, Shirou, Liz, and Sella head across the street to borrow Luvia's bath, which she's all too happy to provide since Shirou is there. Shirou is dragged off to bathe with the butler August while all the women share the giant bath. Kuro is there, so Ilya tries to hide her, but fails. Kuro decides to have some fun, forcing Ilya to go all out to knock Kuro out. After Liz and Sella leave, Luvia and Rin join Ilya, Kuro, and Miyu in the bath. Kuro still doesn't want to talk as Rin remarks on the missing Archer card. When Ilya mentions wishing she could have her old life back, Kuro is offended, transforms into Archer, attacks Ilya, then flees.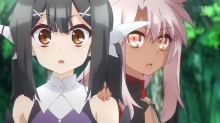 Kuro doesn't come to school he following day, so Ilya is worried for her life until Miyu reminds her of the curse on Kuro. Ilya's friends let her know that they are planning a birthday party for her during their planned summer beach trip. As such, they want her to invite Chloe (Kuro). After school, Miyu finds a note from Kuro in her shoe locker, so she goes to meet Kuro at a wooded spot with an ocean view. There, Kuro goes on to spell out why she was offended at Ilya's remarks, saying that to her, this meant that Ilya wished she'd never met Kuro nor Miyu. However, Miyu decides to defend Ilya and activates the Saber card. Meanwhile, Ruby spells out the same thing for Ilya, so Ilya flies off to try to find Miyu and Kuro.
Thoughts/Review:
This episode certainly seemed to take a page from the Akamatsu-sensei school of storytelling — have a giant bath, then put in a bunch of babes into it.  Oh, and don't forget the breast checking as well.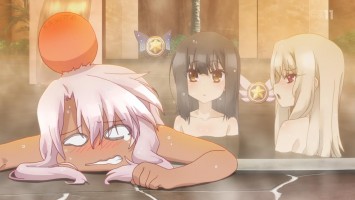 While I've no comments on the girls bathing, I couldn't help but laugh at Shirou's uncomfortable bath time with August, who was just a little to into the whole idea of bathing with Shirou. Wrong but funny stuff there.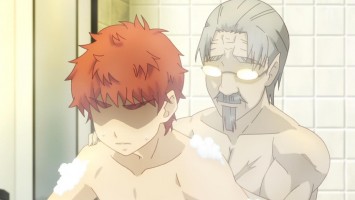 One thing that puzzled me with the plot is Rin's and Luvia's apparent lack of knowledge on where the Archer card was at. They never come out and state, "We think Kuro has the card," only "We are missing the Archer card," yet they obviously suspect Kuro is involved somehow. I would have thought Kuro's use of all of Archer's abilities would have been all the proof they needed, but it wasn't until Kuro actually states that she has the card inside her that Rin and Luvia seem to finally have all the pieces.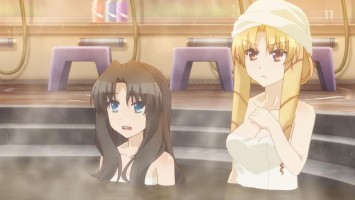 As to Kuro being offended regarding Ilya's wish for her old life, I found that somewhat contrived. Seriously, Kuro emerges from Ilya, then tries to kill her repeatedly, but she's offended at Ilya longing for her life before she became a magic girl because it would mean the end of Kuro's existance? Someone needs to just slap Kuro a few times and have done.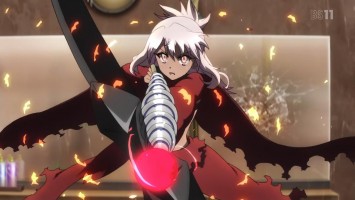 Miyu's and Kuro's confrontation comes off as somewhat contrived as well. It just feels like an excuse was needed to have an action scene, so why not have Miyu in her Saber gear duke it out with Kuro-Archer?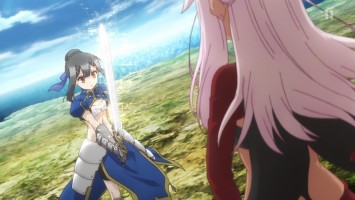 This was the first episode for me where the pacing seemed a tad slow to me. I'm not complaining, but there was definite padding in the way things were done.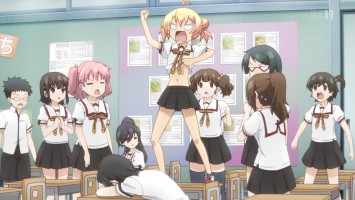 Otherwise, I'm not thinking of a lot to say. Next up is Miyu's and Kuro's fight, Ilya arriving on the scene, and Iri shows up. That should be interesting.