Fate/kaleid liner PRISMA☆ILLYA 2wei! Episode 10 REVIEW
Fate/kaleid liner プリズマ☆イリヤ
Fate/kaleid liner Prisma Illya 2wei! – 10 Finale

SPOILER Summary/Synopsis: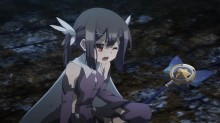 As Miyu-Rider attacks Bazett with Bellerophone, Bazett readies her Fragarach weapon/attack, which causes time to go back slightly to where Miyu activates Bellerophone, then attempts to pierce Miyu's heart. Somehow, Miyu avoids the death blow, but Rider is ejected from her, which Bazett retrieves. Now with six cards, Bazett gets ready to kill Kuro to gain the seventh card. Ilya comes to realize that Rin has placed a curse on the back of Bazett's neck, so as Kuro attempts to defend herself, Ilya gets close and manages to activate Assassin. Bazett takes out Kuro and then attacks Ilya, only to discover the Assassin card was a decoy. Ilya moves to reach the nape of Bazett's neck, and she's aided when Luvia attacks from below ground.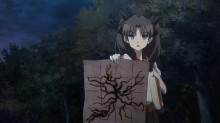 Rin arrives and explains that with contact made, Bazett can no longer use her Fragarach without creating a paradox and killing herself. Further, any pain she inflicts on Ilya will be felt by Bazett as well. Bazett says pain can be ignored and is going to attack Ilya anyway, but Rin produces a ley line map, revealing the location of an unexpected eighth card, something Miyu says shouldn't exist. Since Rin is the only one who could possibly get the card, Bazett cannot fulfill her mission to get all cards. She decides to back down and consult with the Mage Association. Rin negotiates for the return of three of the six cards that Bazett took before Bazett leaves. With that, the exhausted and dirty Ilya and Kuro return home to a quick bath and bed.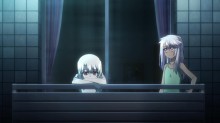 The following day, Miyu is dropped off at the elementary school to join Ilya and Kuro while Luvia and Rin continue on in the limo to discuss things and secretly plot against each other.  At school, the trio meet the other girls in their group, where it is noted that Kuro and Ilya look tired. When Kuro mentions having slept with Ilya, imaginations run wild and Miyu demands an explanation. That night, Kuro wakes up to find Ilya out on the balcony, unable to sleep. The two have a chat, where Ilya reveals that she's happy for the day they had and the fact that they were able to protect their regular lives. Kuro wonders about the future. Ilya agrees, since they still have to buy swimsuits for their forthcoming beach party.
Thoughts/Review:
And so it all comes to an end…for now.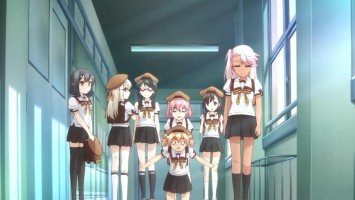 I was on the right path when it came to my thinking about Rin and what she did to Bazett.
Rin is on the way and seems to have done something to Bazett. … The only other thing I can think of is that Rin has another curse up her sleeve, but if that's the case, then why didn't she activate it when she attacked?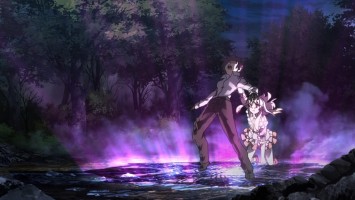 I wasn't thinking about a specific curse linked to Ilya, but that explains why she didn't activate it — Ilya had to. I like the fact that the story admits that this was an "asspull" (pardon the expression), but they at least had cover because of Rin's earlier curse on Kuro. I wish the nape of Bazett's neck had revealed something last episode. Maybe it did and I missed it, but until Ilya started saying something about having seen markings on Bazett's neck and putting two and two together, there was little other indication that something had happened to Bazett.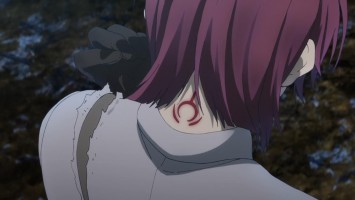 Regarding the truce established between Bazett and the girls, I don't see why Bazett even gave up any of the six cards she had. Her backing down because there's an eighth card that only Rin can track down makes sense. I can even see her deciding to grant Kuro her life to help the cause. However, after that, I don't see why she'd give up any cards, much less three.  We didn't get to see what Rin argued for as a reason to cause Bazett to cough up three, but the only thing I can think of is that she argued they might need card power to overcome and capture this eighth card.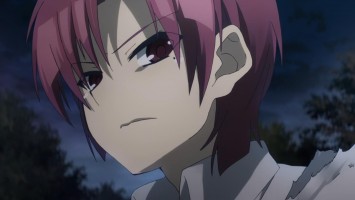 ***ADDITIONAL SPOILERS IF YOU HAVEN'T SEEN (or know anything about) FATE/STAY NIGHT!!!!!***
As to this eighth card, Miyu's flashback reaction (why a flashback and not have that done in real time?), it reveals that she knows more about the cards than she's let on. Regardless, this eighth card is one of two things — either it is something we've never seen before, or it is something we've seen before in Fate/stay night.  Considering that the Fate/kaleid liner Prisma Illya universe is mirroring Fate/stay night in terms of the Heroic Spirits in the cards, then in my mind, the eight card would also mimic the eighth Heroic Spirit in Fate/stay night.  That would mean that this new card would be also be Archer, which would be Gilgamesh's Heroic Spirit. If I'm right, that would be freaking awesome!  I hope I'm right.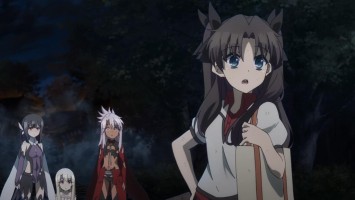 After the fight was over, things felt a bit stretched, which was unfortunate. I like aftermath, so most of it was OK, but the whole announcing of the new series helped add to the stretched feeling in my opinion.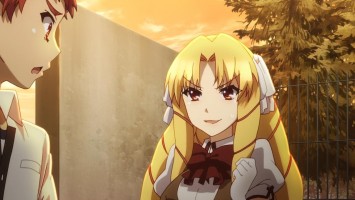 Regardless, I was amused by how Ilya and Kuro were when they returned. They really have become sisters, haven't they?  Although servicing the two girls when they collapsed on Ilya's bed was not needed, I couldn't help but think about Kuro's need for mana/prana. She had to use a ton in the battle, and since that's her only method of survival, I was surprised that it didn't come up the following day. I thought that something should have been done to address this, even a throw away line to suggest that power had been transferred from Ruby to Kuro, even if it had to be through Ilya.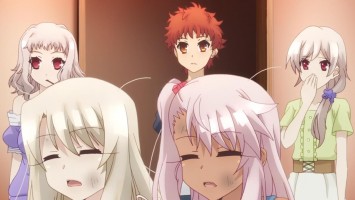 I'm still disappointed that Iri didn't show up to be a mama bear on Bazett. I get the feeling that she knows what Kuro and Ilya were up to, but is just staying out of it. I guess you could say that Iri is putting a lot of faith in her daughter's ability to take care of themselves.  Still, it would be cool to see Iri unleashed.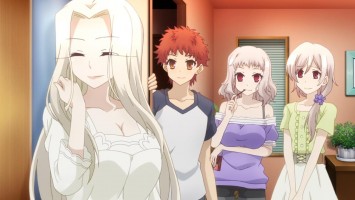 Thinking back on Bazett, if her Fragarach weapon is supposed to kill the user of a Nobel Phantasm, then how did Miyu live? Maybe I missed something, but that was never clear to me.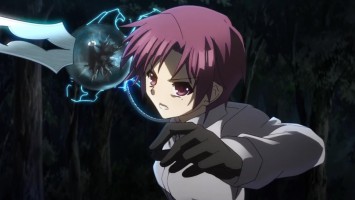 Finally, there was Rin and Luvia. I have to say that I was disappointed that the reset button was being pressed on their relationship as Luvia remarked on how she never thought they'd have a conversation like friends. Having the two be rivals over poor Shirou, I'm OK with that. However, after this incident with Bazett, which is clearly unresolved, combined with this mysterious and possibly powerful eighth card, I didn't like both Rin and Luvia being show to secretly be plotting against each other. Yeah, I know that they are in competition to be an apprentice to a powerful mage, but they are old enough to know better.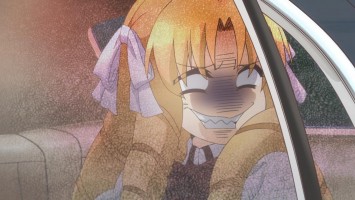 If it were me, have their comedy bickering limited to whenever Shirou is around and they are trying to catch his eye. However, when it comes to the cards and such, they should be the team they were against Bazett. But that's just me.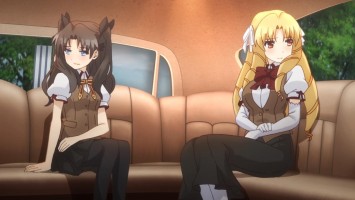 I'll write some final thoughts about the series next week. In the meantime, despite some stretching at the end of the episode, I really liked how things came together and ultimately ended. I can't wait for Fate/kaleid liner Prisma Illya 2wei Herz! to come out next year. ^_^