Fate/stay night: Unlimited Blade Works – 02 review
フェイト/ステイナイト [Unlimited Blade Works] – 02
SPOILER Summary/Synopsis: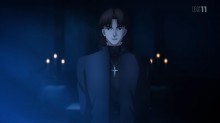 Rin enters Shirou's house and begins to explain to him that he's in the Holy Grail War and that he is a Master in this war, with his Servant, Saber, who will have difficulties due to him not being able to supply her with much mana. Despite it being 2 in the morning, Rin takes Shirou to a local church to meet a priest named Kirei. As Saber stands guard outside the gates of the church grounds, Kirei explains the Holy Grail War in more detail to Shirou, revealing that the war ten years ago is what led to the destructive fire that left Shirou an orphan. As such, Shirou is given the option and chooses to fight in the war to prevent said destruction from happening again. After Saber pledges herself to Shirou again, the trio are confronted by Ilya with Berserker.
Thoughts/Review:
Although the episode drops down to its normal time length, it was still very enjoyable, despite the fact that it was full of exposition.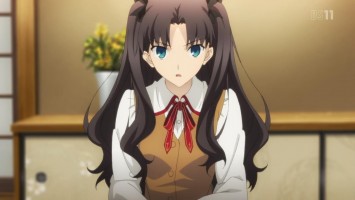 Although it is difficult for me to recall things from Deen's Fate/stay night adaptation, one thing I seem to recall is that Saber had a much more negative relationship with Shirou at the beginning of that series. Here, she seems quite friendly, not holding the resentment from her previous summoning for a Holy Grail War.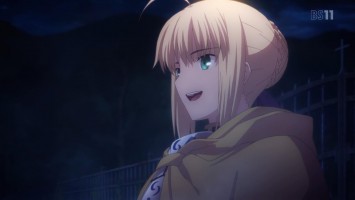 Having watched Fate/Zero, I'm rather enjoying the little nods to the events told in that series.
Fate/Zero spoilers
I liked how Saber made mention of her participation in a previous war, though she didn't specifically state it was that war. However, the REAL fun moment was Kirei's reaction to hearing Shirou's family name, Emiya. That was so deliciously wicked. It was also fun seeing Saber keep out of Kirei's way and not enter the church grounds. Makes sense seeing as how her former Master fought him in the previous war.
[collapse]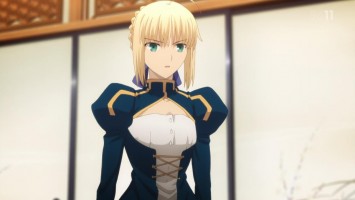 Because I know what I know about Archer, a question came into my mind.
Information on Archer's identity
I noticed Shirou putting away Rin's pendant, which Archer had given to her after she saved Shirou's life. Considering Archer is Shirou, does he still not remember his true identity? Otherwise, why suggest killing himself?
[collapse]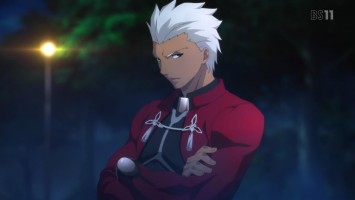 You know, when Fate/kaleid liner Prisma Illya was first announced, I thought it was a pure insult to turn Ilya into a magic girl. After watching the awesomeness of that series, seeing the "real" (original) Ilya in Fate/stay night keeps making me think, "Aw man, she's not going to be a cute magic girl in this thing!" *lol*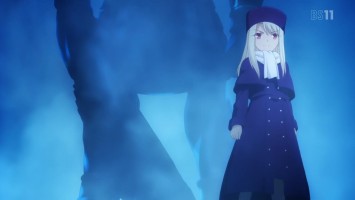 As to Crunchyroll, honorifics were back this time. Command Spells were called Command Seals for some reason. As to what other translation mistakes may have been there, I couldn't say. I'm too pressed for time to give it a heavy check.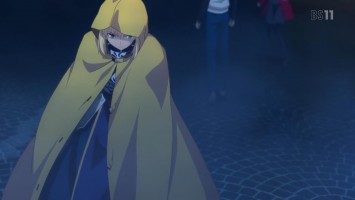 Anyway, because this episode had a lot of exposition, combined with crawling out from under a MASSIVE pile of work which has prevented me from doing much of anything fun and has left me pressed for time, I'm not thinking of a ton I'd like to comment on. However, I'm always happy to discuss things in the comments, as I have time.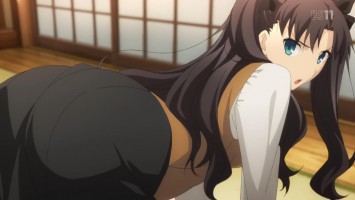 I'm really pleased with ufotable's efforts on Fate/stay night. While this may have been a very chatty episode, I still like how it was done. Can't wait for the next episode.