Inuyasha Kanketsu-hen Review
犬夜叉 完結編 Final Thoughts Review
Inuyasha: Final Act – Review

***SPOILERS***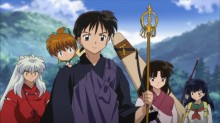 I was first introduced to Inuyasha through Cartoon Network's Adult Swim segment back in 2002. Being new to anime at the time, I found the series enjoyable, but as I got current with where things were in Japan, combined with reading the current manga at the time, eventually, I grew weary of the series and was relieved when the manga ended in 2008. That being said, when Inuyasha: Final Act started airing in 2009 to pick up the stuff the original Inuyasha anime series did not get to, I started watching more out of a sense of completing things and nostalgia. Considering it has taken nearly five years for me to complete the series, nostalgia isn't all it is cracked up to be.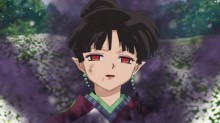 With twenty six episodes to play with, there was way too much manga material for Sunrise to successfully get in. Sunrise cannonballs into things with no setup, cutting a lot of stuff from the original manga, but then adding their own stuff in at times.  Since this series is all about deconstructing things to bring the story to an end, little time is wasted in removing one character after another.  As such, the death of Kagura feels way too rushed, which caused it to lose some of its impact. After characters are removed, they are pretty much forgotten, save for Kouga and his crew, who get a brief cameo in the final episode after their part in the story concluded.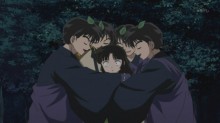 To be honest, I just got bored with the series. I had no problem with cutting things, but the rapid pace early on caused some problems for me, then Sunrise changing stories to suit their own purposes caused more problems for me.  I found I no longer cared because everything seemed so tedious. When I tried to finish marathoning the series this past March, I found I just couldn't work up a lot of enthusiasm because watching it was kind of tedious. Even when I finished the last few episode here recently, I couldn't help but think, "spin on" as I resisted the urge to hit the fast-forward button on my video player.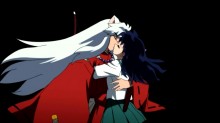 But that doesn't mean I think the series is a bad one. While it may not have jazzed me, it is full of traditional shounen cliche stuff, and if you like that kind of thing, you'll enjoy the stuff you see out of these episodes.  Plus, the series did do one thing that I lamented the manga series did not do. It allowed Kagome and Inuyasha to kiss after he rescued her from the Shikon no Tama, and actually have a long, if static, kiss. I still think they should have kissed when Kagome returned to Inuyasha's world and time, but we can't have everything.  And we did get to see how everyone turned out in the three years since Naraku was finally destroyed.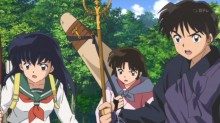 So, what would have made this better?  That's a good question. It is difficult to accomplish this, based on Takahashi-sensei's source material, which often dragged as she seemed so reluctant to end the manga, even though it was begging to be put out of its misery for quite a long time. However, I would have liked for there to have been a bit more time taken on moments such as Kagura's passing, and a little less on Naraku's never ending existence. However, if that last bit was done, would it make things worse?  I can't say, and we'll never know at this point. Then again, maybe I'm just too old for classic shounen stuff.
Still, I have finally finished the series and I am glad for that. I can't say that I regret watching this series, and I'm sure that those who enjoy traditional shounen fare will enjoy it.