愛・天地無用! Ep. 13 (16 w/ recap episodes)
Ai Tenchi Muyo! – 13 Review
SPOILER Summary/Synopsis:
Note: The episode numbering used here is based off of the official video releases, which aren't numbering the various recaps and such in the episode numbers.
Mihoshi, in her blue mecha, battles Ryoko, but soon ends up on the losing end of things as Ryoko makes short work of her. Ryoko's victory is cut short when the rift opens, pulling the two into it. Inukai (Hachiko), (Hana), and Tamaomi (Touri) thank Tenchi and Momo for saving them, then offer to help the two find Momo's missing companion. Their search leads them to the ship's crash site, but Tenchi also discovers the crash site of an escape pod.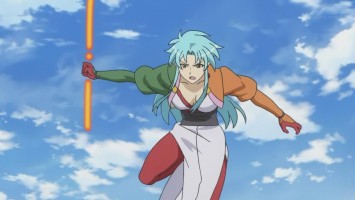 愛・天地無用! Ep. 14 (17 w/ recap episodes)
Ai Tenchi Muyo! – 14 Review
SPOILER Summary/Synopsis:
The school festival is on, so Sasami-chan prepares very popular sweets while Aeka is a waitress. Ryoko acts as the muscle for those who have a complaint and don't want to pay. Meanwhile, Tenchi encounters the Student Council foursome on patrol. Hana removes herself and Touri from the group while Hachiko goes to get ready for her drama performance. Washu comes through, pushing Momo into Tenchi's arms, but gets away before Tenchi can ID her. Meanwhile, Ryoko is not happy with Tenchi spending time with Momo.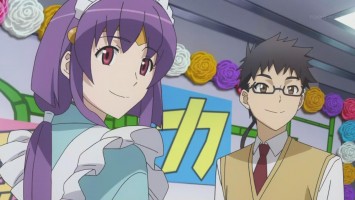 愛・天地無用! Ep. 15 (18 w/ recap episodes)
Ai Tenchi Muyo! – 15 Review
SPOILER Summary/Synopsis:
Tenchi goes with Momo to see the exhibits, one of which is the red mecha showing how it can deftly handle eggs without breaking them. Beni is doing an arm wrestling booth and seeing Tenchi-sensei, summons him over. However, Ryoko is having none of this and tosses Tenchi aside, breaking the red mecha's eggs, causing it to toss him out of the room, where he lands, unconscious, in the drama club's coffin prop. Ryoko and Beni arm wrestle until her booth is destroyed. Meanwhile, Hachiko, playing a prince, is being forced to kiss Tenchi once the scene using the coffin prop comes up.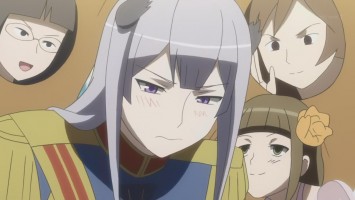 愛・天地無用! Ep. 16 (19 w/ recap episodes)
Ai Tenchi Muyo! – 16 Review
SPOILER Summary/Synopsis:
Tenchi comes to just as Hachiko is about to kiss him. When he sits up in the coffin, the crowd watching the play is shocked. Tenchi flees, but is found by his supervisor, Kurihara-sensei, who finally gets him to enter the Miss Junai contest. She applies his makeup, but when she leaves, he flees to Sasami and Aeka, who can't help but laugh. However, they help him to dress in drag, so as he heads to the contest, he passes Ryoko and greets her, shocking Ryoko to no end.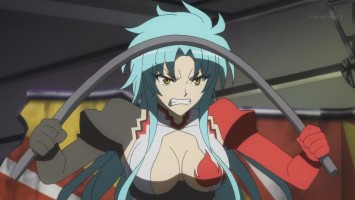 Thoughts/Review:
Episode 13's pluses were the fight between Ryoko and Mihoshi, reminding me of a similar incident between the two in Tenchi Universe. Once they were gone via the rift (to who knows where), things were back to the "nothing to write home about" story.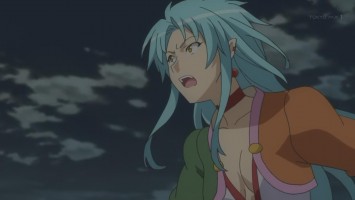 For episode 14, trying to put Tenchi together in a romantic way with Momo seems too much like child molestation, mainly because of Tenchi helping the child Momo in the past.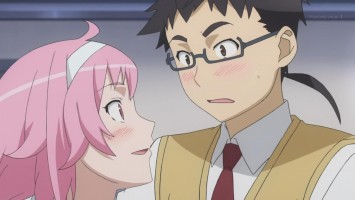 That said, I absolutely LOVED how Aeka used Ryoko as her yakuza-type enforcer when Yuki didn't want to pay the bill.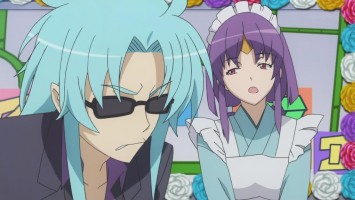 Episode 15 was pretty enjoyable, but again, it is because of the original characters. I laughed out loud at Ryoko stepping in to put a stop to these high school girls getting close to Tenchi by arm wrestling Beni.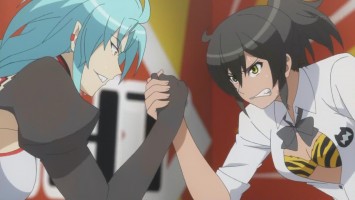 Finally, episode 16 ended up being pretty fun as well. Beni and Ryoko having their "balloon animal" contest with a metal rod was pretty funny.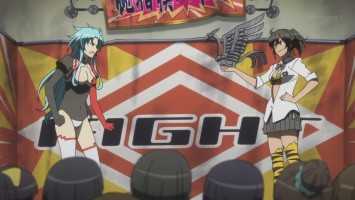 Of course, Ryoko's shock at seeing Tenchi in drag was pretty funny as well.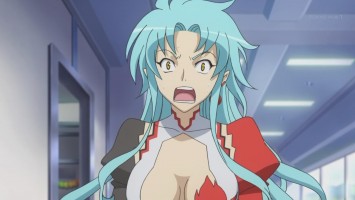 So while I'm not a fan of this five minute format, the hijinks of the original girls expanding out to the new girls has made things more fun.