ハヤテのごとく!/Hayate no Gotoku Manga
Hayate the Combat Butler Chapter 472 Review
SPOILER Summary/Synopsis: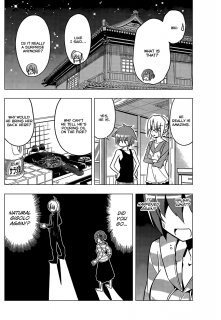 Ayumu finishes a work day at Wataru's doujinshi shop, where he quickly falls asleep when the store closes. Seeing how Saki tends to the sleeping Wataru, Ayumu decides to ask when the two are getting married. That wakes up Wataru, whereupon both turn tables on Ayumu since she had recently started living with the boy she loves.
Ayumu comes home and is surprised to see Hayate there since he'd gone back to the mansion to be Nagi's butler. He explains that since Yukari-chan House comes with a butler, he's making dinner. Despite the extra work, knowing people like his food, he's satisfied.
Ayumu encounters Hina, who appears grumpy. Ah-tan says it is Hayate's usual disease, which confuses Ayumu until Konoha shows up with laundry. Chiharu and Kayura are amazed at Hayate's "throwing oil on the fire" as Ayumu, hearing Konoha's plight, decides to help her get a job. Ayumu is planning to get Konoha a job at the doujinshi shop to keep a sharp eye on her, but Konoha's grateful attitude to a stranger helping her in her plight causes Ayumu feel for her.
The next day at the doujinshi shop, Hayate accompanies Ayumu and Konoha there. After discovering that Ayumu knows Hayate, Wataru finally knows whom it is that Ayumu is in love with, which he vocalizes. This causes Ayumu to freak out, but this allows Konoha to realize that Ayumu liked Hayate.
Thoughts/Review:
Again, Hata-sensei doesn't go for plot, but that was to be expected now that he's brought Konoha in. Actually, I think Hata-sensei is going to coast for a while, but he'll toss something or other plot-wise in before year's end.
As to the chapter, a story centered around Ayumu was quite nice. After all, she hasn't gotten to do much of late.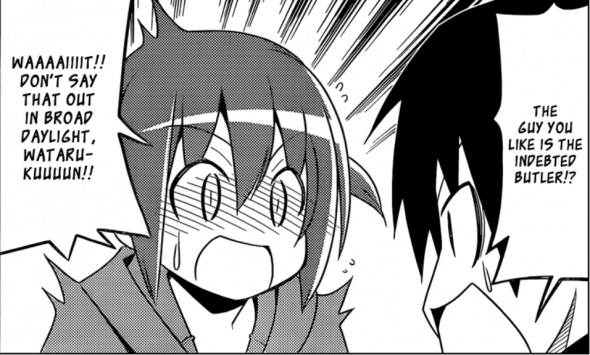 Regardless, Ayumu was funny with her frankness regarding Wataru's relationship with Saki. Too bad she's got no chance with Hayate.
I'm hoping that at the end of this story, Konoha keeps the part time job at Wataru's place, and Ayumu gets a job at that family restaurant.
As to Hayate, he's just doing what he thinks is right and isn't thinking about all the girls crushing on him and how they'd feel about things. However, that makes it humorous.
I probably should write more, but as usual, I'm swamped, but, I welcome all of your thoughts on this.  It was a fun chapter with lots of Ayumu love.