愛・天地無用! Ep. 29 (36 w/ recap episodes)
Ai Tenchi Muyo! – 29 Review
SPOILER Summary/Synopsis:
Note: The episode numbering used here is based off of the official video releases, which aren't numbering the various recaps and such in the episode numbers.
As Tenchi repairs a hole on the roof of the dorm, Aeka and Sasami are at the Girl's Dorm grilling kebabs (Ryoko along for the food) for Tenchi and the Student Council four. The Science Club three arrive and Momo invites them to the barbeque as the more the merrier.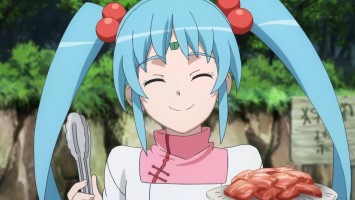 愛・天地無用! Ep. 30 (37 w/ recap episodes)
Ai Tenchi Muyo! – 30 Review
SPOILER Summary/Synopsis:
Tenchi returns to Washu's lab after his mission failed. Washu finds Momo's current location, then summons Aeka, Sasami, and Ryoko for a meeting, where they come up with a plan to infiltrate the all girls school Momo is currently attending and gather information to make the second rescue attempt successful.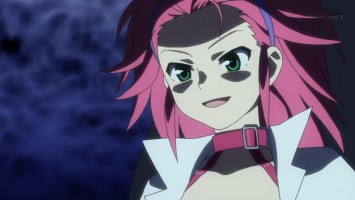 愛・天地無用! Ep. 31 (38 w/ recap episodes)
Ai Tenchi Muyo! – 31 Review
SPOILER Summary/Synopsis:
Washu, via an obelisk, chastises the Science Club for not finding the treasure, threatening to cause Gouriki-kun to self destruct. Beni goes to Tenchi-sensei's house, humbling requesting his and the girl's help. They head to the underground dig site, where Tenchi and company are surprised to find Mihoshi. Kurihara-sensei lets Hana and Hachiko know that the Science Club has stolen Tenchi.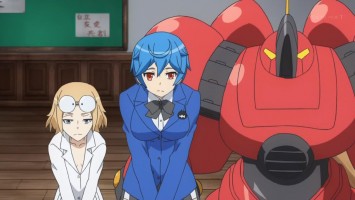 愛・天地無用! Ep. 32 (39 w/ recap episodes)
Ai Tenchi Muyo! – 32 Review
SPOILER Summary/Synopsis:
The Student Council freak out over the loss of Tenchi-sensei (and Sasami-chan) ans Tenchi and company get briefed by Mihoshi, who's there undercover to investigate interference with time and whatever treasure the Science Club is looking for. Yuki and Rui arrive, where Yuki produces Tenchi's smartphone that he lost in the past. Yuki puts power to it and as they've cracked the password, boot the phone, whereupon the wallpaper is revealed to be Tenchi and Sasami at the beach. The girls are not happy by this as Gouriki-kun holds off an assault by the Student Council.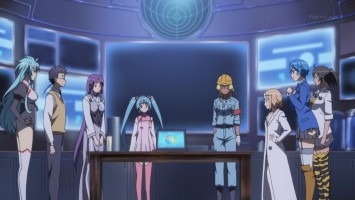 Thoughts/Review:
Episode 29 has the cliched, "meat is king; gotta get your meat on" theme that is so prevalent in Japanese anime and manga, right down to the growling stomachs. Nothing new here, and nothing funny for me.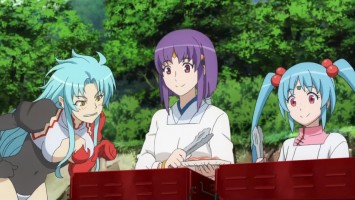 We did get to see hints that Momo must have spent a lot of time alone.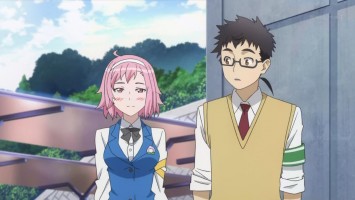 Episode 30 lets us know how Tenchi got to where he was when the series first started and how Aeka, Sasami, and Ryoko came to be with him this time. So those explanations are done with.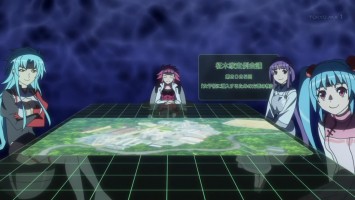 Episode 31 gets Mihoshi back into the mix. I figure the treasure is Beni's escape pod and possibly the Jurai royal tree-ship remains.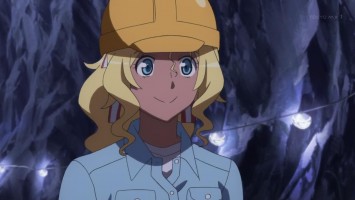 This episode was also humorous for the background arguing between Ryoko and Aeka over Tenchi's dinner as he and Sasami talked about him having taken home work from school. Well, I've always love their quirky friendship.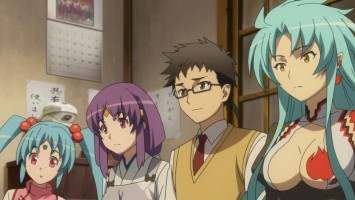 For the final episode, Mihoshi having found Tenchi's smartphone gives further suggestion that the treasure is Beni's escape pod and possibly the remains of the royal tree-ship.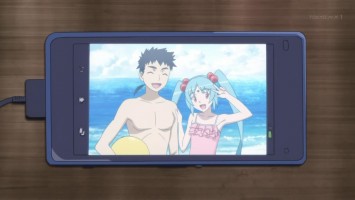 This episode also had me chuckling due to the fact that Yuki and Rui don't question why Tenchi-sensei is in a photo with Sasami-chan at the beach on a 1300 year old cell phone, but rather remark that he's got to be a perverted teacher. Of course, add the usual remarks from Aeka and Ryoko, and the humor is complete.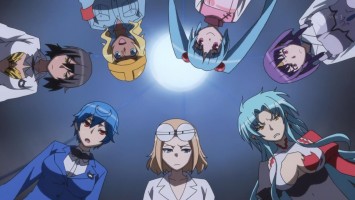 In the end, we have a bit more plot elements to add interest while not forgetting the humor, some of which works and some which doesn't.