Fate/stay night: Unlimited Blade Works – 11 review
フェイト/ステイナイト [Unlimited Blade Works] – 11
SPOILER Summary/Synopsis: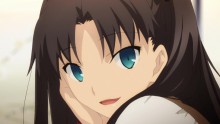 Coming home from the fight against Caster and Kuzuki-sensei, Shirou discovers his hand(s) are giving him grief as the magic circuits that he used to create the swords were used for the first time. The next day, Shirou skips out on meeting with Rin after school and returns home to make dinner, however he has trouble even holding small dishes. An annoyed Rin comes by and despite Shirou's objection, comes in and strategizes with Saber. As it gets late, Rin invites herself to dinner and teases Shirou about his discomfort. When he points out Taiga will be coming by, Rin is not concerned about this. So when Taiga comes by, Rin handles Fujimura-sensei quite easily over her objections to Rin's presence.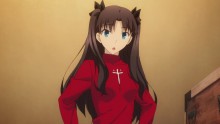 Shirou continues to have problems handling dishes, so Rin takes over the cleanup after dinner. Later, the two are in the courtyard of the home, where Rin admires the Bounded Field. As the two discuss magic, Rin becomes irritated when she learns that Shirou doesn't find magic fun, nor does he do it for fun. So she decides that she's going to give him something special she's saved up. To that end, she has Archer bring her an overnight bag so she can spend the night. Later, Shirou is training on his reinforcement magic when Saber comes by. Archer drops by and knowing what Shirou is going through with his magic circuits, stabilizes Shirou.
Thoughts/Review:
This episode is proof that one doesn't need to have an action-packed episode to have a very enjoyable episode.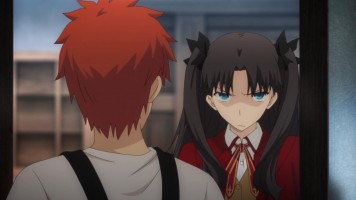 In the Fate route that was animated by Deen, the romantic angle was between Shirou and Saber. In many ways, it seems surprising to me that there is no hint of a romance between the two in UBW. Instead, the two are partners and comrades in arms who work well together. There's nothing wrong with that, but one would think that Shirou would have similar feelings for Saber. Yeah, I know — different route, different babe.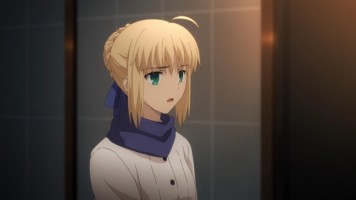 To that end, I am enjoying the flirtatious, but sometimes contentious relationship between Rin and Shirou. I smiled at how Rin saw Shirou's discomfort with her being there for dinner because she is an attractive girl despite the fact that Shirou is not uncomfortable with Saber, Sakura, and Taiga being around him.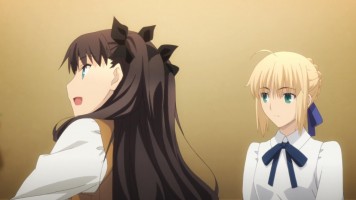 More than that, Rin is just awesome in UBW. We've seen her impressive mage abilities (and limitations). In this episode, we see her skillfully deal with Taiga after Rin invites herself to dinner. I admit that I couldn't help but laugh at Rin's tactics and success.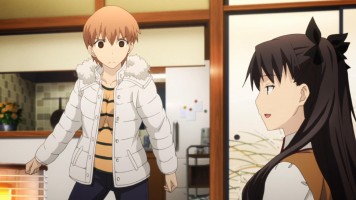 Of course, Rin is still a woman, getting upset with Shirou for him not understanding why she's upset with him. *lol*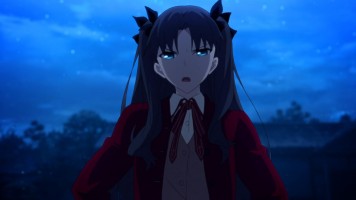 I have to admit that I liked the moment when Archer decided to help out Shirou by helping him with his magic circuits. Archer gets in his lecture and Shirou gets to reject Archer's words. Meanwhile, Saber is ready to kick arse to defend Shirou. It was a nice scene all around for me.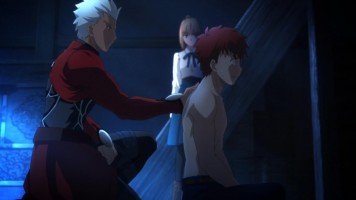 In the end, we didn't have a lot happen, but there were good character moments for Rin, Rin and Shirou's relationship, Shirou's and Archer's relationship, and good aftermath as Shirou deals with his new ability, which will no doubt be of use in future episodes.