Paradise Residence Chapter 07 Manga
パラダイス レジデンス Chapter 07
SPOILER Summary/Synopsis: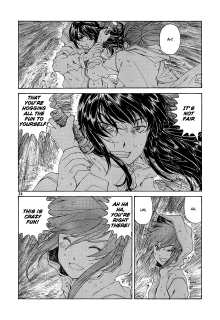 With a typhoon coming onshore, Komatsu consults with fellow senpai students Ai and Tachiarai on what to do before making a decision to rally the girls of the dorm to get prepared. Swim club dorm resident and 2nd year senpai, Mitsuho, tells Hatsune and Suzuka her desire to see everything flooded. Komatsu decides to punish Mitsuho for getting carried away since she's been through a typhoon before, so she sends Mitsuho to go do the shopping. Hatsune and Suzuka are worried for Mitsuho, but as Komatsu points out, Mitsuho actually is a masochist and enjoys being punished.
The generator is set up to keep the fridge powered when the power goes out. Hatsune comforts the Little Dorm Mother, whom she senses is afraid of the dark. Suzuka uses her backlight mirror to produce light and the girls break out candles. As they go to eat, Suzuka discovers that there's no water, which is then remembered to be due to power being out at the water pump house. Hatsune volunteers to start the generator in the pump house and is joined by Mitsuho.
After activating the generator, Hatsune finds her head in the jaws of Neopan. With dog in tow, Hatsune and Mitsuho return to the dorm just as main power is restored.
Thoughts/Review:
As someone who's gone through typhoons and hurricanes, I can appreciate the topic here.
So, where's the real dorm mother?  Seriously, this alleged adult is always around, yet is never around. That's why the adult is MIA and Komatsu is in charge. *_*
For that matter, where's Ominato-sensei?  I know this is supposed to be a story about the girls in this dorm, but adults aren't checking up on the girls during a typhoon?
It is official — Steph is the blonde gaijin who will be the butt of breasts jokes and showing off the goods.
Mitsuho is the new girl introduced this chapter. She's not been seen before, at least not that I've noticed. We did see the other three unnamed girls involved in the preparations.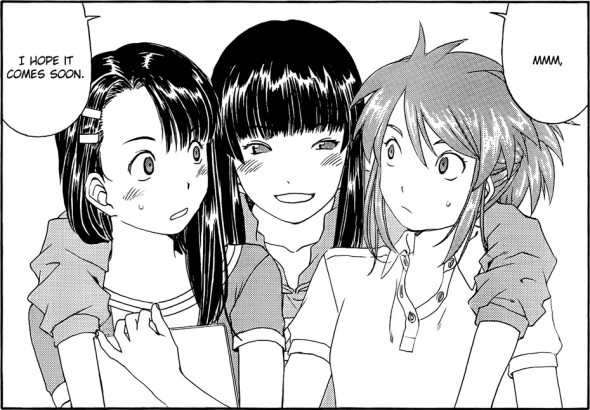 Anyway, making her a sadistic character seems to make her a character of limited options.
So, was this a bad chapter? I can't say that it was. There was nothing in the chapter that made me laugh. There was nothing really profound about the activities going on around the typhoon being there. It was OK for what it was.