愛・天地無用! Final Thoughts
Ai Tenchi Muyo! – Final Thoughts

***SPOILERS***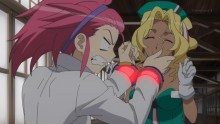 When word first circulated that there was going to be a new Tenchi Muyo! anime series, I was excited and hoped that Kajishima-sensei, the creator of the franchise, would be allowed to do another canon anime series based off his -If- doujinshi stories.  When I learned that this would not be the case, but instead we'd get a series of 50 shorts (4 minute episodes, including 30 seconds for the end credits) to promote an area in Japan for tourism, I was somewhat disappointed, but at the same time, knowing that non-canon spinoffs can be enjoyable, I had no problems sitting down and giving this new Tenchi series a shot. Sadly, it wasn't that good, even if it wasn't the worst Tenchi title.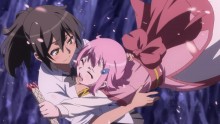 The story, such as it is, covers two Juraians — a young girl named Momo, who has been given a royal tree-ship, and her guardian, a teenage girl named Beni. Thanks to a failed experiment by the whacky scientist Washu, Momo and Beni crash on Earth 1300 in the past. Washu sends Tenchi to recover the girls, but a rip in the time-space continuum throws both girls into the future, where Momo is apparently adopted and eventually becomes president of her high school's student council with no memories of her past. For Beni, she too has no memories and is somehow at the same high school as Momo. Washu sends Tenchi as an undercover teacher at the high school, assisted by the space pirate Ryoko, and the Juraian princesses Aeka and Sasami, to help fix Washu's mess.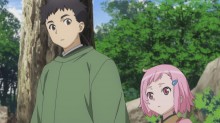 The first flaw in the series for me is the short format. Early on, we are tossed into the story with no context, primarily because of the short format. It makes no sense what Tenchi is doing as a high school teacher, and the overall confusion is added to by having episodes where suddenly Tenchi is 1300 years in the past in Japan. Even worse is the fact that in addition to young Momo and an unconscious Beni being in the past, for some reason, the new characters of Hana, Hachiko, and Touri are shown in the past (with different names) and in the present. Unfortunately, that little mystery was never solved, and the writers tried to be funny by making Hachiko of the past a male at the very last.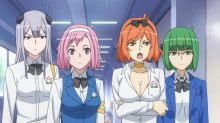 The story jumps around a bit before settling into a slice of high school life setting. Momo is very popular with her very protective gang of female student council officers around her, and they are challenged by the Science Club, all of whom are trying to find this buried treasure. It isn't that hard to figure out that they are looking for the crashed Juraian ship, nor is it difficult to figure out that Washu is behind them. However, the writers try to be clever by structuring things in such a way to give away as little as possible in an attempt to generate discussion amongst fans. For me, this failed and had the series been done properly, this kind of faux drama would have been even less effective.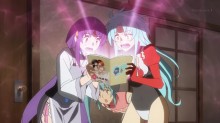 Most of the best moments of the series comes from bringing Aeka, Ryoko, and Sasami into the forefront of an episode. For old fans, it is a bit of nostalgic fun to have Aeka and Ryoko bicker about things (such as Ryoko attempting to cook Tenchi a meal using some weird, alien tentacle beast), or Sasami get into a bit of mischief because it is entertaining to her. Mihoshi is underused, and her seiyuu didn't get back into character right away. Tenchi's, Ryoko's, and Sasami's seiyuu all were in form from the top, making seeing them on screen even more fun. Aeka received a new seiyuu (NANAO Haruhi), who does an excellent job at portraying the character.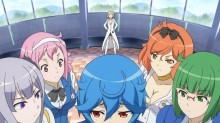 As for the new characters, the writers tried to get me to care, but mostly I couldn't get into them. Momo goes from popular to "I was a lonely girl" because the story demands she get sent back in time, thus she needs to be spared from years of loneliness at the cost of her fun, not-lonely time with her friends in high school. The other characters are mostly stock characters who had their moments. For example, Hana was funny when she developed a girl-crush on Tenchi-sensei in drag and wanted to call him "oneesama." However, the writers never really went anywhere with that other than to have Aeka beat Hana so that Hana called Aeka "oneesama" in a later episode.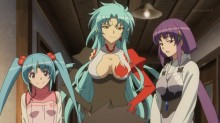 The character designs for the existing cast is OK for the most part. Tenchi (out of glasses) and the others are recognizable in their new designs. Ryoko gets the worst of it though. She looks like a pale shadow of Ryoko, losing some of that wild element we'd come to love throughout the various canon and non-canon Tenchi series.  Making things worse is the fact that AIC Plus + clearly doesn't have a budget like ufotable did for Fate/stay night.  Things can look quite ugly at times, both from a character standpoint, and from an animation standpoint.  For the most part, I just looked past this, but when you have a weak anime series, things like this can tend to stick out more (at least for me).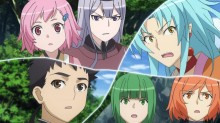 Ultimately, I didn't find anything compelling about the story. We don't know why Momo and Beni were at Earth, though the final episode leaves one with the impression that their purpose was to have an important person in Juraian society (because Momo was given a tree-ship) sent to Earth to sweep the grounds of a Shinto shrine while she learns other things with Beni. There were too many convenient plot devices done in order to purposefully make things go on longer, such as the failed attempt to rescue Beni and Momo in the past, which resulted in them being thrown to the present so that Tenchi could be an undercover teacher and get into hijinks with high school jailbait.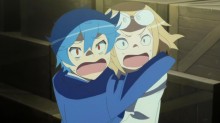 In the end, this series wasn't a total loss. There were certainly fun moments and funny moments, mostly dealing with the original Tenchi cast. However, the short format combined with the writers trying to generate faux drama and stock characters for cliched situations cause this series to fall short. For long time Tenchi fans who want to see Tenchi and company again, I'd recommend watching this. For everyone else, you can probably just skip it.  If this was your first Tenchi title, I would be VERY interested to read your thoughts on the series.