Here are SPOILER rumor/information for the upcoming UQ Holder chapter 63, courtesy of 2ch. (My review of UQ Holder chapter 63 should come out Wednesday.)
UQ HOLDER CHAPTER 63 SPOILERS
The UQ Holder chapter 63 goodness begins.^_^
From ChaosProphet:
とんでもなく強ぇ姉ちゃん

刀太は真名と手合わせをすることになる
接近戦ではガンカタ健在、距離を離せばスナイパーライフルの餌食
手も足も出ず完敗だがそれでも真名は合格だという
ネギは真名の100倍は強いと言われ刀太がっくり

ところで真名は、学園長代理を務めていた
塔のてっぺんで"まほら武道会"が開かれると刀太に教える

Mana and Touta have a match. Strong at close quartets with her guns, and prey to the sniper rifle at distance, he isn't able to do anything and is completely defeated. Even so Mana says he passed. Touta is surprised when she says Negi is 100 time stronger than her.

Mana is the deputy headmaster. She tells Touta the Mahora Martial Arts Tournament is open at the top of the tower.
If this turns out to be true, then I guess we'll be staying at school far longer than I thought. Not sure I'm into this whole tournament idea either, though it gives Touta an opportunity to master a bunch of styles in a short frame of time.
Update: Now there's an image, courtesy of MK.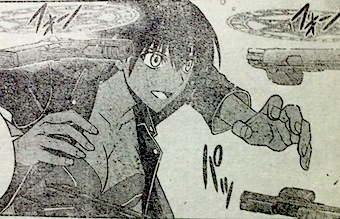 Well, this is obviously from the match that she has against Touta. I'm rather looking forward to this chapter.