げんしけん: 二代目Chapter 107 Manga Review
Genshiken Nidaime chapter 107 Manga Review
SPOILER Summary/Synopsis: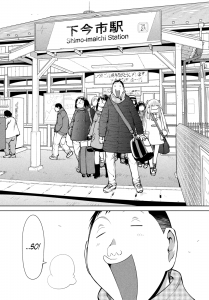 Kuchiki is happy to be on the train trip to Nikko, but he's not thrilled that Madarame is there with Keiko and Angela across the way. Rika explains that Madarame didn't want to go and ruin Kuchiki's trip, but it was Rika who convinced him to come.  Rika apologizes for this and has come up with things to keep people entertained. As such, she breaks out an Umo (Uno) deck for she, Yajima, Kuchiki, and Hato to play, the losers have to poke Kuchiki.
Angela, sitting with Ohno, Madarame, and Keiko, wonders why Hato and Sue weren't sitting there. Sue, sitting behind Angela, reaches behind to grope Angela's breasts before slinking back down into her chair next to Ogiue. That over, Angela notices Keiko smirking at her and inquires about it. Keiko says that one can't properly feel up Angela's big breasts if she's wearing a bra. Madarame shuts her up, then requests Ohno not translate Keiko's remarks for Angela.
Rika has the two sides change seats, save for Kuchiki and Madarame. Now, Hato, Yajima, and Rika are sitting with Madarame while Ohno, Angela, and Keiko sit with Kuchiki. Now seated, Rika asks Madarame to make his harem choice on this trip, even if that choice is to date no one. Since the entire harem is there, Rika sees this as the perfect opportunity, so Madarame says he'll consider it.
Arriving at the Shimo-imaichi Station, which is closest to where Yajima's parent's live, Rika reveals that Madarame and Kuchiki have been booked to stay in a business hotel while the rest of the group heads to Yajima's home. Kuchiki is disappointed and after the girls and Hato leave, he tells Madarame that had he known, he would have paid out of his own pocket to stay at a nicer place.
As the girls and Hato walk, Yajima explains that she explained Hato to her parents as a girl in a guy's body (gender dysphoria) since the truth is too complicated. She tells Hato that he'll be sleeping in the same room as her and Rika.
Arriving at Yajima's home, they are greeted by Yajima's friend Mimasaka, who's very pleased to see Yajima. Rika sees Yajima's fat mother and figures that genetics played a role in Yajima being fat.
Thoughts/Review:
So, we start the harem resolution aspect of the Madarame's Harem arc. Well, I figure that this is the resolution aspect because it really is being set up to resolve the harem. Indeed, I couldn't help but notice how Rika set things up to have Madarame reject all the girls and Hato, which is what I expect will happen.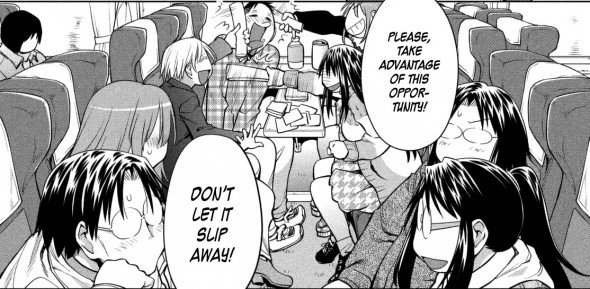 I found it interesting that when Kio-sensei had Rika telling Madarame to resolve things because there's a limit to how far he can stretch things, he chose to have Hato and Yajima featured on the page. No doubt, there's a not so subtle remark on Yajima's feelings for Hato there and how she shouldn't let things stretch on.
I can't say I understand Sue's breast attack on Angela after Angela suggested that Hato and Sue should be sitting with her and Keiko. I suppose it is an irritation that Angela has "huge tracks of land" whereas Sue does not, thus maybe Sue feels out of the running for Madarame.  Although I'd like to see Angela and Sue have a heart to heart, this is about as close as we are going to get, I'm afraid.
Keiko opened up her first salvo against Angela as well. I guess the gaijin with the big breasts is seen as the biggest enemy. Of course Keiko's remarks are also a reminder to Madarame of how he nearly got to feel her up at her request, so naturally he doesn't want her to speak of this.
I should have expected that Madarame and Kuchiki wouldn't actually be staying at Yajima's parent's place. That limits the ability of any of the girls or Hato to try to make a move on him during the night.
With Hato, Rika, and Yajima apparently going to share the same room, I wonder if this is when Yajima's feelings for Hato will be exposed.
I did get a chuckle out of Rika referring to Mimasaka as Yajima's wife, more so because Mimasaka appeared to try to be looking somewhat cute and Kio-sensei drew a couple of hearts over her head as she greeted Yajima.
Ogiue doesn't get to do much this chapter other than sit with Sue.
It'll be interesting to see how things pan out over the course of this trip. As I said earlier, I'm predicting that Madarame will turn them all down.