ユーキューホルダー! Manga Review
UQ Holder Chapter 66
SPOILER Summary/Synopsis: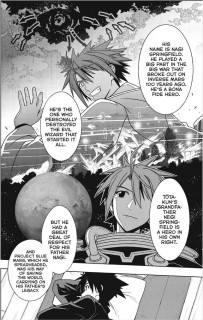 In addition to coldly telling Touta she doesn't need him, Yukihime (in her true, Eva form) orders him from leaving UQ Holder HQ for the next year. With this, Mana goes with Eva's request and reminds Touta that there's other chances to climb the tower.
At UQ Holder HQ, Touta has been depressed for days and is laying on a couch. Ikkuu and Kirie come upon Kuroumaru, who's been secretly watching Touta. Kirie doesn't understand why being grounded for a year would depress Touta, but she also doesn't understand what Yukihime is wanting.
Karin, dressed in her maid outfit, is cleaning the area and annoyed with Touta's depression. Santa comes in, acting all flustered, which Karin recognizes as being because of Touta. She has Santa tell her how he's being treated, to which he confesses having difficulty with yakuza types addressing him as "Aniki" and treating him with respect. Karin and the others assures him that because he's not a mere ghost, and was created by the greatest necromancer of her time (Sayoko), that he should be proud.
Touta makes no reaction to what is being said, so Ikkuu decides to reveal information he learned about the figures they saw. He explains who Nagi Springfield is and who Negi Springfield is. He also says that the female they saw is called the Lifemaker as well as the Mage of the Beginning. Further, Ikkuu has learned that it is Touta's great grandfather, Nagi, whom Yukihime was in love with.
It is this last bit of information that has Karin and Kirie most excited. When asked, Kuroumaru provides the details known about Touta's and Yukihime's living arrangements, complete with Touta's amnesia. Kirie decides that this means that Touta is in love with Yukihime as her adult body is one that a teenage boy would not be able to resist. As Kirie goes on, Karin decides it is time to put an end to Touta, but she's stopped by the others.
Touta has heard enough and gets up. Kirie offers her services to comfort him should he desire it, but when pressed, Touta says his feelings for Yukihime aren't romantic nor part of a mother complex, but that he owes her for the two years she took care of him. As he's not her son nor servant, he decides he's not going to obey her orders, thus he grabs his bag to leave.
Thoughts/Review:
Reading this chapter, I really don't get a sense that Touta's determined to get into a tournament or anything. Indeed, based on how he's acting, running away from home and getting away from Eva is the direction I'd expect, not running to Eva, especially since Mana is going along with Eva's plan.
We'll see if I'm right, but I expect Touta to leave, Karin to allow this to happen, but Kuroumaru to secretly follow Touta.  Possibly add Santa into this mix as well since he's a little uncomfortable with his new life.
Speaking of Santa, I like how UQ Holder has accepted him. I also like that Akamatsu-sensei reinforces the notion of just how powerful Sayoko was, at least in terms of her being a necromancer.
The backstory exposition about Nagi and Negi is clearly designed to help those readers of UQ Holder who've not read Negima as well as to remind those who have (though seriously, none of us have forgotten).  I did get a chuckle out of Kirie getting hyper excited about the idea of Eva's and Touta's relationship. Of course, that too was an excuse to remind people of Touta's past and educate new readers, but it was still amusing, more so because of Karin's own brand of excitement on the subject.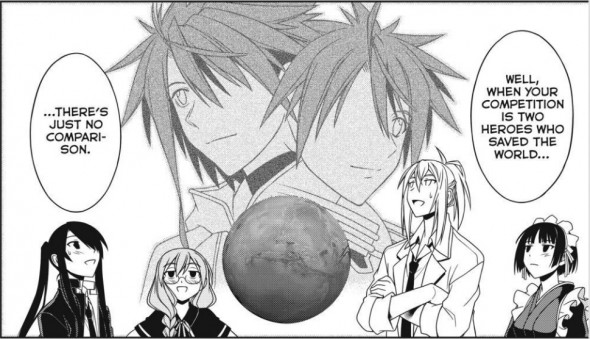 For me, the most interesting elements were regarding the Lifemaker/Mage of the Beginning. It is interesting that Ikkuu's information is that Nagi destroyed the evil wizard that started the war on Inverse Mars (no more "Magic World"/"Mundus Magicus" I guess), not the Lifemaker/Mage of the Beginning. Ikkuu's information also states that the female MotB appeared about the same time as the evil wizard that Nagi defeated.
From Negima, we know that the female MotB was with her crew, observing Nagi and his crew just prior to the fight. Indeed, the fight that was to come was one she was apparently doing for Nagi's benefit, as she attempted to explain to Secundum. We know Nagi defeated the apparent MotB, but then we got to see Zecht, who later dons the robes.
Now, as a Negima reader, I would know this, but how does Ikkuu separate the "evil wizard" from the MotB? That implies he has information we do not have, OR it means that Zecht is the "evil wizard" and the woman is classified as MotB. Further, how does Ikkuu know that the woman they saw is the MotB/Lifemaker? One could argue that Nagi somehow got to see her face, but if that's true, when did he actually report the truth of what he saw? Other than Al, no one else was in on the truth of what happened that day, not even us readers as there are still gaps in the tale.
I'm curious to see where Akamatsu-sensei takes this. I'd like for Touta to go on a journey of discovery along with Kuroumaru, where along the way, he grows as a character and even learns more about Negi, Nagi, and the Lifemaker/MotB. I can see that happening, combined with using such an event as a means of introducing another UQH member (or soon to be member).
Otherwise, the chapter was good for what it was.  I'm very interested to hear what you guys think. ^_^