げんしけん: 二代目/Genshiken Nidaime
Genshiken Second Season Volume 05
Genshiken Volume 05 (Volume 14 in Japan)

–> Purchase from RAKUTEN (formerly BUY.COM)
–> Purchase from BARNES & NOBLE
–> Purchase from RIGHTSTUF!
–> Purchase from Yes Asia! (Japanese tankoubon)
*SPOILERS!!!*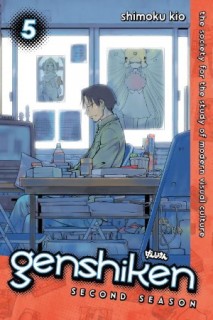 Highlights from this volume start with Saki and Madarame having their private chat, where Madarame confesses in his unique way and Saki turns him down, though this ends up being more emotional than she expected. Madarame is shocked to learn that all of Genshiken knew about his crush as he's forced to let them know the results. Saki, Ohno, Hato, and Ogiue cosplay as crossdressing boys along with Kousaka. After the festival, Saki makes a prediction on Madarame gaining a harem.
Rika and Yajima mistakenly think they find a naughty item in the club room, causing Yajima to consider marrying Hato with her being the male and him being the female.
Ohno gets permission for Genshiken to do a cosplay photoshoot, where Rika gets her drunk so that she expresses her fears about the future to Tanaka.
Hato and Sue struggle to deal with their growing feelings for Madarame as Sue participates in a spying event, where Hato starts to make a move on Hato until Keiko shows up. Keiko invites Madarame to the hostess club that she works at.
---
Although I've already chapter-blogged everything in this volume, there are things I'd like to discuss.
Rereading through the reunion of Saki and Madarame, I couldn't help but be touched again as I know this is the pairing that Kio-sensei wanted. I never really saw it working in the original Genshiken, but what do I know. As I mentioned in my review of chapter 80, this pretty much closed the books on the Saki x Madarame pairings.
In more recent times, I've begun to question whether this is indeed the case or not. For those of you not current with Genshiken Nidaime, I'll throw my next remarks in spoiler tags.  For those of you wishing to comment on this section of the review, use spoiler blocks as well.
Saki x Madarame
Saki was used to officially launch the Madarame Harem arc of the manga, which is still going on. My thinking is that Kio-sensei still wants to pair them up. After all, even in <b>Spotted Flower</b>, the !Saki character had an otaku boyfriend before she hooked up with the !Madarame character. However, as of chapters 79-81, Madarame is not there as a character. So, Kio-sensei creates character development for Madarame via the Harem arc. Once the Harem arc concludes, Madarame is in a better position to be with Saki.
Then there are the omake 4-koma strips from Kio-sensei, where I think he uses Ohno to express why he felt Saki and Madarame could be a couple and why Kousaka isn't the best choice. He then uses Kousaka to express why Madarame now is not a good choice.
The way the Kousaka character is written, if Saki broke up with him because she didn't like something, he'd be fine with it. Or he might even be the one to push Saki to Madarame, knowing it would make her happy.
Yes, the likelihood of this happening is small, but it wouldn't surprise me if that's how things pan out before this manga ends.
[collapse]
For the rest of the manga, I liked how the Yajima x Hato element was pushed forward from Yajima's side of things. Also, I liked how Ohno's relationship with Tanaka was handled. I was disappointed that Sasahara's and Ogiue's relationship didn't get touched much. What little was there had me thinking, "Will they even stay together?"
For the omake chapter, I loved that Madarame, Tanaka, and Kugayama got to hang out and chat about things, even if briefly. I couldn't help but laugh at Tanaka giving up secrets regarding his love life with Ohno, giving Kugayama "meditation" material. I know, that's bad of me, but there it is.
On the Kodansha Comics side of things, the standard pluses and minuses are here. While Japanese honorifics are retained, the adaptation still has Keiko address Saki as "Saki-san" rather than "Saki-neesan," which really is a big difference. There are translator notes here to explain the various parody references, which is always a good thing. There are also ads for other Kodansha Comic manga titles.
This was a very enjoyable volume because it dealt so much with the original Genshiken crew, made more so in rereading these chapters again with their 4-koma comic strip garnishments.