ユーキューホルダー! Chapter 65 Manga Review
UQ Holder Chapter 65
SPOILER Summary/Synopsis: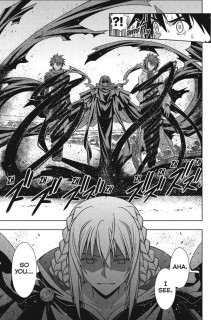 With Fate showing up to see Negi's entry form, Touta and his UQ Holder teammates are not happy, but Yukihima, as Eva, shuts them up and checks the signature, confirming it is Negi's. As Fate and Eva silently contemplate this, Touta and the other UQ Holder members (sans Santa, who was not part of the team when they fought Fate) demand answers from Eva. Eva is going to explain when suddenly, the entire group is transported elsewhere, where Nagi Springfield and Negi Springfield stand.
Negi greets his training master as she and Fate race toward the pair, both wanting answers as to their location. Fate starts to ask about the Mage of the Beginning's "resonance," but Negi cuts him off, saying it isn't what he thinks. Before Negi can continue, Nagi and Negi are bound from fabric strands emerging from the ground. The Mage of the Beginning emerges, her cape binding both Nagi and Negi. She sees and acknowledges Touta, causing Eva to freak out. She and Fate start an attack and the entire group ends back up at the coffee shop.
Touta feels a pang of something in his heart at having seen Eva's reaction to Negi and Nagi. He wants to help her and tells her so, asking what was going on in the process. Karin wants to know too, but Eva apologizes to Touta, ordering him to withdraw his application in the tournament. Further, she states that she and Fate will fight in the tournament and she wants him to forget the events of today and never speak of them again.
To further emphasize her will, she orders him back to HQ, then orders the others not to help Touta. She includes a special order to Kirie to not fund Touta. When Touta asks why, Eva tells him coldly that she doesn't need him.
Thoughts/Review:
Well now, well now. Talk about massive plot twists. Before the spoilers came out, I was thinking, "Man, I'm not really keen on a tournament arc, but if Eva is around, it could be OK." Now, I'm really wondering how much of a tournament we'll even get.  More on that in a bit.
While this chapter proves nothing, it does seem to give credence to my own thoughts regarding the Mage of the Beginning. The popular theory has been that the Life-Maker body-hops, so that when someone defeats the MotB, MotB simply uses his Life-Maker skills and takes over another body, thus making them the Life-Maker/Mage of the Beginning. I understood why folks would think that based on the very limited information we'd seen, but there were way too many problems with this theory for me to accept it, although I've repeated said that you guys were probably right considering how wrong I'd been on my Negi is Nagi theory. (I could talk about why I think I was right until Akamatsu-sensei made the changes to the Magic World arc, but I'm not going down that path.)
Ever since we got to see the apparent Mage of the Beginning in chapter 325 of Negima, I have speculated that this is in fact Amateru, the daughter of the Life-Maker/Mage of the Beginning.
So, assuming Akamatsu-sensei isn't having fun with us, it would seem that the Mage of the Beginning, aka: the Lifemaker, is a woman.  Frankly, it wouldn't surprise me if she were Amateru based on her comments regarding humanity.  I got the sense that she was not human but I highly doubt she's an artificial being either.
This is what I think is going on. Amateru is the great mage of legend that saved the world. I think that Zecht is the knight who protected her. For whatever reason, the two became immortal, but of the highest caliber. Throughout the 2600+ years of their existence, they've apparently been looking for a way to end it all, based on remarks from both the woman and Zecht in Negima. So rather than body-hopping, I think that the female MotB is out looking for things that can help her in her studies of immortality and this female form is her true form.
The experiment on Eva is one such study. I think her encounter with Nagi during the war was another such experiment, whereby she decided to allow him to fight her (partially because it would be entertaining to her). He defeats her, but surprise, Zecht reveals his true identity to Nagi and vanishes. While the female MotB regenerates, Zecht carries on their plan by activating Tertium (Fate) until years later, Nagi has to make a sacrifice to try to seal the MotB to stop her from carrying on again.
We know from the end of Negima that somehow, Negi saves Nagi. However, as seen in this chapter of UQ Holder, the MotB was not defeated and eventually, Negi appears to have fallen (or sacrificed himself) to stop her.
I firmly think that right now, the female MotB has both Negi and Nagi held captive and in a state where they will not die nor age. I found Fate's remark on resonance to be interesting because it can mean to be in a state of resonant, which means "strongly affecting someone especially with a particular quality." A  better definition might be, "intensified and enriched by or as if by resonance." So the female MotB is looking to do something for herself with Negi and Nagi, and she sees Touta as the third element she'll need.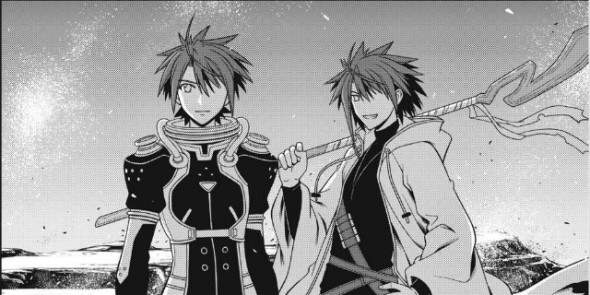 One thing I will say is that as an agent of the MotB, no matter if I'm right or of the body-hopping theory is right, Fate knows a ton, and so Akamatsu-sensei has him exist, stage right. Eva also leaves stage-right, likely because she knows more.  I rather hate this whole, "We have the answers, but we're keeping you in the dark to create artificial drama" style of writing. Even though I'm excited by the prospect of learning more, the fact that we are being prevented from learning more because of "reasons" annoys me. (And we had to deal with that in Negima concerning the ultimate fate of Negi's mother, where all these characters with information refused to tell Negi because "reasons.")
So where does this leave us?
Well, while I can see Touta trying to sneak into this tournament, I can also see him and the others back at UQH HQ and being assigned another mission somewhere else. With the MotB on Mars and having to resort to summoning magic to get a look at her target, Touta isn't completely safe, but if he were assigned to work with other UQH members, he'll be OK until the plot demands that MotB spring a trap.
Anyway, I just get the feeling based on the way this chapter went that we won't be seeing Fate nor Eva for a long while, and that the MotB thing won't be brought up again for a while other than possibly having Touta mention it initially in the next chapter. We'll see.
Regardless, this chapter was something none of us expected when we learned about a tournament and Negi sending in an application. There's still too little information to say what theory is correct, but to me, seeing the female MotB again strongly suggests that this is her true form and that she's not body snatching.
Let the discussions begin! 😈