ハヤテのごとく!/Hayate no Gotoku Manga
Hayate the Combat Butler Chapter 480 Review
SPOILER Summary/Synopsis: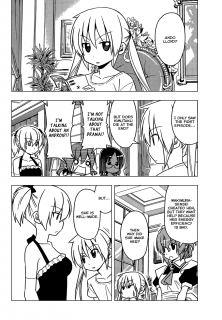 Ell-chan has recharged on expensive rice bowls, but before they can proceed, Ell-chan remarks on how her dress is not appropriate, meaning Fumi is going to have to spend more money. Since she doesn't want hand-me-downs, Fumi buys a nice dress for Ell-chan. Ell-chan is fired up, but suddenly she needs more food. Realizing she'll go bankrupt if his continues, Fumi, Sharna, and Ell-chan go to Nagi's mansion.
Nagi gets briefed on the situation and does admire Makimura-sensei's work. Since Ell-chan's number 5 is a sticker, as well as the seam line, Ell-chan looks completely human once they are removed. Ell-chan says that she doesn't need sleep as long as she has a supply of energy. Nagi is excited to learn that Ell-chan can play games and monitor 2ch 24-7. Finally, Ell-chan is meant to heal people's hearts. So Nagi decides that they should test this out. When Ell-chan refers to Nagi as "Master," Fumi is stunned by this.
A depressed Ayumu arrives home at Yukari-chan house, still reeling from seeing Hayate with Konoha. She sees Hayate's shoes at the entryway and realizes that none of her housemates are home. She sees she has a chance at Hayate, so she remarks on being soaked with sweat. Hayate is unfazed by this, saying he'll make her an iced latte.
Ayumu decides she needs to step it up and says she needs a bath, so Hayate goes to draw one for her. After making sure the water is just right, Ayumu enters, wrapped in a towel, and asks if Hayate wants to join her.
Thoughts/Review:
I didn't really expect to see a continuation of Ell-chan's story even though I did expect to see her again. It appears that the story is heading for Ell-chan and Nagi healing Ayumu's heart, but knowing Hata-sensei, he could go anywhere with this.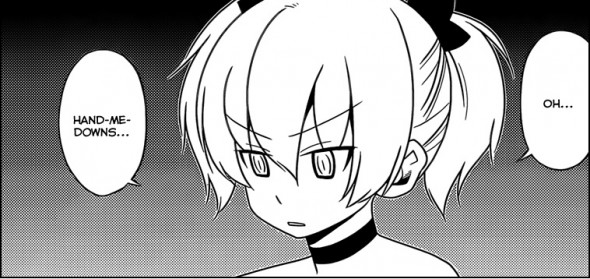 Fumi gets a new look. Normally, Fumi is either shown in a state of SD shock and awe, or she's shown in a normal form. In this chapter, we get the traditional manga/anime flood of tears. Well, Fumi did spend a lot of money on her android…assuming Nagi is not her total master now.
I loved the hook to get Nagi interested in Ell-chan, that being playing games and staying on 2ch. It would be neat if Ell-chan ended up joining Nagi's staff, but I really can't see that happening.
As to Ayumu, I couldn't help but feel sorry for her. After all, we all know this isn't going to go the way Ayumu wants. We'll see how this goes.
In the end, this was a fun chapter, though not as funny as last week's chapter. Not much to discuss either as it appears to be setting the table for an eventual meeting of Ayumu and Ell-chan. Or not.