Here is SPOILER info/rumor (assuming I get confirmation on this) for the upcoming UQ Holder chapter 68, courtesy of 2ch. (My review of UQ Holder chapter 68 should come out Wednesday.)
UQ HOLDER CHAPTER 68 SPOILERS
The UQ Holder chapter 68 goodness begins.^_^
Here is the spoiler (as best as I can tell), in Japanese.
予選会

アフロ男が大勢に襲われてるのを見た刀太が助けようと全員ぶちのめすが
アフロ男含めて全員まほら武闘会の予選参加者だった
倒せば得られるランクポイントを横取りした状態になり
アフロに喧嘩を売られるも刀太は1コマで瞬殺

管理委員会の人は刀太がエントリー後取り消されてるのを
不思議がるが、気にせずポイント加算した

参加費300万円払うか100万ポイントためて同ランク戦を制すれば本選進出
刀太はアフロ男に連れられて非合法の賭け闘技場へ(対戦自体は有効)
I talked to ChaosProphet earlier today, but he didn't see this post, so he was unable to confirm it.  Considering the increase in chatter on 2ch after this post was made, I tend to think these are the spoilers.
Now, until ChaosProphet or someone translates (and I know ChaosProphet is busy), as best as I can tell (and this is subject to my completely misunderstanding things), Afro-dude is in some sort of preliminary fight for the tournament from the Mahora Fighter Association. I don't think the tournament is going on, just that this club is doing its own battles.
I get the impression that things are being set up for Touta to still participate in the tournament somehow, even if illegal betting is done to raise the cash for the entry fee of ¥3,000,000. But if Touta gets 1,000,000 points through the Fighter Association, he can get it.
If I'm right about this, I still don't see how he gets in without Eva and Fate knowing about it and putting it to a stop. But I'll refrain from saying more until I know if my "reading" of the text is correct.
Chapter 68 comes out Tuesday night on Crunchyroll.
Update #1: Here are three images from MK. Looks like I was reading things right, but hopefully, we'll get more info.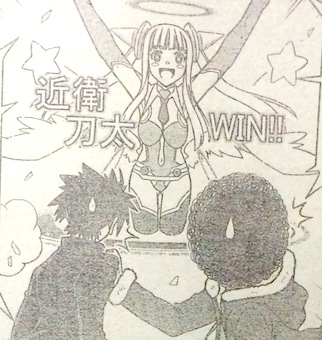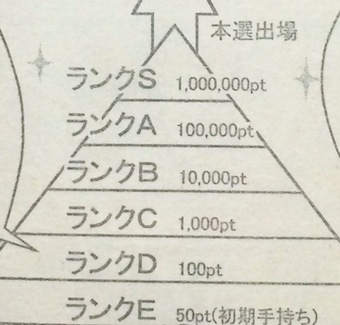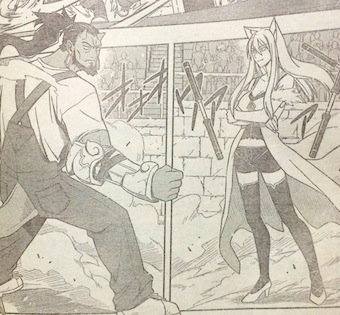 And now for something completely the same. 😉