Here is some SPOILER info for the upcoming UQ Holder chapter 70, courtesy of 2ch. (My review of UQ Holder chapter 70 should come out Wednesday.)
UQ HOLDER CHAPTER 70 SPOILERS
The UQ Holder chapter 70 goodness begins.^_^
Here is the spoiler  in Japanese.
襲撃者

黒棒が言いかけたそのとき、闘技場での殺気の主が刀太を襲う
はじめまして兄さん アンタを 殺しに来たよ
剣vs.剣で圧倒され、懐に入れば魔法で迎撃され
持ち前の戦闘勘でしのげば敵の"解放"一発で袈裟斬りにされ
"闇の魔法"発動まで追い込まれるも敵は慌てる様子すらない
And here's a translation from the ever awesome ChaosProphet.
As Kurobou was about to reveal something to Touta, he is attacked by that person with the strong kill intent. That person refers to Touta as "Onii-san", which can mean older brother but also can be used by someone to refer to an older male who isn't too old. Touta seems to be overwhelmed by the enemy, even after activating ME.
Well, ChaosProphet called it about Kurobo (Gravity Blade) getting interrupted before it could say anything.
Some further thoughts from ChaosProphet.
Some wild speculations by me:
If Touta was indeed made by Fate, maybe this person (call him/her X for now) is also someone made by him? Maybe Touta was considered a failure and was supposed to be disposed of while X was supposed to be promising. But then Touta actually end up being the one that worked out (being able to get ME?) and X who had yet to show results is left aside. Then X wants to kill Touta because of that.
Interesting theory.
I'm still secretly hoping for Zecht. I can see him introducing himself to Touta and addressing him as (o)niisan.
Regardless, I suddenly have more interest in the upcoming chapter. 🙂
Updates to follow with images, assuming those come out before the chapter does.
Update #1: Now with three images, courtesy of MK.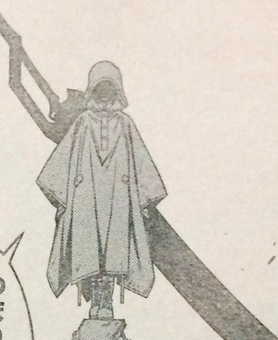 There could be another image or two before the chapter comes out. If so, I'll make another update.