ハヤテのごとく!/Hayate no Gotoku Manga
Hayate the Combat Butler Chapter 484 Review
SPOILER Summary/Synopsis: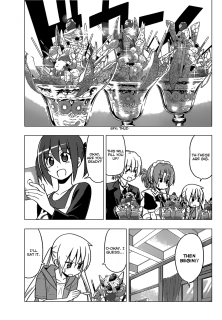 Nagi is horrified to discover this is the last day of summer vacation. Her ranting and lamenting on the subject is interrupted by Maria, who suggests she do something to spend her final day. Hayate agrees, so they drag Nagi out of the house to Cafe Donguri, who's having a giant parfait promotional whereby eating it completely in 30 minutes (with the help of one other) means it is free, but if one can eat it solo, they will also get a ¥500 coupon.
Hayate orders three from Ayumu and quickly scarfs his down. Nagi is unsure, but she tries it and likes it. Since Hayate wants more and Maria can't eat this giant parfait on her own, she has Hayate help her by sitting on the other side of her. The flirtatious way they eat annoys Nagi Ayumu alerts them that they only have a minute left. Hayate finishes Maria's parfait and tries to encourage Nagi to do the same, but it is too much for her, so Ayumu charges the ¥2000 for hers against Hayate's pay.
After they leave, Ayumu thinks back to Hayate's and Maria's flirtatious moment and wonders if there's something between them.
Thoughts/Review:
Hata-sensei is quite evil. This chapter made me fancy a large parfait. Terrible! 😆
It is nice working Maria back into the story. She has been pushed off to the side for quite some time, only having little cameos here and there. I suppose it makes sense that Maria would get back into things more since she, Nagi, and Hayate are back into the mansion.
Bringing Maria back into the mix also allows the Maria x Hayate ship to sail again. There's more to this ship than there ever has been for a Nagi x Hayate ship. Hayate has been attracted to her since the first volume, and Maria has pondered being with Hayate. I wonder if Hata-sensei will go down this road some more now that the conditions are right to explore it.
One thing I really appreciated from this chapter is the throwaway line from Hayate, referencing the trip they took to Ayumu's grandmother's place in the country. Of course that trip was documented in the movie Heaven is a Place on Earth.
I couldn't help but notice how cheerful Ayumu was during the entire chapter. Yeah, she's at work, which means the professional smile moments, but she's with her friends here and she doesn't clash with Nagi, nor does she even look fretting as she wonders about Maria and Hayate possibly being an item.
Finally, I think Hata-sensei accurately captured the feeling everyone has when they realize vacation is over (and not just school vacation).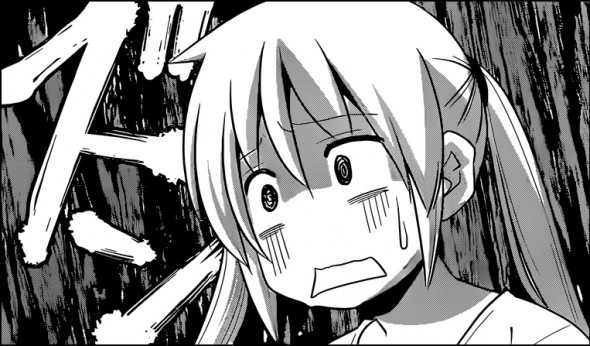 In the end, this was a fun chapter that I really enjoyed. I guess next chapter has everyone back at school. Since we haven't seen the slacker threesome in a while, I predict they'll show up.