ハヤテのごとく!/Hayate no Gotoku Manga
Hayate the Combat Butler Chapter 485 Review
SPOILER Summary/Synopsis: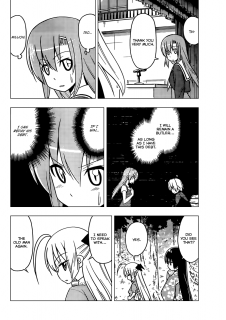 Nagi initially fools Maria and Hayate by being cheerful and positive about the first day of school, but she retreats to her bedroom, forcing Hayate to have to take her to school. On the way there, Hayate tells Nagi of the things to look forward to, including the school trip in September.
At Hakuou, Nagi's friends all discuss where they might go. Aika announces that Kananiwa-sama, one of the school's five directors, will bring back the School Trip Level 5. Aika promises that this will be explained at the morning assembly. Sure enough, Hina makes the announcement for the five different class trips that can be taken. She explains levels 1 though 4, then turns things over to Director Kananiwa to discuss the Level 5 trip. She announces that the Level 5 trip has a prize of ¥150 million to whomever succeeds in the challenge. Folks are allowed to drop out and spend the rest of their time in the hotel. However, the details of the challenge will only explained when the students signing up for Level 5 get to their destination.
Nagi is down for this because she plans to immediately drop out and spend the remaining nine days and nights in the hotel. When Nagi informs Maria and Hayate about this, they are not pleased with her reasons for choosing it. Hina decides she could win the money and pay Hayate's debt. Miki tells Risa and Izumi that she's going to choose whatever Hina chooses. That night at Yukari-chan House, Chiharu tells Kayura that she's going to choose whatever the others choose because it will be best if they are all together.
Thoughts/Review:
And so we start a new arc and at the same time, introduce a new character into the mix, this time Director Kananiwa.
Director Kananiwa having an earring made from a King's Jewel means she's involved with the plot, and has been made to look someone sinister to me to give an air of foreboding. Naturally, Isumi and Ah-tan noticed this earring, but that leads me to the question of why neither of them were aware of it before now (unless the implication of Ah-tan speaking to Mikado is that Kananiwa recently obtained the jewel).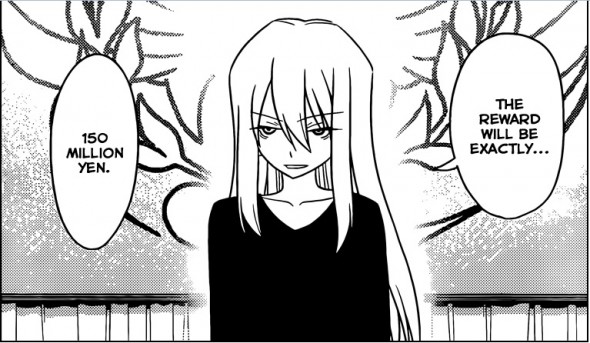 The entire gang, save Ayumu, Maria, Wataru, and Saki are being set up to go on this trip since Hina is going to go to win the ¥150 million prize. Her going is clearly going to result in Izumi, Miki, Risa, Chiharu, and Kayura going. Nagi and Hayate will be there because Nagi wants to goof off. With the King's Jewel involved, no doubt Isumi will go on the trip and Ah-tan might end up there as well. Of course with ¥150 million at stake, Hina's sister, Yukiji-sensei, will no doubt attend and that could involve Kaoru-sensei as well.  And I expect Aika will go on the trip as well.
I did get a laugh out of the Level 4 trip, which was slaving away in a factory for fifteen hours a day, save for the last day, when you get to go to Tokyo Disneyland out of pity.
It was also kinda nice seeing Hayate taking Nagi to school again.
Well, there's no telling how long it will take Hata-sensei to get us going into this new arc. That being said, my interest is piqued for sure.