Paradise Residence Chapter 10 Manga
パラダイス レジデンス Chapter 10
SPOILER Summary/Synopsis: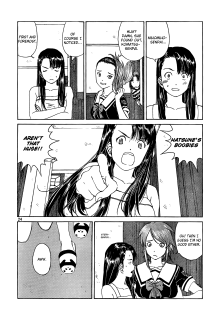 With class over, marking the start of summer vacation, Hatsune is very excited to do all kinds of summer activities, which she hopes to do with Suzuka. Her happiness is interrupted when various sports clubs grab Hatsune and drag her away to make a choice.
Suzuka comes home alone and is still alone come evening. The other dorm girls ask Suzuka where Hatsune is since the two are always together. Suzuka gets into the bath and is joined by Komatsu, who asks if Suzuka is OK since Hatsune is not around. Suzuka denies being lonely, so Komatsu admits that she did get lonely without her partner.
Hatsune comes home briefly, but only to get a change of clothing as she's going to be attending a volleyball training camp. Suzuka finds she's unable to sleep that night, but denies being lonely. Three days later, Komatsu and Tachiarai see Suzuka sitting in a window, strumming the A-minor chord on a guitar. They get the girls in the dorm to dress up as Hatsune, complete with wig, but everyone who tries to fool Suzuka fails to do so, especially since the initial girls are too developed in the chest.
Hatsune, who'd returned to the dorm after turning down the Volleyball Club, is a bit offended by this small chest remark from Suzuka.
Thoughts/Review:
This turned out to be a rather cute character story for Suzuka. Between Hatsune and Suzuka, Hatsune has always been the wild, unpredictable character while Suzuka has been the dependable, smart character. Despite their differences, the characters fit well together, thus are good roommates and best friends.
While Hatsune has no problems saying how great things are when she's with Suzuka, Suzuka probably has never considered life without being with Hatsune now that they are roommates, classmates, and friends. Once Hatsune was gone, suddenly Suzuka missed her friend and that was unexpected to her. As such, it was cute and sweet for Suzuka's character.
I was amused by Dorm 1's residents coming together to try to cheer Suzuka up by pretending to be Hatsune. I laughed at Suzuka pointing out that Mitsuho's chest was too large to be Hatsune, as well as Steph's. It is a classic gag moment to have the person you are talking about hear everything because they are standing right behind you, but it still works as a way to close out this chapter.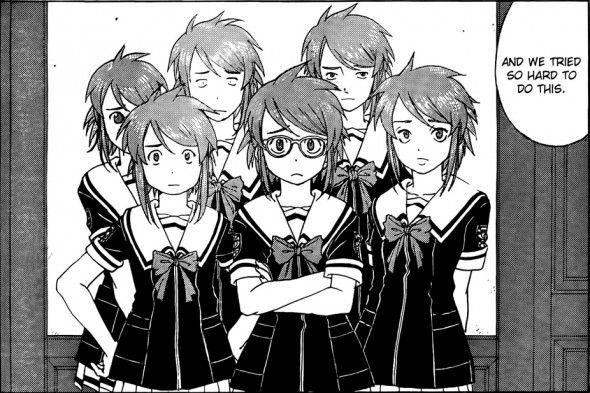 It is interesting that so many (apparently) athletic clubs wanted Hatsune to join up. Hatsune has been shown to only be so-so in academics, but she is apparently pretty good at sports stuff.
While Fujishima-sensei uses Hatsune going off to the Volleyball Club's training camp as a plot device, the thing that gets me is why Hatsune felt compelled to say yes to any of the clubs. I suppose she was somewhat interested in volleyball, which is why she chose that, but to then turn them down after spending days at their training camp seemed contrived as well. It isn't a big thing, but that stood out to me for some reason.
On the fanservice front, Fujishima-sensei gives us a side-boob shot of Suzuka, and a full on view of Komatsu, with that convenient steam cloud covering her "very naughty bit indeed."  I think Sensei is really enjoying being able to use the seinen format in a way he never did with Ah! My Goddess.
Still, this series continues to be fun and enjoyable. Nothing to do but wait until the next chapter comes out.