ユーキューホルダー! Manga Review
UQ Holder Chapter 74
SPOILER Summary/Synopsis: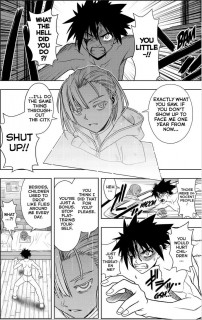 As Afro is in the mall to make purchases, Hoodie's message to Touta plays with a warning about her holding the town hostage, instructing Touta to look outside. When he looks to the city in the distance, Hoodie causes the mall to explode. Touta is angry and returns to the holographic message where Hoodie is waiting. She tells him that if he doesn't show up to face her in a year, she'll destroy the entire city.  She further warns that trying to stop her via other means is a waste of time.
Kuroumaru and Touta are surprised with Kirei and Santa arrive with a singed Afro in tow. To Touta's relief, Kirie states that no one was killed and recounts how she and Santa got Afro to help them evacuate the mall before the explosion hit, thanks to her save point skill. Touta gratefully hugs Kirie, who does not appreciate this. Her reasoning for helping in this was how Touta was the first time through the loop.
Touta changes focus to Hoodie, leading Kuroumaru to tell him that Hoodie's call had been traced. Touta thanks Kuroumaru for making the trace, but when he learns that the call originated from the top of the space elevator, he decides that he has to accept her challenge. Kuroumaru states they need to notify Yukihime and the authorities.
Thoughts/Review:
While Hoodie is a somewhat interesting and powerful adversary, her deciding to wait a year to face Touta and hold the city hostage so that he MUST enter the tournament to face her comes off as contrived. I still don't see a reason for her to delay killing Touta when that was clearly her purpose. Yeah, there's the cliched, "Oh, I'm ever so bored Touta-chan, so won't you get stronger and face me in a year so that I'm marginally entertained for our next encounter? If you don't, I'll kill everyone, tee hee!"
Hoodie does appear to have another mission beyond Touta. If she's mined the entire city, and using that to threaten Touta is just a bonus, then what is her purpose? Why does she despise the world? Why would she be in a place where children died all around her all the time (and apparently not by her hand)?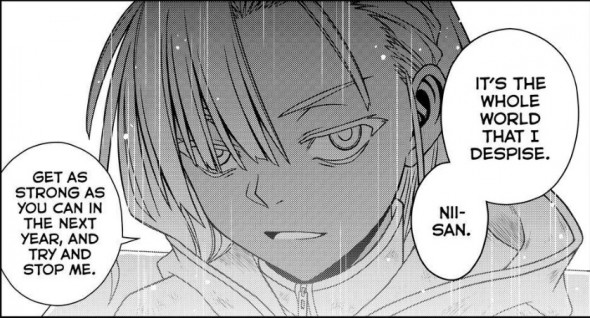 Hoodie doesn't appear to know about Kirie's reset ability. I was amused at Kirie bragging about herself and fishing for compliments, only to have her be all flustered when a grateful Touta hugs her.
Touta's body bandages were gone, came back, then left again. So, we either have a massive mistake that was carried over from last week, or there's a purpose at work here. I'm having a hard time believing Akamatsu-sensei could continue making a massive error like this, more so since long time Negima fan Hata hadn't reported Akamatsu speaking of any errors.
The second possibility, which I initially thought was a long shot, but now think it more likely, the bandages being there, then being gone, then being back again, then being gone again represents Kirie resetting time.  She's creating new timelines every time she does this. What would be interesting is if Kirie's resets were causing unintended consequences. I don't think that's going to be the case, after considering things for a while.
What I suspect is that Kirie's save point was done before Kirie and Santa came into the room with Touta after he awoke the first time. (That would give her and Santa enough time to get to the mall and save people just in the nick of time.) During one of her time reset trips, she had Touta's bandages removed. During another trip, she did not have them removed, but in her final trip through, the bandages were removed. Why is another question, assuming this is what happened.
Is Hoodie's transmission coming from the top of the tower mean she's an associate of Fate's? Possibly, but I doubt Fate's the only thing at the top of the space elevator. She could easily work for someone else, or be working solo.
Well, we'll have a couple of weeks to wonder about this as there's no chapter next week. As for this chapter, it was interesting, even if I feel the plot setup is contrived.