Here is some SPOILER info for the upcoming UQ Holder chapter 74, courtesy of 2ch. (My review of UQ Holder chapter 74 should come out Wednesday.)
UQ HOLDER CHAPTER 74 SPOILERS
The UQ Holder chapter 74 goodness begins.^_^
Here is the spoiler in Japanese (as  best as I can tell).
悪夢の回避

メッセージの続きはテロ予告だった
買い出しに出ていたラズロのいるショッピングモールで大爆発
刀太がブチ切れるところだが

すでにキリヱが完全回避ルートを確定ずみだった
ケガ人を0に抑え、1周目で発生したという刀太大暴走もなし
その間九郎丸が敵の位置を逆探知するが敵は塔の上、大気圏外で手出しできず

次号休載
OK, looks like Hoodie's message continued. Looks like there's an act of terrorism when a bomb explodes in the place where Afro was shopping. I think that thanks to Kirie, they are going to try to reset things so that no one is hurt in the explosion. And Kuroumaru detects the enemy (Hoodie?).
And, it looks like the manga is not going to be published next week.
Well, hopefully the ever gracious ChaosProphet can give us the full scoop if he has time.
Update #1: A spoiler page/image from this week's chapter from 2ch.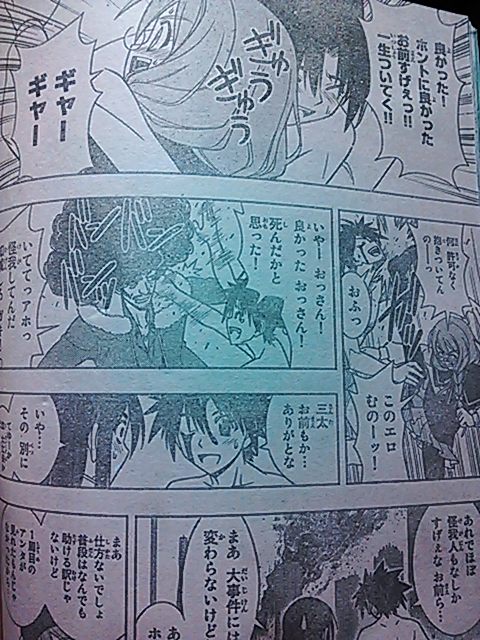 Certainly looks like burning city in the distance and Touta being grateful.
More updates if I get them.
Update #2: More images, from MK.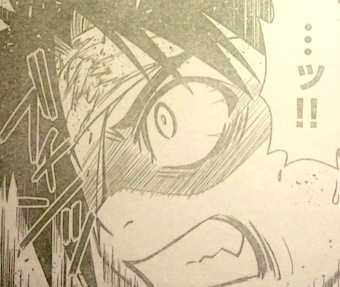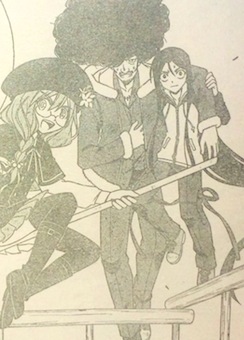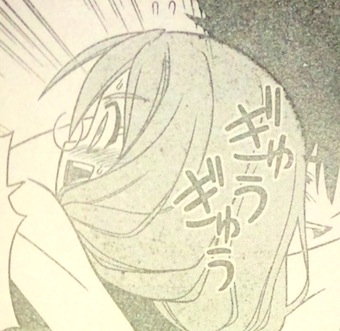 Afro's afro got larger, probably thanks to the explosion.  That initial images looks like Touta's rage mode since the bandages seem to be breaking.  The bottom image is from that page I posted earlier, trying to show Kirie's attraction.
Well, the chapter comes out tomorrow night.