Fate/stay night: Unlimited Blade Works – 13 review
フェイト/ステイナイト [Unlimited Blade Works] – 13
SPOILER Summary/Synopsis: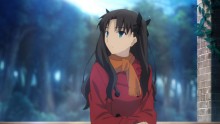 Shirou manages to make it home that night, but doesn't make it to bed. The next morning, he sets out with a weapon and Rin's pendant to find Rin. Elsewhere in an old church, Caster has Saber magically bound in a white dress when Souichirou (Kuzuki-sensei) arrives, demanding to know why Caster is here. Caster gives an explanation and is troubled by Souichirou's insistence on staying at the church. Still elsewhere, Rin wakes up at a covered picnic table, covered with Archer's jacket. The two chat before going to investigate Kirei's church, where they find blood but no body. Rin lays out her plan to attack Caster while Archer attacks Souichirou. However, Archer does not seem pleased with the part of her plan that sees Saber return to Shirou's control.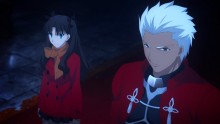 Archer and Rin confront Caster and Souichirou inside Kirei's church while Shirou has snuck in and observes from a balcony. After a brief chat, Rin attacks Caster, but after a brief fight, she finds Archer is not following the plan. Archer turns on Rin and pledges allegiance to Caster, revealing he knows her true identity — Princess Medea. Caster stabs him with Rule Breaker, causing the Command Spells (Seals) for Archer to become Caster's. When Souichirou makes a move for Rin, Shirou springs into action, but his injuries prevent him from doing much. Archer has Caster release Rin and Shirou as a condition of his continued servitude, so she lets them go, but warns if they interfere, she will deal with the situation.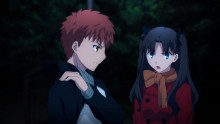 As Shirou and Rin leave, Rin vows to make Archer hers again, after which she promises she will never forgive his betrayal. Rin and Shirou walk and talk. She's concerned about his injuries, but he knows her pain is greater and says as much, causing her to cry. The two end up on a hilltop sitting back to back to continue talking. Rin concedes her mistakes in not taking out Caster sooner. Shirou confesses to making mistakes, but figures Rin will come back and make them pay. He gives Rin the pendant, where Rin realizes something. When she asks why he saved her, Shirou confesses that he's in love with her and has been for a while. Rin is embarrassed, but after insulting him, she hugs him from behind and thanks him for saving her.
Thoughts/Review:
Wow. There's just so much in this episode.  Where to begin?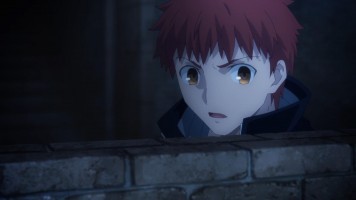 In episode 12, I was stunned when Saber was taken from Shirou because that's certainly not how things went down in the Fate route. I didn't think that moment could be topped, but then Archer betrays Rin and joins Caster.  Even as I write this, I'm still not over the shock of that moment.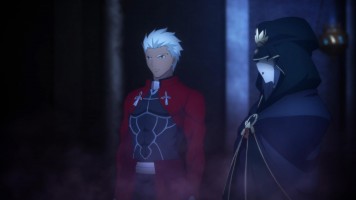 So, why does Archer betray Rin? Is it because he hates Shirou so much? He did not appear happy when Rin noted that should they kill Caster and free Saber, she could return to Shirou's side.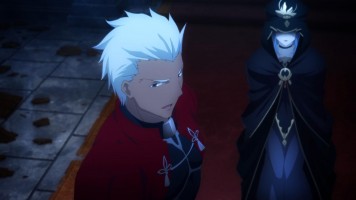 Or does Archer have some other scheme in mind? He may have realized there was no way Rin would survive the assault on Caster, and thus sacrificed himself to save her. But if that's the case, then what is his end game? Or is he actually cool with whatever Caster wants, providing Rin is OK?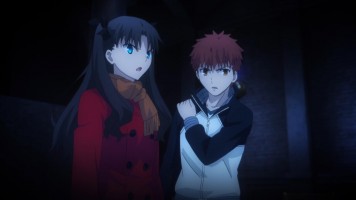 Changing topics, why did Caster change Saber's clothing? Why was her skirt hiked up? The only reason I can think of for Saber to have her skirt hiked up like that while being magically bound is if Caster was sexually assaulting Saber as a means of breaking her. Caster's guilty reaction to Souichirou's arrival would also seem to indicate she's doing something she doesn't think he'd approve of.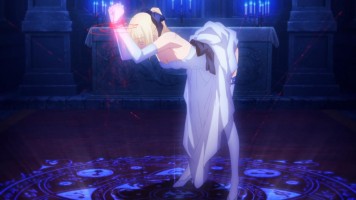 So now Caster has in effect three Servants at her command — one guarding the temple (Assassin), one willing having joined her side (Archer), and one unwilling to help (Saber). At this point, I'm not sure how Rin and Shirou manage to defeat Caster unless Kirei helps them, which is possible since he's likely not dead and would want to get back at Caster for her attack.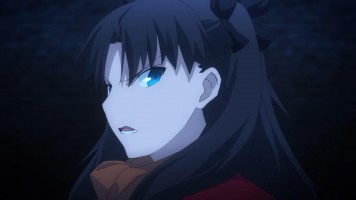 Speaking of Rin and Shirou, I have to say that it is weird for me to hear Shirou confess his love for Rin. After all, in the Fate route, Shirou was all into Saber. I know this anime is covering Rin's route, so the story is going to be structured in such a way to have Rin and Shirou be the romantic couple. I honestly don't have a problem with that, but it was weird to me just the same.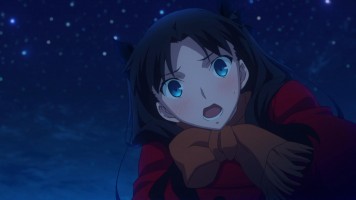 Rin's tsundere reaction to Shirou's love confession made me chuckle. The fact that she embraced Shirou from behind at the end tells me she accepted his confession and the two are officially a couple now. It will certainly be interesting to see them working closely together now.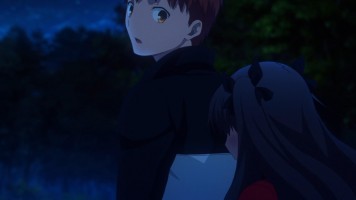 Also while I'm thinking about it, on the issue of Rin's pendent…
Spoiler
…while she may have suspected the linkage between Archer and Shirou, the fact that Shirou mentioned two pendents and gave one to Rin gave her the proof that the two are linked, and in fact the same person. I liked that moment.
[collapse]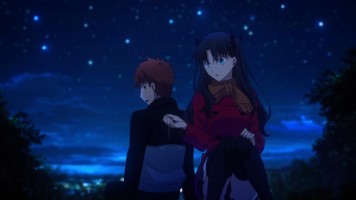 I have to say that ufotable's work here continues to amaze me. Fate/stay night: Unlimited Blade Works continues to be a cream of the crop anime title. I can't wait to see the next episode (though I may be delayed in blogging it).