Here is some SPOILER info for the upcoming UQ Holder chapter 75, courtesy of 2ch. (My review of UQ Holder chapter 75 should come out Wednesday.)
UQ HOLDER CHAPTER 75 SPOILERS
The UQ Holder chapter 75 goodness begins.^_^
Here is the spoiler in Japanese (as  best as I can tell).
トーナメント戦

刀太たちはアジトへ戻らず、ラズロたちと共に本選出場目指して実戦修行
敵が宇宙の上で手出しできない以上、
九郎丸たちができるのは公的機関への通報と留守番組への報告だけ

チーム戦ができるほどの頭数がないので
刀太は地下闘技場を個人戦で突破、Aランク入りを果たす
そこで最初の壁となったのが猫ねーちゃん・カレン
Aクラスで地下闘技場初の敗北を喫すると
次に刀太と対戦するのは8本腕の巨人・モルボルグラン
彼はネギを知る者だった、だがそれ以上に刀太をひきつけるのはそこではなく
グラン「君に今必要なものは…そう 必殺技だ!」
刀太「ひ… 必殺…技?」

■その響きにトキメクぅ――!だって男の子だもん!! 20号につづく
My Japanese sucks, but it looks like the (preliminary?) tournament goes into full gear, and Touta may be meeting someone who knew Negi. I see a reference to Karin here, but not sure about it.  I get no sense of Kuroumaru nor Kirie being in the tournament. I didn't expect them to be though since this is supposed to be Touta getting stronger.  I do think Kuroumaru attempted to report Hoodie's bombing, but only got voice mail (I think).
Well, hopefully the ever gracious ChaosProphet can give us the full scoop if he has time.
In the meantime, I'll keep my eyes open for more info or spoiler images, should they appear.
Update #1: Rikutan offers this bit of clarification:
Basically, Touta alone enters the underground tournament, enters the A-rank, fights the cat-girl Karen, and then goes up against the 8-armed demon Morborgran, who fought and lost against Negi in MM. Morborgran advises Touta to get a finishing move…
Finishing moves…been there, done that. *_*
Anyway, thanks to Rikutan for this.
Update #2: We now have a spoiler image from 2ch.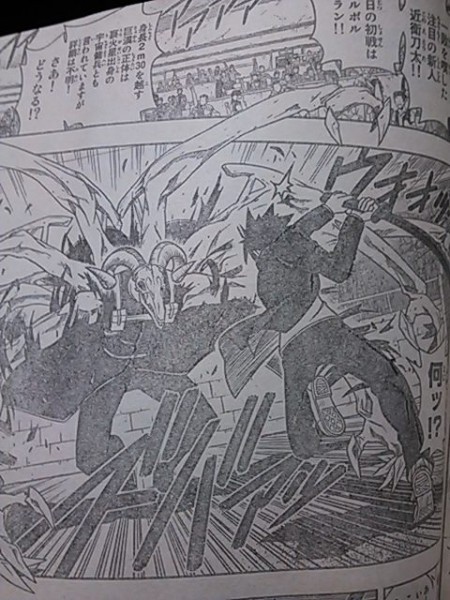 Touta's finishing move trainer after this fight?
More updates if I get them.
Update #3: Another spoiler image from MK.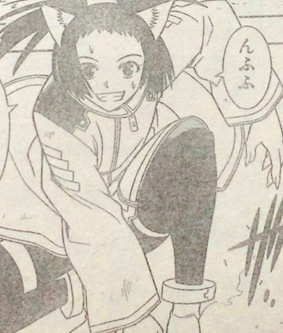 So this must be the Karen mentioned.
OK, chapter comes out tomorrow.