ハヤテのごとく!/Hayate no Gotoku Manga
Hayate the Combat Butler Chapter 489 Review
SPOILER Summary/Synopsis: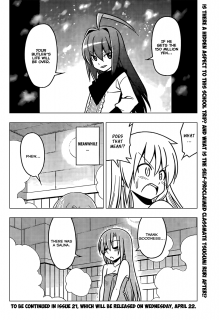 Nagi and Hayate struggle with the blizzard, but Nagi isn't too concerned since there are no bears in New Zealand. On cue, a bear shows up and pursues them. That stops when the bear triggers an avalanche, leading Hayate to have to rescue Nagi from danger.
That over, Nagi decides to ask if Hayate will quit being her butler if he pays off his debt. However, before she can finish the question, the snow they are on breaks off, causing them to fall a distance.
Meanwhile, the bus with the students not taking orientation arrives at the hotel, which is actually a prison.
Nagi and Hayate find an abandoned cabin, where Hayate starts a fire and they take off their clothes to dry. Nagi is embarrassed by the situation, but Hayate seems fine, causing Nagi to be displeased. Hayate notes there's another cabin behind the one they are in, so he goes out to see if he can get help. Nagi wonders aloud if Hayate will leave her if he gets the ¥150 million, but Ruri appears, saying Hayate's life will be over if that happens.
Apparently in the other cabin, Hina is taking a sauna.
Thoughts/Review:
Hata-sensei recycled two jokes here. The first one was the bear joke, which was used for the school trip where the class went up that easy mountain in Japan. The second one was having Nagi and Hayate on a cliff's edge, where it falls off. I didn't laugh at either joke this time around. (I am pretty tired as I write this — it has been a very hectic week.)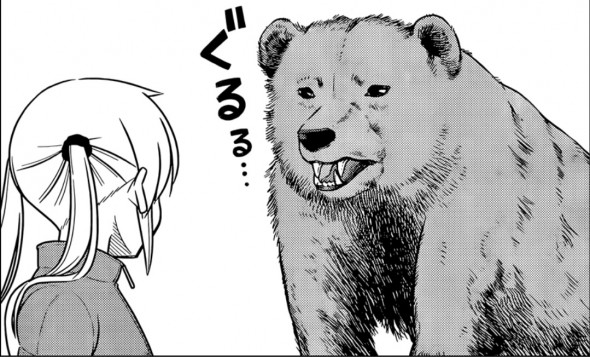 Nagi's fears of Hayate leaving him are understandable. Early on in the manga, Nagi's former butler, Himegami, left her under mysterious circumstances and that did leave a mark on her. With both of her parents dead, and Nagi knowing that Maria will leave her one day, that only leaves Hayate, and if he leaves, she'll be alone.
Still, I'd like to see Nagi strong enough to stand on her own at the end of the manga and move on with her life without Hayate being at her side. I don't think that will happen though.
I got the feeling that in servicing Nagi, Hata-sensei really tried to make her cute. Nothing wrong with that, but I figure it is part of a plan to rehabilitate Nagi so that when Hata-sensei pairs her with Hayate, the negative feedback isn't so great.
(And as an aside, Hayate not reacting to a naked Nagi is a recycled joke.)
As to Hina, well, assuming Hayate goes there, one can imagine what will happen.
The rest of the class being sent to a prison made me chuckle. I'm wondering what the meaning of that is beyond the obvious gag.
Finally, Ruri showing up with the ominous warning about what would happen to Hayate should he win the prize made me think of the Kurotsubaki. If Hata-sensei keeps its function the same as it was in the CTMEOY anime, then that will be interesting.
So we get some recycled jokes, a push on Hayate x Nagi, a setup for Hayate to encounter Hina, and some possible additional plot setup. It will be interesting to see where things go.