ハヤテのごとく!/Hayate no Gotoku Manga
Hayate the Combat Butler Chapter 487 Review
SPOILER Summary/Synopsis: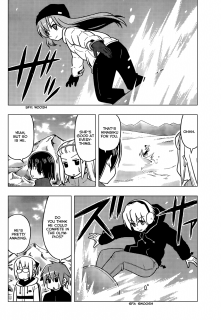 Twenty seven hours, 35 minutes into the Level 5 trip, on a snowy mountain in New Zealand, Nagi is collapsed on the snow. She pulls herself together and curses some girl.
At the start of the trip on the bus, Nagi is confident of a win, but things the rules are too simple, suggesting there's more to this Level 5 trip. On cue, their completers beep as Director Kananiwa appears on the bus's monitor to explain the time counter and the second number, indicated the remaining people in the competition. She further explains that all of their electronic devices confiscated, which irritates Nagi.
Twenty one hours later, they reach their destination, where it is winter. Nagi realizes they are in New Zealand based on the geography as the Men in Black escort the students to the hotel to get warmer clothing. The students are taken to ski, or be instructed on how to ski. Hayate and Hina are able to snowboard with ease while Nagi, Izumi, and Aika have great difficulty. Some of the girls talk about how Katsura-sensei isn't there, but on cue, Yukiji shows up in a mask, pretending to be someone else.
From a distance, another girl observes the students skiing and remarks on how many enemies she has.
Thoughts/Review:
Well, I think all of us Hayate fans are in agreement — the Can't Take My Eyes Off You story is no longer canon.
The beginning of this chapter does something similar to the start of CTMEOY in that Nagi is shown to be in peril sometime in in the near future of the story. Unlike CTMEOY, Nagi is shown to be much stronger in this chapter because she rises again and doesn't scream for Hayate.
The end of the chapter with the appearance of what appears to be Ruri from CTMEOY is the final piece to say that CTMEOY is no longer canon. I was really surprised to see her and I wonder how her character will be. (No guarantee she'll be called Ruri.)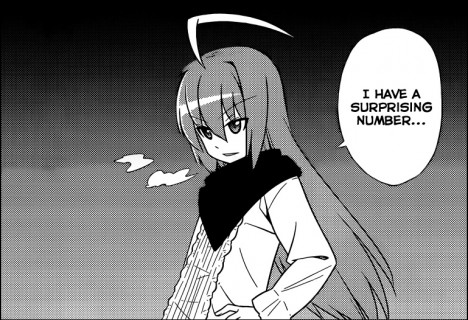 One wonders why the group needs to know how to ski. Skiing or snowboarding down a mountain doesn't seem like a skill needed to find a treasure or something. So it will be interesting to see how this skill is used later on.
In the short term, it was used to show off Hina and Hayate's skills, as well as comically show off Nagi, Aika, and Izumi having no skill.
I loved Yukiji showing up in a terrible disguise. I just know something fun will happen.
I'm really looking forward to seeing how Hata-sensei pans this story out and hope Nagi's father gets introduced.