Pretty Guardian Sailor Moon Crystal – 20 Review
美少女戦士セーラームーンクリスタル
Bishoujo Senshi Sailor Moon Crystal
SPOILER Summary/Synopsis: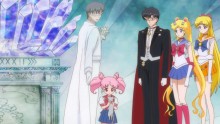 At the Crystal Palace, an image of King Endymion appears. He confirms this is the 30th Century and that he is in fact Chiba. He also reveals that Neo Queen Serenity is in fact Usagi, and that the two are married. Chibi-Usa is their child, and upon prompting, she formerly introduces herself as Usagi Small Lady Serenity. Sailor Moon and company are shocked by this, but the shocking news continues as the cat Diana is revealed to be the offspring of Artemis and Luna. King Endymion explains how Planet Nemesis is behind Earth's predicament and that this is were Dark Moon has made their base. As the talks go on, Sailor Moon starts feeling ill, then starts to vanish as the time paradox kicks in. King Endymion has Sailor Pluto give them a special space-time key and sends them back to their own time.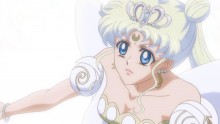 Chiba takes Chibi-Usa home, causing Usagi to get jealous and angry, even though she knows she's being an idiot since this is their child from the future. Chibi-Usa decides to return home with Luna-P, but is immediately ambushed by Esmeraude, who's been powered up by Wiseman. Chiba discovers Chibi-Usa missing, so he, as Tuxedo Mask, Sailor Moon, Sailor Venus, and the cats return to the future. Sailor Moon tries to attack, but fails for the second time, suddenly remembering being told that the Legendary Silver Crystal of the past doesn't work in the future. Esmeraude has them all, but King Endymion's ethereal form gives Tuxedo Mask extra power to kill Esmeraude. Prince Demande appears and enthralls Sailor Moon.
Thoughts/Review:
While watching Sailor Moon Crystal could be equated to the modern day definition of torture, at least this episode made me laugh.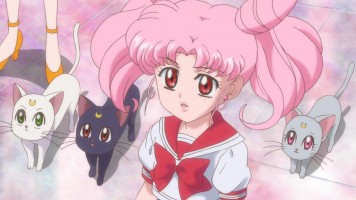 I was pretty sure I had been told (or read) that Chibi-Usa was the child of Chiba and Usagi. Last episode made me wonder about that a bit (more on that later in the review), but this episode confirmed it. Considering that it appeared that Usagi and Chiba had sex last episode, their shocked reactions to the news that Chibi-Usa was their child just made me laugh out loud.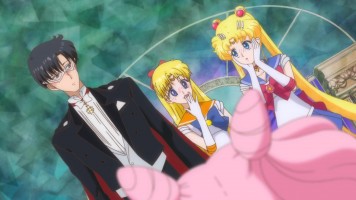 When I saw the cat Diana last episode, I figured they'd make her the offspring of Artemis and Luna. Despite this, the shocked reactions of the cats to hearing that Diana is their child still made me laugh, maybe just a bit harder than I did for Chiba and Usagi's reveal.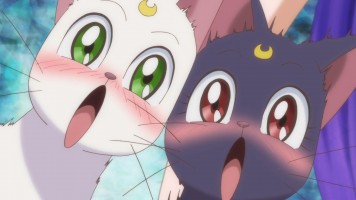 I was completely wrong about Endymion and Serenity of the 30th Century being reincarnations. Nope, they are just Chiba and Usagi at 1000+ years of age. OK, whatever.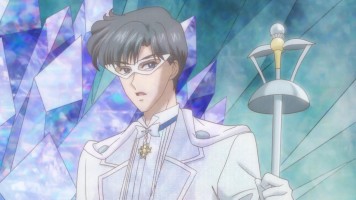 Anyway, this leaves me confused regarding Chibi-Usa. The rules, as described by King Endymion, was that once Chiba and Usagi reach adulthood, they stopped aging. At the age of 22, Usagi gave birth to Chibi-Usa, and then became Neo Queen Serenity. The same rules should apply to Chibi-Usa, so why is she still a kid?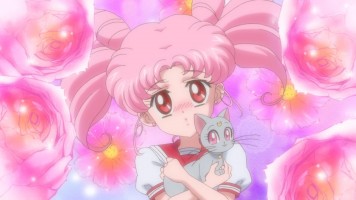 (As an aside, who thought the name "Usagi Small Lady Serenity" was a good one? 😆 )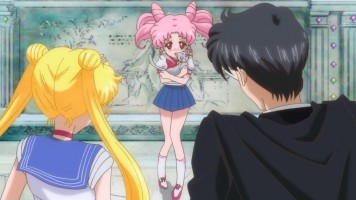 Sailor Pluto's job must be boring as heck. I thought about this when I saw Chibi-Usa paying Sailor Pluto a visit since they were friends and apparently Chibi-Usa visited Sailor Pluto quite often. Since no one is supposed to come through the door she guards, she can't get too many visitors, thus in my mind, has the most tedious, mind-numbingly boring job in the universe.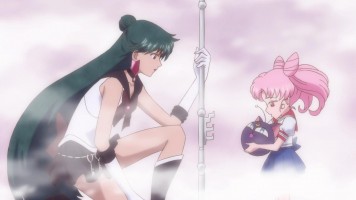 Esmeraude gets killed in this week's edition of "kill a Black Moon baddie." I laugh every time one of these dumb broads in Prince Demande's service beg him to let them do a solo mission to accomplish his goal, only to die in the process. Esmeraude got to survive into a second episode, which is quite an accomplishment. However, Demande should have sent an entire force down to get the job done rather than this stupid nickle and dime approach. But then that would only make sense, and that would cause the story to be over quicker.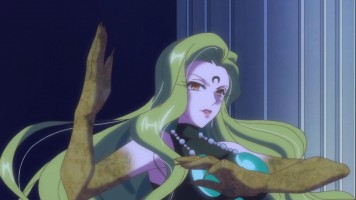 Regardless, Demande has Sailor Moon in his power. It is implied that he has feelings for her, so I imagine that he'll escape with her to take her to his HQ and attempt to make her bear his child instead of Chiba's. I'd laugh if it turned out that Demande is someone Usagi and Chiba knew from the 20th Century, only with a new appearance.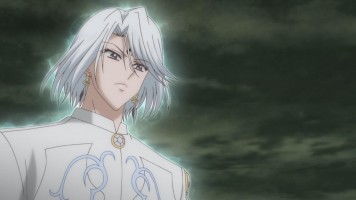 It is scary to see that I've written so much about this episode. However, it did give me a laugh, so it gets a pass there. And I do find myself just curious enough about the story to want to know what is going to happen next.