Fate/stay night: Unlimited Blade Works – 23 review
フェイト/ステイナイト [Unlimited Blade Works] – 23
SPOILER Summary/Synopsis: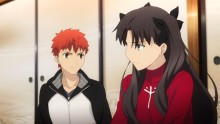 Saber, Rin, and Shirou embark upon a plan whereby Saber goes up the Ryuudou Temple steps through the front gate to distract Gilgamesh while Rin and Shirou sneak in and free Shinji. Since Rin is supplying mana to both Shirou and Saber, Saber will only be able to use her powerful attack once, after which she's gone. Saber goes up the stairs and is stunned to see Assassin is still there. His presence is tied to the temple grounds due to him being a fake Servant. Rin and Shirou are confronted by Gilgamesh. Rin consumes a mana gem to protect herself from the cursed fluid and materials of the Holy Grail and goes to rescue Shinji, leaving Shirou to deal with Gilgamesh.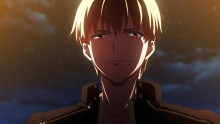 Because Gilgamesh would consider it a defeat to go all out on Shirou, he toys with him as Rin slowly makes her way to Shinji. Thanks to the mana boost from Rin, Shirou is able to copy all of Gilgamesh's weapons as he produces them, but Shirou isn't as fast and struggles to keep up. Rin frees Shinji, so the mass of the Holy Grail, missing its heart, seeks a new one and targets Gilgamesh. Gilgamesh is not amused and summons his powerful sword Ea, which Shirou is stunned to discover that he cannot fathom its construction in order to duplicate it. Gilgamesh dispatches the "arm" from the grail, then is further displeased at Shirou lying on the ground. Back at the temple gate, Saber is finally able to dispatch Assassin and enter the temple grounds.
Thoughts/Review:
I have to hand it to Rin here. After all of the crap Shinji did to her earlier in the day (or the day before…sometimes it is difficult for me to remember how much time has passed in the series), she wants to rescue Shinji and not kill him. Granted, she wants to protect Sakura with this action, but it is still a gracious act on her part.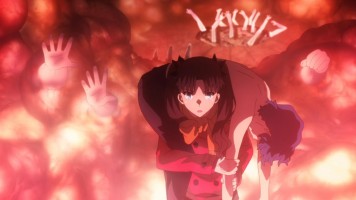 I'm just confused on how Shinji, who had Ilya's heart in him and turned into that flesh mass, was able to be extracted as a whole person. The episode showed Shinji apparently merged with the mass, then just showed Shinji as being held down by arms and freed by Rin fairly easily.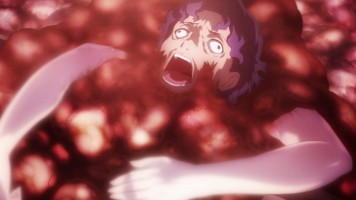 I made the mistake of listening to the preview last week, which totally spoiled the fact of Assassin still being alive and waiting. Had I not known that, it would have been a big surprise. Considering their previous fight, I suppose it is fitting that Saber properly dispatch this fake Assassin.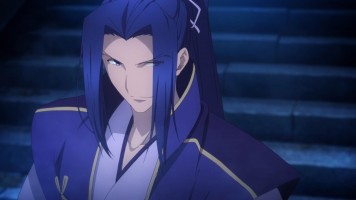 As for Shirou's battle with Gilgamesh, it is lucky for him that Gilgamesh doesn't go all out for convenient reasons. Shirou is still massively outclassed and I don't see how he defeats Gilgamesh as Archer seemed to think he could. Since Saber has now defeated Assassin, I suppose she could help, but she has limited mana so I'm not sure how much help she'd be.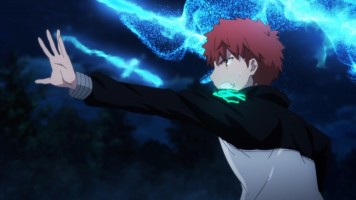 It was interesting seeing Shirou's reaction to seeing Ea. That's such a bizarre weapon, which is supposedly a sword, but doesn't have a blade. And as Shirou learned, is very special indeed since he apparently won't be able to copy it…unless he does figure out a way to do so.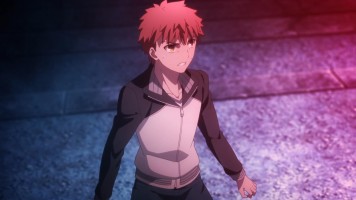 I also find it interesting that when the Holy Grail flesh mass reached out what appeared to be half a mile or so to grab Gilgamesh, he felt the need to produce Ea and take this threat seriously.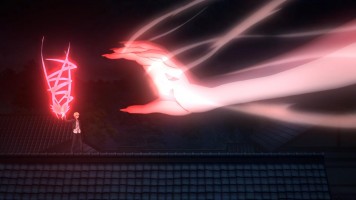 In the end, this was an enjoyable episode. I think the final episode is double length, which will be needed to properly wrap things up. I'm looking forward to that.