ユーキューホルダー! Manga Review
UQ Holder Chapter 81
SPOILER Summary/Synopsis: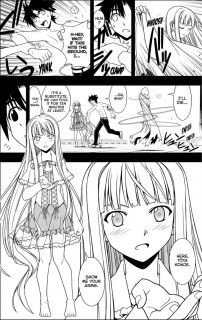 It has been three days since Touta's training started, so Dana goes to check on him, only to find him cheerful, alert, and doing well. Touta reveals that he now understands the purpose behind Dana's training.
In a flashback, Kitty (Eva) sees the training Touta is doing with the hoops and baseball and takes pity on Touta since this is clearly Dana's doing. She pulls off her tattered covering and pulls Touta from the hoops while replacing him with her covering, fooling Dana's spell for a time. Kitty examines Touta and determines that he cannot use magic, and that the cause of this is that a light-based magic from Mars that erases all and a dark-based magic from Venus, that swallows everything. This explains why Touta cannot be the strongest, but Kitty thinks that this training of Dana's is designed to allow him to separate and channel these forces.
In the present, Dana is angry that Touta knows the answer and demands he tell her whom it was that informed him. Touta decides not to tell her, so she piles on the hoops on him.
Touta returns to the past, where Kitty is amused by Touta's current number of hoops. She again pulls him from the hoops and inserts her tattered covering to give him a break. When he jokes about only being good as a street performer, Kitty tells him she used to work as a street performer. She produces a doll from a cloth (Chachazero), then causes this doll to dance as she dances with it. After their performance, Touta is very impressed.
Kitty mentions Touta's condition and remarks that she thinks that she thinks someone created him. Based on Touta's reaction, she figures he's a homunculus or a doll. She assures him she won't treat him differently because of this, especially since she likes dolls since they don't lie or die.  Kitty gets an idea to pull one over the "rotten witch" by training Touta herself.
Back with Dana, and exhausted Santa, Kuroumaru, and Kirie emerge after a week of segregated training. To their horror, she informs them that the tough training they've just been through was level one, and it gets tougher from here.. They walk over to where Touta is, where Touta is keeping three stacks of hoops off the ground. Kuroumaru spots that Touta is using some kind of power. Dana observes this as well.
Thoughts/Review:
CHACHAZERO! Although I REALLY wanted her to show up in this series, I honestly believed that Akamatsu-sensei would not go there. But he did, and I'm happy as a result. More on that in a bit.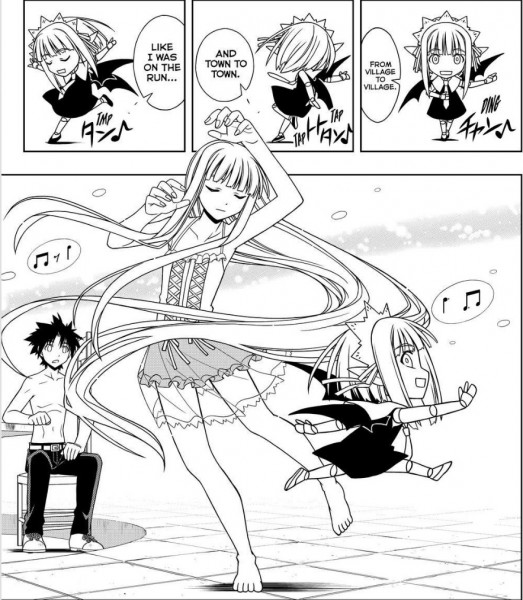 It is very difficult to tell how much time is passing between Touta's visits to Eva in the past. Whenever Dana shows up in the present, Touta is there. In the past, there's no Dana of late. However, I get the feeling, based on all of their encounters, that some amount of time is passing, possibly years. First, we have the fact that Eva is speaking Japanese. While it is possible that Wonder Boy picked up French because "reasons", I think Eva learned Japanese. So when we see her in chapter 80, I think it has been years since she saw Touta. She's weakened and starved and doesn't know how much time has passed. She knows there's another resident, and since she's always been about leaning, she might have learned Japanese to try to communicate with this boy who kept showing up.
At the end of chapter 80, Eva mentions it has been a while since she last saw Touta. She's a different person though. She doesn't have the same attitude that she had before. I've no doubt that part of this is due to Touta being the one who saved her life, although when they parted previously, Eva was being aloof. Now, she appears wiser and is no longer obsessed with killing Dana. Further, she's schooled on the light magic of Mars and the dark magic of Venus.
Still later in chapter 81 when Eva meets Touta again, she's much more open with Touta (though not enough…darn you, Akamatsu-sensei — you better give us more info on Eva's past). She even produces Chachazero and shows off her Doll Master skills. In the end, Eva decides to use training Touta as an opportunity to "steal a march" and thus put one over on Dana. I think she's able to do this because she's been trapped here so long, she's had time to learn a ton. As such, I think that Eva might be over 100 years of age by this time.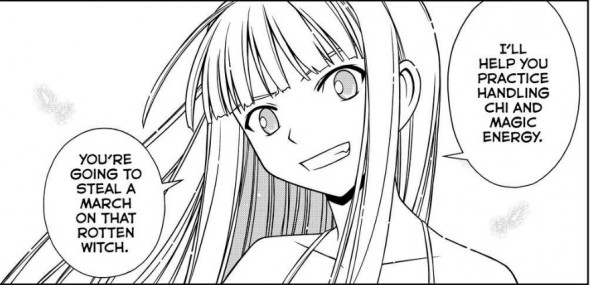 Does this mean that Touta will use magic, as in spells. I suppose that is possible, but Touta may be using something akin kankaho. This may give him more OP abilities without having to use traditional spells. We'll see.
I've also had second thoughts on whether Akamatsu-sensei is forcing an Eva x Touta pairing. I base this on Eva's evolution in attitude. Her interaction with Touta has softened her, but I'm wondering if this will be the retconning that ultimately leads Eva to fall for Nagi.
Then there's Dana. I'm starting to wonder if Touta's time shifting is happening without her knowledge. She appears to know something is happening, but not exactly what.
And finally, there's my lovely Chachazero. This is the first time we've seen Chachazero before she became "alive". While I know this arc is about getting Touta powered up (*_*), it would be SO much more interesting to me to see more Eva's back story, especially when it comes to her and Chachazero. I want to know how Eva came about her Doll Master skills. I want to know how she came by Chachazero in the first place. I want to know how Chachazero became ensouled, so that the doll could be a real partner for Eva. (Remember, Chachazero had an artifact, thus her pactio with Eva was real, unlike Chachamaru, who had a doll contract and thus no artifact until she formed a real pactio with Negi.)
So for me, it was a good chapter, starting with Chachazero's return, but also because of Eva. Yeah, I'm cheaply bought that way. 😉