ユーキューホルダー! Manga Review
UQ Holder Chapter 83
SPOILER Summary/Synopsis: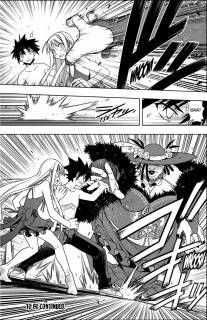 Touta meditates and has the balls orbiting him and the hoops twirling above him as Dana nods off while observing him. Touta's thoughts are interrupted when a giant dragonfly lands on him. Touta freaks out as Dana wakes up, and though Touta's heart stops because the hoops hit the ground, he does not fall. Dana sends the dragonfly back to its period of time, explaining that her castle stands in the rift between dimensions, thus she can connect it to any time and place of her choosing. However, when she falls asleep, she loses some control and things come in, such as that giant dragonfly. She asks Touta if he's developing feelings for something that came in, warning him against this since the things that come in are like illusions.
After Dana piles more hoops on Touta, he easily handles them and thinks about what Dana said. He starts to realize that he meets with Kitty at dawn when Dana's asleep. It is dawn and Kitty appears on the rail near him, fast asleep. He sees her crying and calling for her mother. When he touches her, he sees her memories as a peasant girl with her mother, who addresses Kitty as Evangeline. Important people on horseback arrive and Eva is now living in a castle. A figure in black tells her she will not dies. She kills, runs away, discovers her parent's village burned down and her mother dead. After that, she wandered a while with her doll (Chachazero).
Eva wakes up, irritated at seeing Touta, knowing he probed her memories. She attacks him, then runs away. Touta gives pursuit, so Eva uses her ice magic against him. He doesn't let that stop him, so she attacks him with another ice attack. She gets a great distance from where Totua was, but Touta has followed her. She attacks him again, causing him to wonder what was so bad about him seeing her memories. She demands to know why he's pursuing her, so he confesses his love for her, saying he wants to repay her. Eva is taken aback by this, but before she can attack him again, Dana shows up. Dana says that this is no more than an illusion and illusions must go home. She's about to dispatch Eva, but Touta steps in and stops her.
Thoughts/Review:
You know, Akamatsu-sensei should just drop Touta and have Eva be the main character for a while. Man, following her story from the past would be SOOOO much more interesting than the Touta story.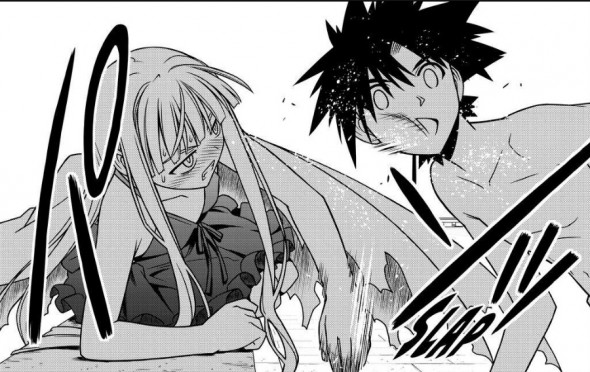 Although Akamatsu-sensei can (and may) change things on a whim, this chapter appears to state that Dana's castle is connected to all places in time and space, even to other dimensions/timelines. If this is true, then it would be used as the out for when Touta and company emerge from this place and suddenly Eva, as Yukihime, suddenly remembers her time with Touta from the past. "It isn't a retcon, it is a new timeline."
I still say that a fair amount of time has passed for Eva in this castle. I say this because each time Touta encounters her, she's more powerful. (Well, that's how things have been presented to us, but of course, in two chapters from now, this could all be turned upside-down on its head.)
To be completely and openly honest with you readers, it really pains me to be so critical of Akamatsu-sensei. I loved Negima greatly. I defended it all the way up until the end, although the abrupt ending of the series left a bad taste in my mouth. Eva was a favorite character of mine, so her being brought over to UQ Holder was a good thing for me. We could finally get a chance to see Eva's past, though at the time, I didn't believe that we'd actually get to see it.  However, Akamatsu-sensei started giving us Eva's past, and that continued in this chapter.
That being said, I don't trust Akamatsu-sensei, nor do I trust anything I see on the page. That's because if he chooses, he can simply blow everything up, come up with a timeline excuse (or other such excuse) to justify changing everything, and then change everything.
In Negima, Eva was implied to be someone of importance. After all, she had a fancy dress and lived in a bloody castle. When Akamatsu-sensei gave us that info, he's clearly wanting the audience to "read between the lines" and see Eva as nobility (my thinking) or royalty (other people's thinking). Then in a recent chapter of UQ Holder, Akamatsu-sensei says, "Oh, Eva is a peasant." After throwing that bomb out, is it any wonder that some folks were displeased by this.
For UQ Holder chapter 83, Akamatsu-sensei realizes that he has to reconcile what he established in Negima with his new establishment in UQ Holder. Now, Eva was a peasant girl who was taken in by some important person or entity (because you can't presume ANYTHING) to live at a castle. After some amount of time at said castle, a figure looking like the Lifemaker, turns Eva into a vampire. In Negima, it was stated that she killed the one who did this to her, and that old Negima image is used in this chapter of UQ Holder.
I get that Akamatsu-sensei is trying to make Eva's past even more tragic. Had this stuff been revealed in Negima, I can only imagine the pages of discussions that would be had, both in English forums, and on Japanese forums. Now, because one is never sure what Akamatsu-sensei will or will not do or say in his manga (and I think he does this because he wants to keep people off balance and unable to guess what will happen at the cost of a naturally flowing story), one wonders if this is really true or not. Akamatsu-sensei has put out the notion that the Eva we see here may be a mere illusion of some sort, implying that it may not be real, or it may be real, or it may partially be real.
It really saddens me to feel as I do here because I am getting my wish in having more of Eva's life explored. I want to see more of this in UQ Holder. Sheeze, Eva should have her own manga, starting from her time as a peasant girl and working through the years, eventually meeting Nagi and company, and then culminating with her fated meeting with Negi and class. To me, this would be such an awesome story, certainly much better than the Touta story to date.
Speaking of our main character, I guess Touta gained new language skills since he had no problems understanding what was spoken in Eva's memory-dream.
And I guess that Touta picked up yet another ability, that being the ability to read people's mind by touching them.
Touta standing up to Dana means what? Does she squash him like a bug? Does she just dispatch Eva to where ever anyway? Is this were we get some "I used magic to make Eva not remember you when she next encounters you in 800 ears and saves your life"?  Who can say.
So while I should have very happy feelings about more of Eva's past being explored (and I am glad to see it), my inability to trust Akamatsu-sensei and this story brings me down because he's doing things just to keep people from trying to guess where's he's going. Oh well.