ハヤテのごとく!/Hayate no Gotoku Manga
Hayate the Combat Butler Chapter 496 Review
SPOILER Summary/Synopsis: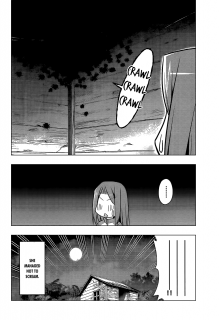 With Izumi winning the ¥10 million, Chiharu wins ¥5 million and Hayate wins the final prize of ¥1 million. Hina has ¥900,000 from her first winnings, but Aika doesn't want to borrow that. Miki agrees and immediately quits the competition. However, she makes sure to bait Aika into staying by saying Aika isn't too spineless to stay alone in the jungle. Hina offers to stay, but Miki won't hear of it since Aika didn't want to ask more of Hina. Now baited, Aika agrees with Miki. When the bus leaves to take everyone to the hotel, Aika is stunned to find she's alone after Izumi spent ¥7.5 million for 25 people's rooms.
That night, Aika has a hard time sleeping due to the noises. She feels something land on her, so she looks and discovers a large spider crawling on her sheet. She starts to freak out, but realizes this is the worst thing as it would attract animals. The spider is walking on the floor, but when she thinks of her butler-boyfriend calling her spineless, she uses a stick to get the spider off the floor and fling it outside. Aika is proud of herself for taking care of this, then discovers that a hoard of large spiders are crawling in through a corner of the room.
Nagi, Hayate, and Kotetsu are in their luxurious ¥300,000 hotel room when Hayate thanks Kotetsu. Hayate takes Kotetsu's hand to shake it, then activates Kotetsu's device to force him to quit. Hayate vows to settle this thing tonight.
Thoughts/Review:
You know, when Aika was first properly introduced, she was rather a terror to other characters, like Chiharu and Hina, as she always caught them in awkward moments or discovered some secret about them, then recorded in her notebook to be used against that person in future.
Lately though, Aika has been taking a beating from Hata-sensei. Her boyfriend-butler already caused her to decide to do this nutty trip to prove she has a backbone. Miki baits her to stay and not take Hina's offer for a hotel room. Now, she's dealing with giant spiders on her own.
I'm laughing as I see her toss this giant spider out the window. What came in from the outside can come in again if just tossed out. You want to make sure that sucker doesn't bother you again, you have to kill it.
Miki quits, which is not surprising. Eventually, everyone will have to quit until it is down to Nagi, Hayate, and possibly Hina and Yukiji.
I was amused at how Hayate dispatched Kotetsu. I'm not sure how Hayate expects to end everything that night when they are only two or three days into their trip. I guess we'll find out next chapter.
Finally, there's Isumi, who almost steals the chapter with her single appearance.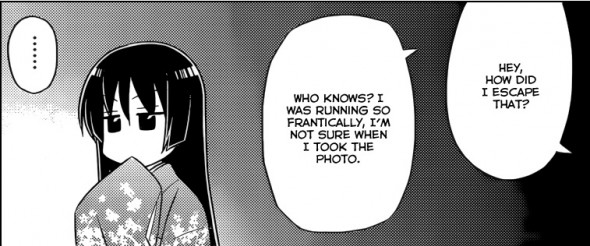 So in the end, an amusing chapter whereby Aika gets some comeuppance and Hayate gets to be a bastard again.