Here is some SPOILER info for the upcoming UQ Holder Chapter 83, courtesy of 2ch. (My review of UQ Holder Chapter 83 should come out Tuesday or Wednesday.)
UQ HOLDER Chapter 83 SPOILERS
The UQ Holder Chapter 83 goodness begins.^_^
This looks to be Chapter 83's spoilers.
眠り姫

キティの記憶に触れ
それが元で猛攻撃を受けた刀太は、つい勢いで告白
するとダーナが現れ、キティを元の世界へ返そうと迫る

■好きな女を守るため師匠の前に立ちはだかる!!
As usual, we'll have to wait for some gracious person to come along and translate, though I note with some amusement that the spoiler text is pretty sparse. Everything here is about Dana, Eva (Kitty), and Touta. It looks to me like the romantic angle is being pushed again as Dana does something to Kitty which causes Touta to react. I could be wrong, so we'll see what a proper translation says.
Anyway, I'll update again when there's a proper translation or spoiler images appear.
Translation from DerGilga.
***dammit, I hope I got this translation wrong, Kurochan (T_T):

眠り姫
Sleeping princess / Sleeping Beauty

キティの記憶に触れ
He touches the memory of Kitty.

それが元で猛攻撃を受けた刀太は、つい勢いで告白
Touta, who receives a fircy attack because of this, makes with vigor/passion a confession by mistake.

するとダーナが現れ、キティを元の世界へ返そうと迫る
Thereupon Dana appears and tries to return Kitty to (her) original world.

■好きな女を守るため師匠の前に立ちはだかる!!
To protect his beloved woman, he stands in the way of his master!!
Yeah, I'm not a fan of this forced romance thing between Touta and Eva.
Update #2: Images from MK.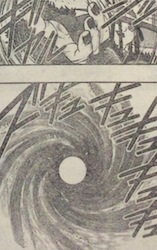 Magia Erebea, I presume.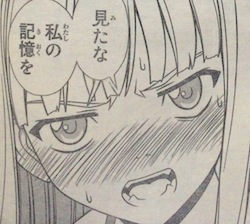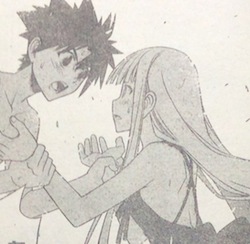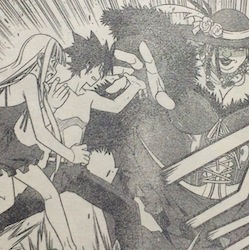 So this is the part we heard about in the spoilers.
Well, we'll see how the chapter pans out.