ハヤテのごとく!/Hayate no Gotoku Manga
Hayate the Combat Butler Chapter 500 Review
SPOILER Summary/Synopsis: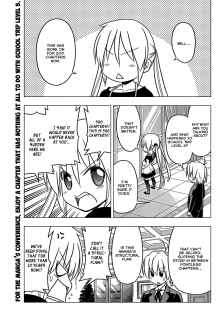 With the 500th chapter of the manga, the story steps away from the Level 5 trip to have Nagi and Hayate discuss her manga. Nagi produces her latest work, which she says is a romance manga and a forbidden love story. In her story, Britney encounters a witch, who demands she eat her bell peppers. Then Britney finds Haru's "compact" (laptop PC), and easily hacks in to see Haru's "sword" collection of images, showing a lot of yaoi-themeed images. The Haru character catches Britney looking at her laptop and freaks out.
In response to this story of Nagi's, Chiharu smacks her for apparently looking at the contents of Chiharu's computer, which Nagi claims had about 20GB of this yaoi-themed sword imagery.
Hayate and Mari remark on how the 500th chapter ended up being pretty pointless.
Thoughts/Review:
Heh!heh! While this chapter was pretty pointless, I was amused by this revalation that Chiharu has suggestive images of guys with swords in yaoi-themed ways.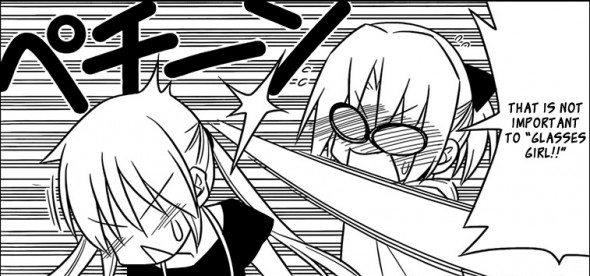 Within Nagi's manga, I was amused by the double entendre with the term "swords." For some reason, the way things played out, I couldn't help but be reminded of the old British comedy, Are You Being Served, which uses double entendre as the basis of its humor.
Otherwise, there's nothing remarkable about the chapter. We have a couple of weeks to wait for the next chapter.